Today we attending a Luau picnic.  We were asked to take a dessert.  With the picnic taking place outdoors I wanted to take something that was 'finger food' friendly and required no utensils for serving or eating.
My first thoughts were coconut and pineapple but was a little unhappy with what I saw whilst scouring the internet for ideas.
So what I came up with was these: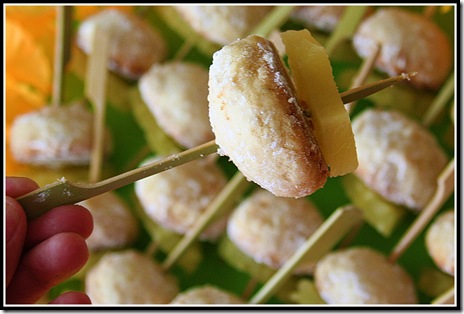 The recipe for the coconut balls … or should I say coconut shortbread cookies because that is essentially what they looked and tasted like after baking them … was from Martha Stewart.   I still can't quite work out how hers looked like balls and mine flattened out a little more like cookies, but none-the-less they tasted pretty darn good. 
While still warm I put each on onto a small bamboo skewer (from Cost Plus World Market), and then once they had cooled I added a slice of pineapple.