This homemade Bacon Bloody Mary recipe made with bacon fat and freshly grated horseradish is the perfect addition to your weekend brunch.
Disclosure: This Sweet'N Low Bacon Bloody Mary, summer brunch beverages, is part of a sponsored post for Socialstars #donthesitaste
Looking for the perfect summer brunch cocktail?
If it's not a Mimosa for brunch, it has to be a Bloody Mary! Am I right?
What could be better in a Bloody Mary than bacon?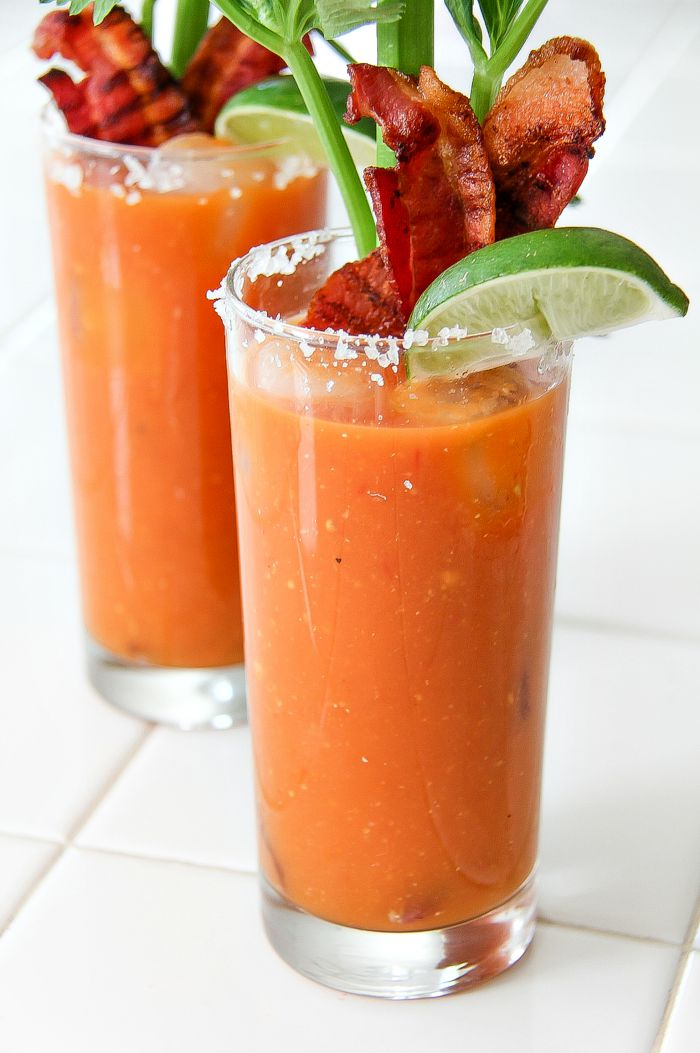 The best part about this Bloody Mary is that it's made from scratch so you know exactly what is going into it and can adjust ingredients to your liking, especially if you like it a little spicier.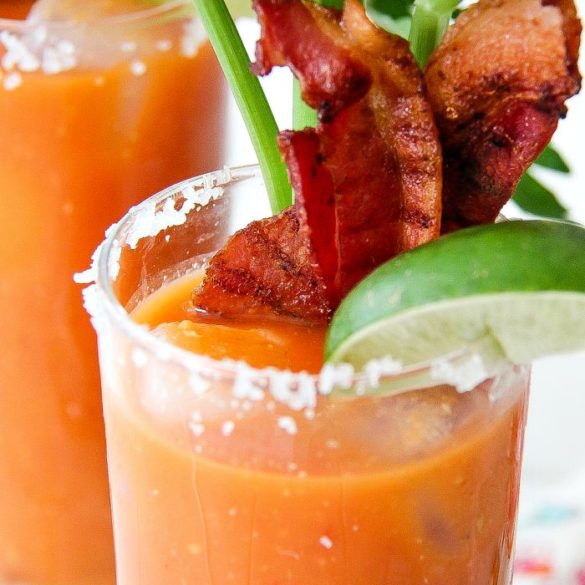 Ingredients
10 tomatoes (quartered)
Vodka (3 oz per drink per 6oz of homemade tomato juice)
2 rashes of bacon (per cocktail)
1 celery stick (per cocktail)
1 pkt Sweet'N Low
1 heaped tbs bacon grease
1/2 cup water
3 tbs Worcestershire Sauce
2 tbs Sriracha
2 limes (juice) + quarters for garnish
1/3 cup freshly grated horseradish
large pinch of salt & pepper
Instructions
In a large pot on the stove heat the bacon grease, and then add the tomatoes, water, and Sweet'N Low. Simmer for 30 minutes stirring occasionally.
While the tomatoes are simmering finely grate the horseradish and prepare the rest of your ingredients.
Once the tomatoes are done simmering, add the horseradish, Sriracha, Worcestershire, lime, salt, and pepper. Stir until combined, and then using an immersion blender, blend until there is no more skin and the horseradish is broken up into even smaller pieces.
Pour into a jug and refrigerate until cold and ready to use. This mix should make approximately 48 ounces of fresh Bloody Mary mix.
Place ice cubes into a glass, and then in a separate jug or shaker combine 6 ounces of tomato juice with 3 ounces of vodka. Stir until combined, and then pour over the ice cubes. You can rim the glass with a little coarse salt if you like.
Add two rashes of cooked bacon and a celery stick, and then garnish with lime.
Recipe: by Tonya Staab tonyastaab.com
Tip: cook your bacon before putting the tomatoes into the pot you will have fresh bacon grease ready to go.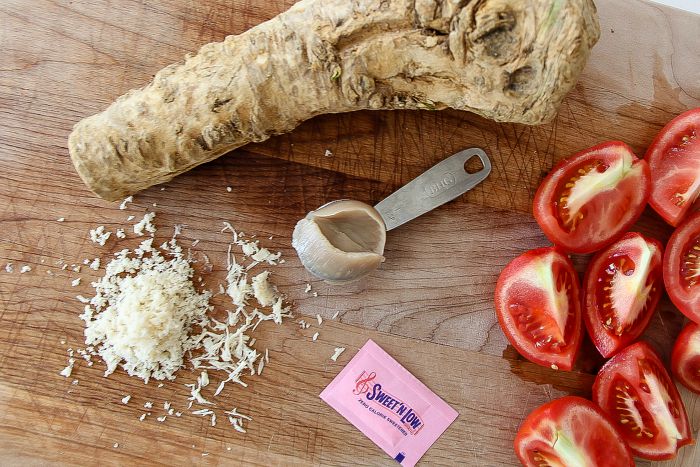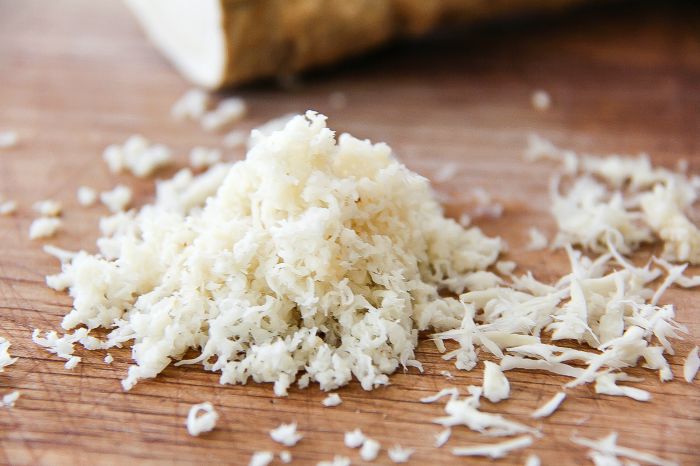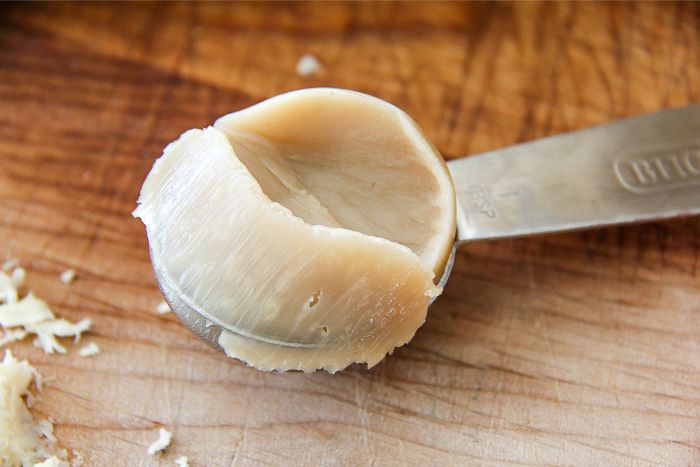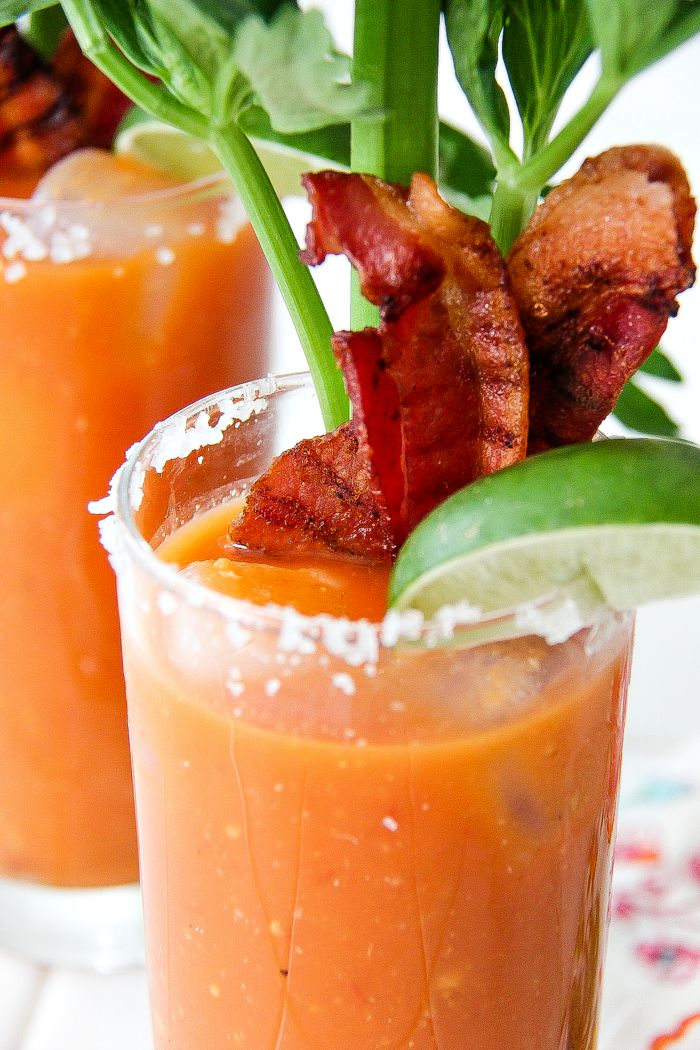 Want to make your summer even sweeter? Come hangout with Sweet'N Low® on their summer sampling tour to try some Sweet'N Low® sweetened iced tea, play fun games and snap hilarious pictures of all the fun. Be sure to mention " Tonya Staab " at the event for a special gift. See where you can meet up with Sweet'N Low® this summer at sweetnlow.com/tour.
Did you know Sweet'N Low is a zero-calorie sweetener and is diabetic friendly? By using Sweet'N Low in this recipe you can enjoy the sweetness you love without the extra calories.
Looking for more great Sweet'N Low ideas? Look no further than here:
Sweet'N Low Recipes | Sweet'N Low on Facebook
Please pin this post for later: