How to make Pilgrim cupcakes with the kids that are the perfect treat for your Thanksgiving celebrations.
The kids have been learning about the Pilgrims at school.
Last year I made Fall cupcakes and turkey cupcakes, so I thought this year I'd make something a little different. I surprised them after school with these little Pilgrim cupcakes.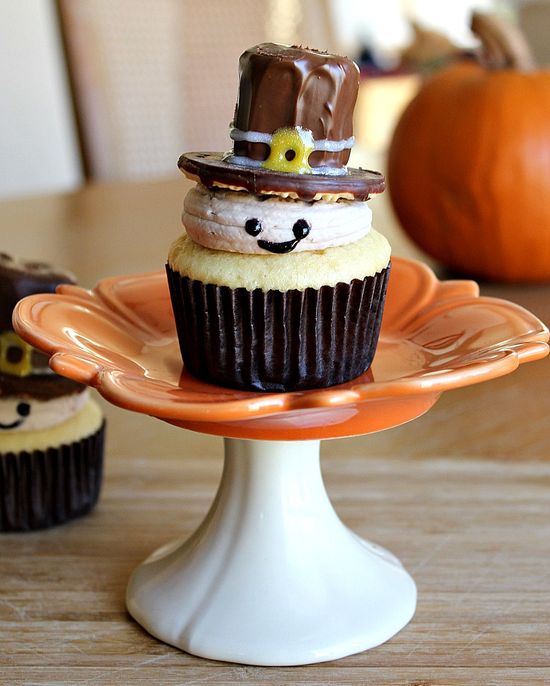 What you need to make these:
Plain vanilla cupcakes in brown cupcake liners
White icing
Cocoa powder
Chocolate for melting (perfect excuse to use up some of that Halloween candy)
Large marshmallows
Chocolate coated cookies
Wilton Sparkle Gel – white, yellow, and black
Large round Wilton tip with a piping bag and tape.
Toothpicks (or any other kind of pick or narrow skewer)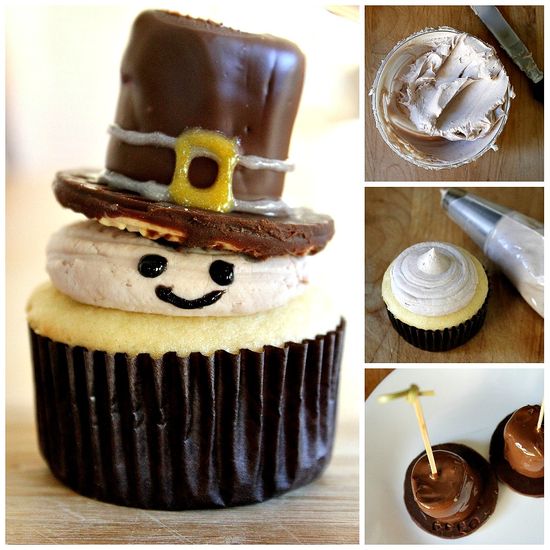 Begin by making the Pilgrim hat. Melt the chocolate in the microwave and using a pick coat each marshmallow in melted chocolate. Place it carefully on top of the cookie and pop it in the refrigerator until set. Once set gently remove the pick. Using the sparkle gel add on a white band and yellow buckle, then set aside.
Mix a small amount of cocoa at a time with plain white icing until you get a color you are happy with. Place the tip inside the bag (cut off the end of the bag) and tape the bag onto the tip. Fill the bag with icing and holding your hand very steady and keeping the tip just above the top of the cupcake pipe a face onto each cupcake. If you push down just a little while piping you will see that the icing fills out so it covers more of the top of the cupcake.
Place the hat on top of the icing and using the black sparkle gel add facial features.