Are you prepared for if there is a blackout at home? Read our story and learn some ways you can prepare in case of an emergency.
Disclosure: I was asked to participate in the #NoWifi, sponsored by Schneider Electric. Although I have been compensated, all opinions are my own.
In 2011 there was (what is now referred to as) the Great Blackout in San Diego. It began after school was let out one afternoon, and the power was restored early the next morning. While this happened, we had an emergency of our own. I had no time to plan for or control the subsequent sequence of events.
I sent the kids outside to play while there was still daylight, knowing that by the time it got dark I would be entertaining them by candles and flashlights. I stood by the kitchen window washing dishes where I could keep my eyes on them. The little man climbed onto a play structure (as he'd done a number of times before) and was chatting happily over the fence to the neighbor's daughter. All of a sudden he was gone.  Our neighbor's dog had jumped up, grabbed him and pulled him over the fence where it attacked him. He was five years old at the time. There was chaos, screaming, and pandemonium as both Jay and I, along with the neighbor ran to save him. We had to get him safely out into the street for emergency services, restrain the animal, wrap his wounds, and call 911.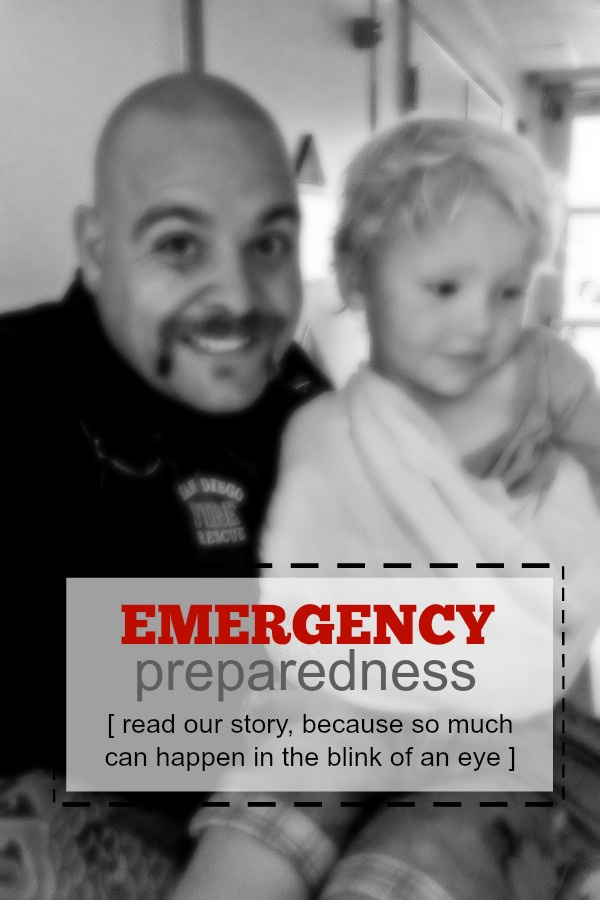 I won't sugarcoat it, he was a mess, and this was the single most scary moment of our lives. He needed plastic surgery on his arm, stitches in his head and it took months to heal his wounds. He still sports a few scars from the attack, but thankfully his love of dogs remains. This was a tragic accident that happened in the blink of an eye, and unfortunately at the worst time – not that there's ever a good time for this to happen.
During this event let's not forget that there was a blackout throughout the county. This meant emergency services were busy with other emergencies; transporting patients to hospitals who needed electricity to operate life-saving equipment, traffic lights were out, and there were traffic jams across the city.  A local fire truck who happened to be close by came to our rescue when others were unable, and transported us to the emergency room. There was no time to pack bags, no time to search for medical information, and no time to put together what we needed to take with us.
As soon as I got into the fire truck I remembered that my phone battery was dead. I cursed myself for not charging it earlier. I had meant to put it into the car to charge but hadn't gotten around to it. Jay's cell phone battery was almost drained too (and he had stayed behind to look after his little sister). Thankfully there was a charger in the fire truck and the firemen were kind enough to let me charge my cell phone on the way to the hospital so I could make a few calls. I had Jay put his phone in my car to charge for a little while so I'd be able to contact him. My biggest fear was not being able to reach the kids at home throughout the night to make sure they were okay while the power was out.
This won't ever happen again. We will always be able to communicate and have back-up power for our phones and other necessary items thanks to the APC Back-UPS Connect. No more charging phones in the car.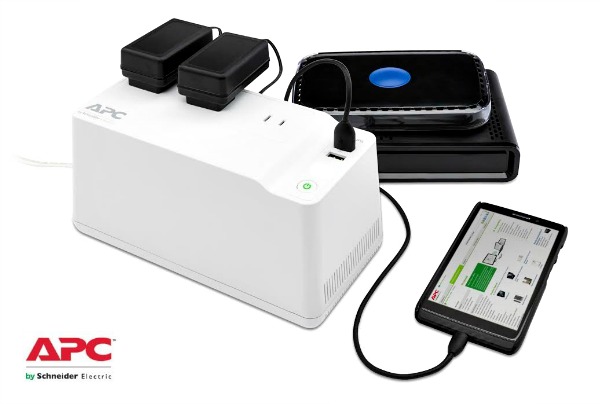 Product details
Computer Grade surge protection protects your devices from surges and spikes.
Two convenient USB ports recharge mobile devices, including tablets, even during an outage.
Fast recharge of the internal battery, ensures you're ready for the next outage.
An extended runtime battery provides even longer power protection for when you need it.
Best-in-Class peace of mind warranty covers your entire APC Back-UPS™ for three years and offers a $ 75,000-lifetime equipment protection policy and free technical support.