How to make delicious lamingtons with this easy-to-follow recipe.
We celebrated Heritage Day at the twins' school this week. Of course, I had to bring an Australian dish to share. It's a little difficult to re-heat meat pies and sausage rolls at school so I decided to go with one of my favorite bakery treats, lamingtons.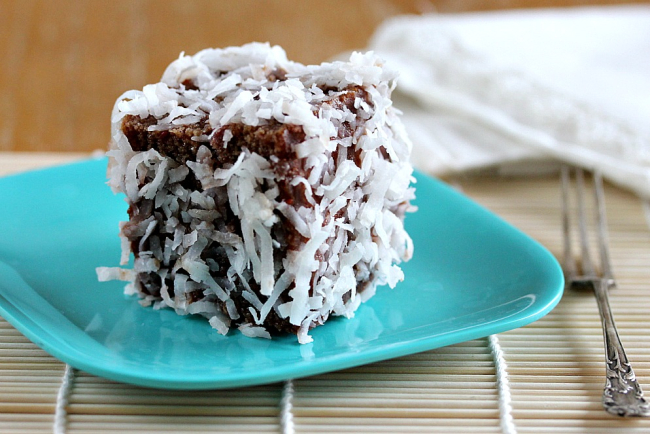 Note: Some people like lamingtons with jam, and some without, it's really up to you whether you include it or not. Personally, I love lamingtons with jam.
Ingredients:
2 cups all-purpose whole wheat white flour
1 cup sugar
2 tsp baking powder
3 eggs
1 cup milk
2 tsp vanilla essence
1/2 cup butter
pinch of salt
Icing:
4 cups confectioner's sugar
1/3 cup unsweetened cocoa powder
2 tbs butter (melted)
1/2 cup milk
1 pkg flaked coconut
raspberry jam (optional)
Turn the oven onto 375F.  Grease and flour a 13×9 cake pan. 
Sift the flour, salt, and baking powder in a bowl and set aside.   In a large bowl cream the sugar and butter.  Add in the vanilla, then add the eggs one at a time, beating after each addition.  Next alternate between adding a little of the flour mixture and a little of the milk, blending constantly until combined. 
Pour the cake mixture into the pan and bake for 27 minutes (time may vary a little depending on your oven). 
Once baked and cooled, pop your cake into the freezer while you prepare the icing. 
Tip: Cutting and icing cakes work so much better if the cake is at least partially frozen because you don't get as many crumbs everywhere.
Icing: Pour the package of coconut into a large bowl and set aside. In a second large microwavable bowl combine the confectioner's sugar, milk, and melted butter. Microwave on high for 30-second intervals, stirring in-between until combined. You don't want really thick icing that you would normally use to decorate a cake, it needs to be a little runny, but thick enough that it will stick to the cake.
Prepare: Remove your cake from the freezer and turn out onto a cutting board. Cut off the edges of the cake and then slice off the top so that the top of the cake is flat.  Spread a thin layer of jam across the top. Cut the cake into equal-sized squares, they will be between 1 1/2-2 inches wide.  Stick 2 pieces of cake together with the jam in the center. Using a couple of forks dunk the cake into the chocolate letting all of the excess drips off, then cover with coconut. Place your lamington onto a cookie tray with parchment paper, repeat until you have made all of your lamingtons, then refrigerate to set the chocolate.
Note:  This recipe made 9 lamingtons. I doubled the ingredients to supply enough for the school event.
Note: If you would like to print this recipe, please click the 'printer' button located with the social sharing buttons. 
Please pin this post for later: