I don't know about you but I absolutely love Ikea.  It is the first place I go when I am in one of my "this place is driving me insane and I need to organize things" moods.
One of my more recent obsessions is the Ikea BYGEL Rail.  It comes in two sizes 21 3/4" and 39 1/4".  The smaller is only $1.99 and the longer is $2.99.  I have five of them in my house and am looking for even more places to put them.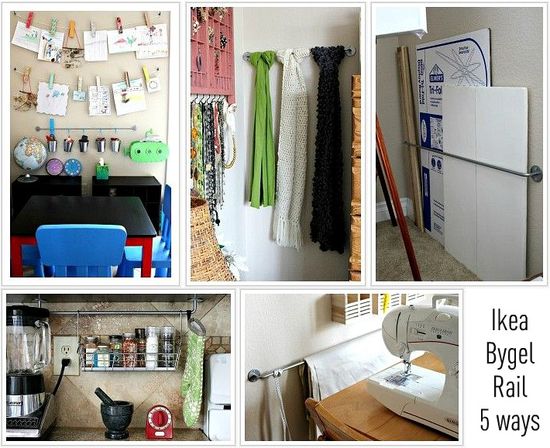 1.  The kids play room.  This is the longer rail.  I purchased a packet of BYGEL s-hooks (99 cents for a bag of 6 from Ikea) and then using small silver buckets that I had found in the $1 section at Target now have storage for the kids pencils, crayons, chalk, and other assorted stationery items that they use for their art projects and homework.
2.  My bedroom.  This is the shorter rail.  I have a drawer full of scarves, but the ones that I wear the most were hanging over the bathroom door so I could just grab them as I was leaving.  Of course this meant that our bathroom door couldn't close all the way.  Now I have them right next to my jewelry organizer, tucked away in a corner so that you don't see them if you are just looking into our bedroom.
3.  My office.  This is the longer rail and is perfect for standing up all of those tri-fold boards, wooden rods, and even for holding my large photography reflector when I am too lazy to collapse it and pop it back into it's bag.  As I continue organizing my office I will be adding a second rail solely for my photography reflectors but at the moment don't have the space for it.
4.  The kitchen.  Our pantry is horrible.  It's narrow, but deep and I can never find anything in it.  I have to pull everything out to get items in the back and it has been driving me crazy ever since we moved into this house.  I decided to hang the shorter rail underneath the cabinet right next to the stove, and then hung the BYGEL wire basket ($1.99 from Ikea) off it and filled it with the herbs and spices that I use the most when cooking.  I also attached a BYGEL s-hook to it and now have a spot for my oven mitt to hang that is also within reach for when I am getting hot pots off the stove or trays out of the oven.
5.  My craft room/office.  On the adjacent wall to the rail for the tri-fold boards, I have another long rail.  On this one I keep all of the large packing paper that I use underneath our art and craft projects and for the kids to drawn on and paint when I need gift wrap in a pinch.  I even have my tape measure hanging off it so it is within reach when I'm sewing.
AS SEEN ON: