On Thanksgiving we always do brunch, and then the big turkey dinner. It's been that way for years.
I love making a big brunch and sharing it with whoever is coming over, and then saving the big Thanksgiving dinner for later on, giving me time to roast the turkey and prepare the dessert and sides without feeling stressed and needing to put together both breakfast and lunch.
So today, I've got easy entertaining tips and recipes for hosting a Thanksgiving Day brunch, whether you have family coming over, or the neighbors normally pop by, and the best part is that it's both kid and adult-friendly.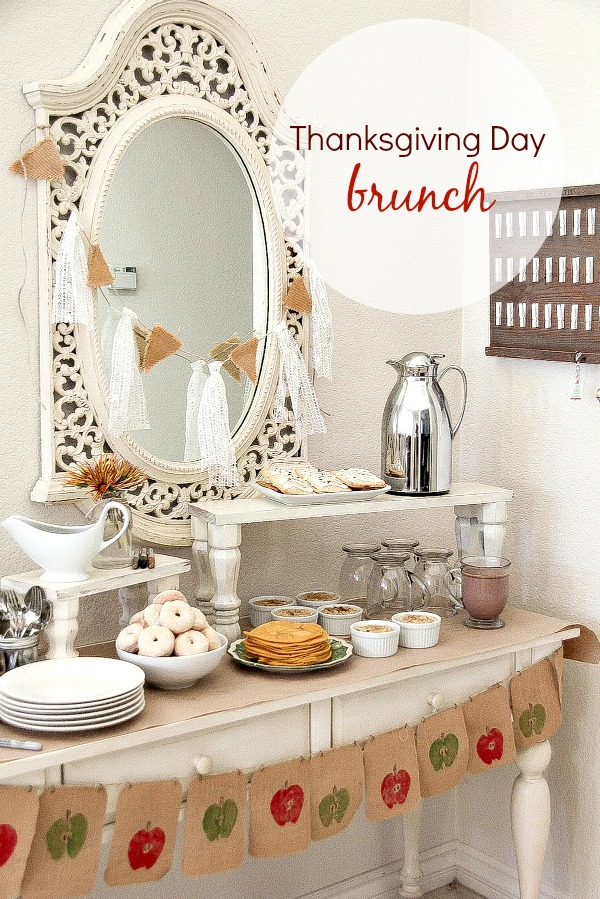 Tips:
Keep it simple: set aside a table close to the eating area where you can serve a buffet style brunch with a few simple dishes, beverages, and tableware for guests to help themselves as they like.
Keep the menu to 4-5 items that are perfect for snacking.
You don't need to go all out with decorations, just a couple of festive items to spruce up the table and keep it in autumn colors is all that's needed.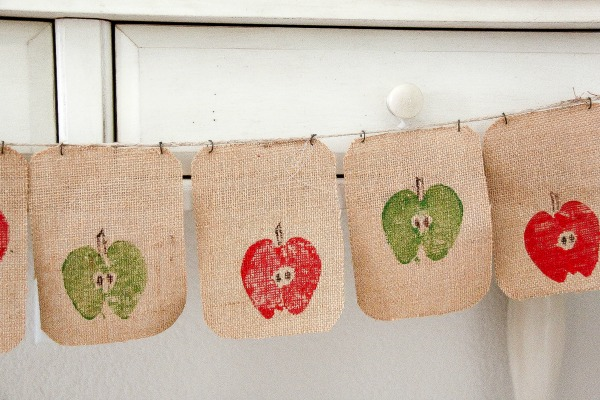 You don't even need to use linens. I lay a sheet of brown paper on the table and included a few markers for kids to write what they are thankful for before putting food on to their plates.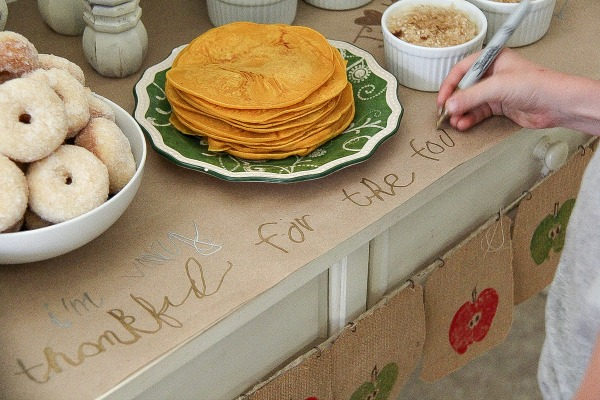 And surprisingly they were very thankful for the food … although I did try to convince my kids they should be thankful for their very awesome mummy. I believe I was given the side eye.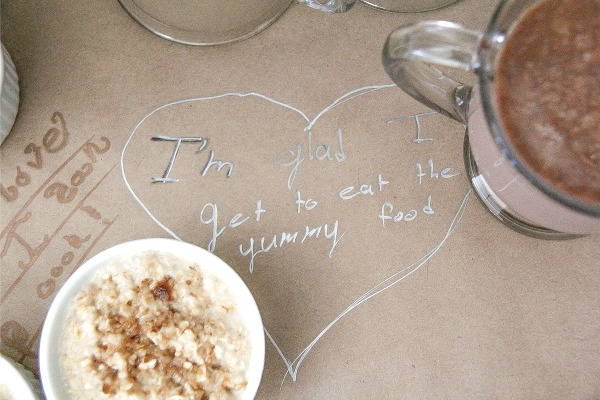 Onto the recipes.
I don't like the oven to be overused, especially on Thanksgiving, so I always spread dishes out to the stove and slow cooker too.
Homemade Maple Brown Sugar Oatmeal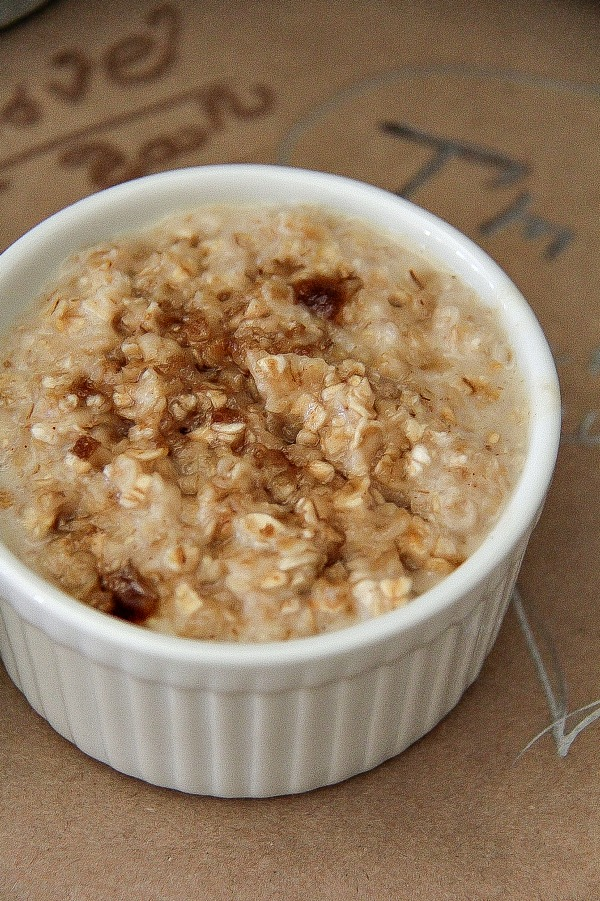 This is one of two stovetop dishes and you can prepare it while making the pancakes (see below).
Ingredients:
2 1/2 cups water
2 cups of quick cook oatmeal
2 tbs granulated sugar
1 tsp cinnamon
1 can Nestle® Carnation® Evaporated Milk
1 tbs butter
2 tbs brown sugar
2 tbs maple syrup
1 tsp vanilla
pinch of salt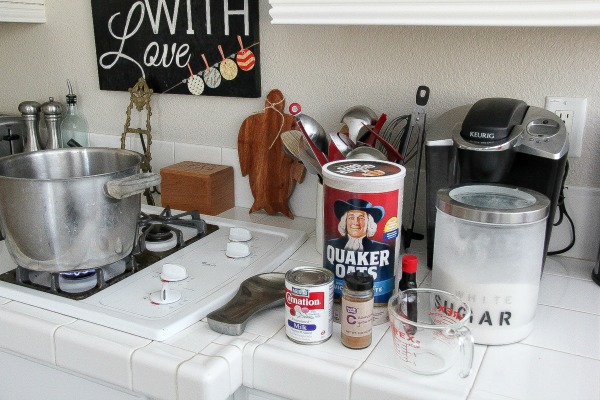 Bring 2 cups of water with the salt to the boil.
Gradually add oatmeal. Stir in the cinnamon, butter and butter, and then add the evaporated milk slowly, stirring as you add it.
Serve into ramekins and top with brown sugar and a drizzle of maple syrup.
HOMEMADE CINNAMON DONUTS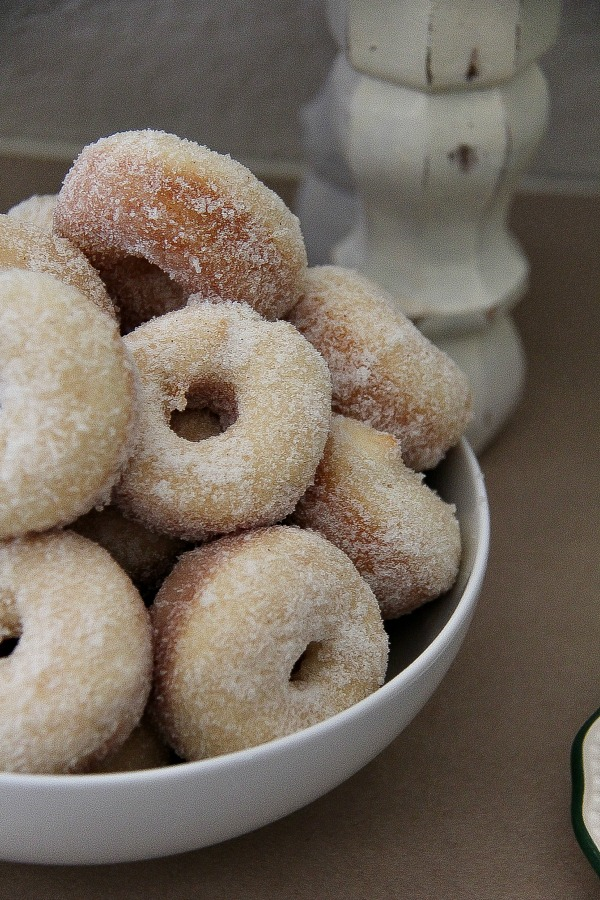 These were one of two baked dishes. The best part is, they can be made ahead, just store in an airtight container until ready to serve. You can even warm them a little before serving if you like.
I wish I could take credit for the recipe, but it's from A Happy Food Dance. It's simple ingredients and everyone loved them.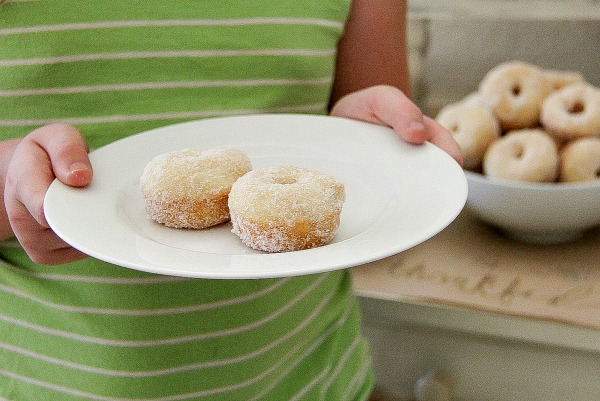 SLOW COOKER HOT CHOCOLATE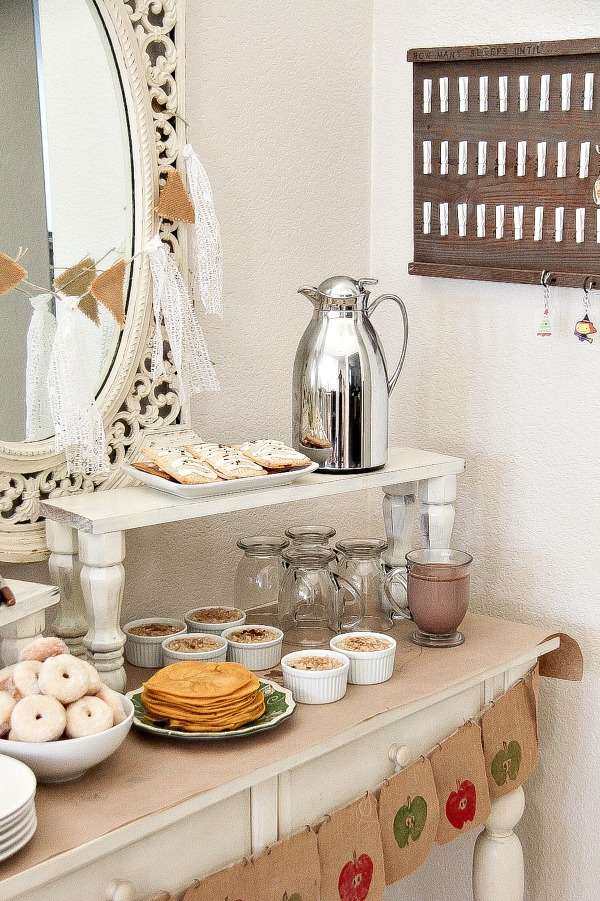 This is the perfect cool weather dish, it uses the slow cooker and can be made over 2 hours in advance. Just set the dial to warm to keep the hot chocolate warm until ready to serve.
Tip: Fill a pot with hot chocolate to place on the table with mugs and keep the remaining hot chocolate on warm in the slow cooker so you can replenish the pot whenever you need to.
Ingredients:
1 can 1 can Nestle® Carnation® Condensed Milk
1 1/2 cups heavy whipping cream
6 cups reduced fat milk
1 1/2 tsp vanilla extract
2 cups Nestle® Toll House® Semi-Sweet Chocolate Morsels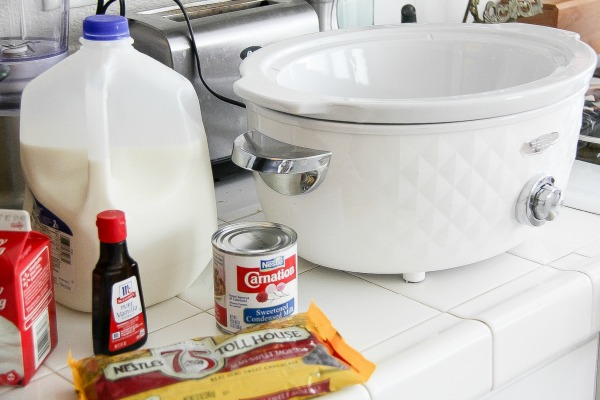 Add the wet ingredients to the slow cooker first, then gradually sprinkle the chocolate morsels around. You don't want to just pour them in because they'll clump.
Cook on low for 2 hours. Stir a few times during cooking and right before serving.
Switch to warm until ready to serve.
Homemade Pumpkin Pie Tarts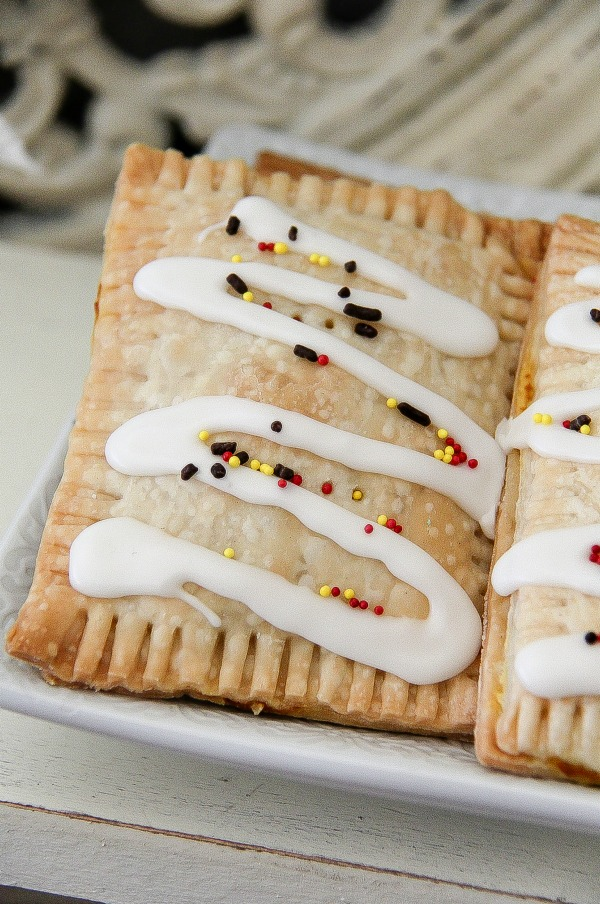 These are the second baked item and I have to tell you, they are amazing and really easy to make. You can also make these ahead of time as they don't need to be served warm.
Pumpkin pie is one of Flynn's favorite fall dishes, so I wanted these to taste like pumpkin pie, but with the extra layer of pastry and icing over the top.
Ingredients:
1 cup pumpkin puree
1/4 cup cream cheese (softened)
1/4 cup graunulated sugar
2 eggs
1 tsp cinnamon
1/2 tsp ginger
1/2 tsp nugmeg
1/2 tsp allspice
pinch of salt
refrigerator pastry
1 cup powdered sugar
2 tbs half & half
1/2 tsp vanilla extract
fall sprinkles
Preheat the oven to 350F.
You are going to begin by making the filling.
In a saucepan combine the pumpkin puree, cinnamon, ginger, nutmeg, allspice and salt until fragrant (just a couple of minutes). Add the softened cream cheese and combine thoroughly. Whisk in one egg and then add the sugar, stirring until everything is combined.
Pour into a bowl and refrigerate while you take care of the pastry.
Roll out the pastry and cut into rectangles – you need two rectangles per tart. I used 3 sheets of pastry and made 12 tarts. As you can see Marisol helped me with these.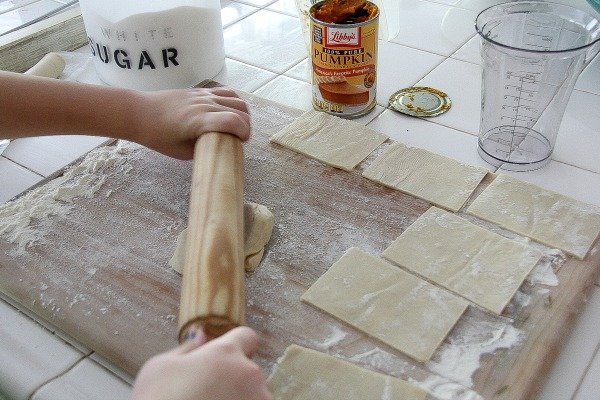 Whisk the second egg and brush it on the rectangle that will form the base of the tart. Spoon about a tablespoon of pumpkin pie mixture into the center and spread it out a little.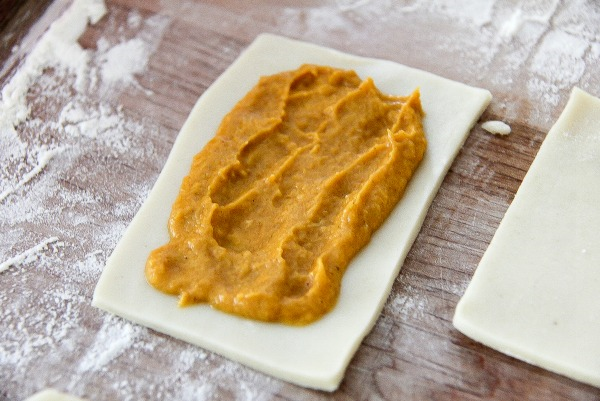 Place the top rectangle of pastry over the top and using a fork, press the edges together. Prick the top with the fork and bake for 19-20 minutes.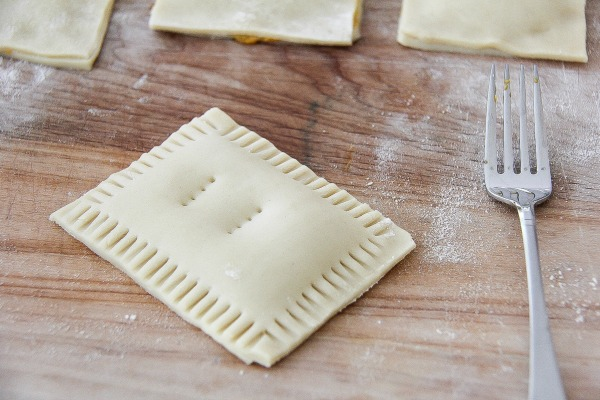 Set aside to cool. Once cooled combine the powdered sugar, half & half and vanilla extract in a bowl. Drizzle over each tart, adding sprinkles as you go because the icing sets very quickly.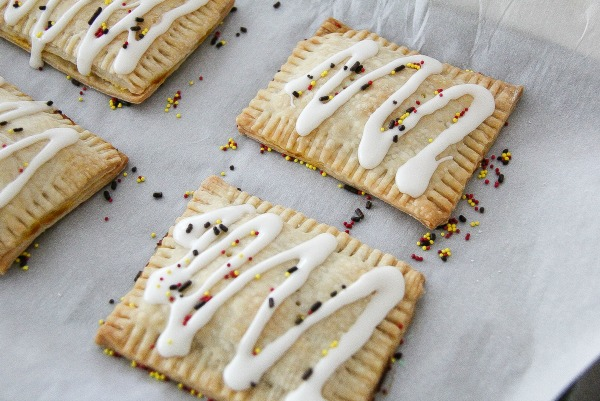 Store in an airtight container until ready to serve.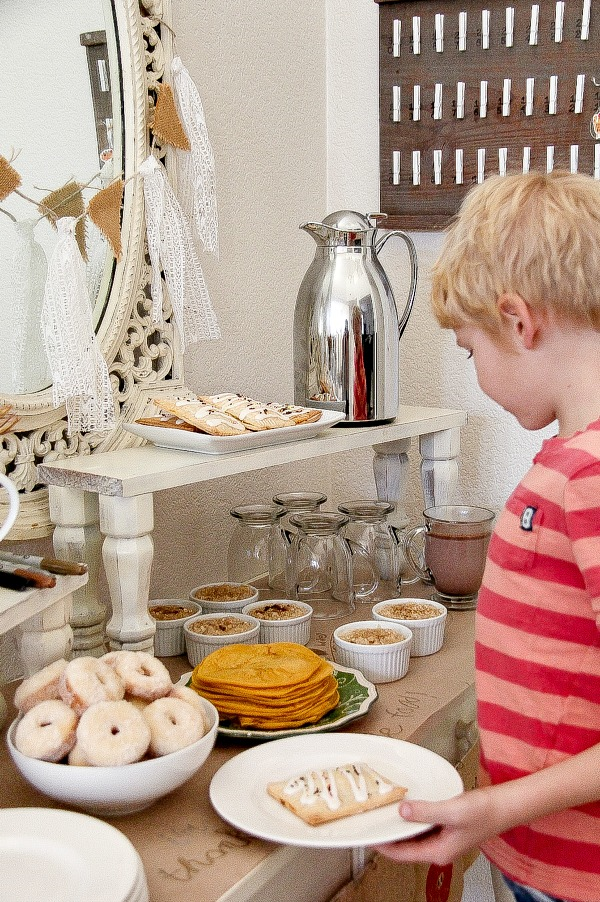 PUMPKIN PANCAKES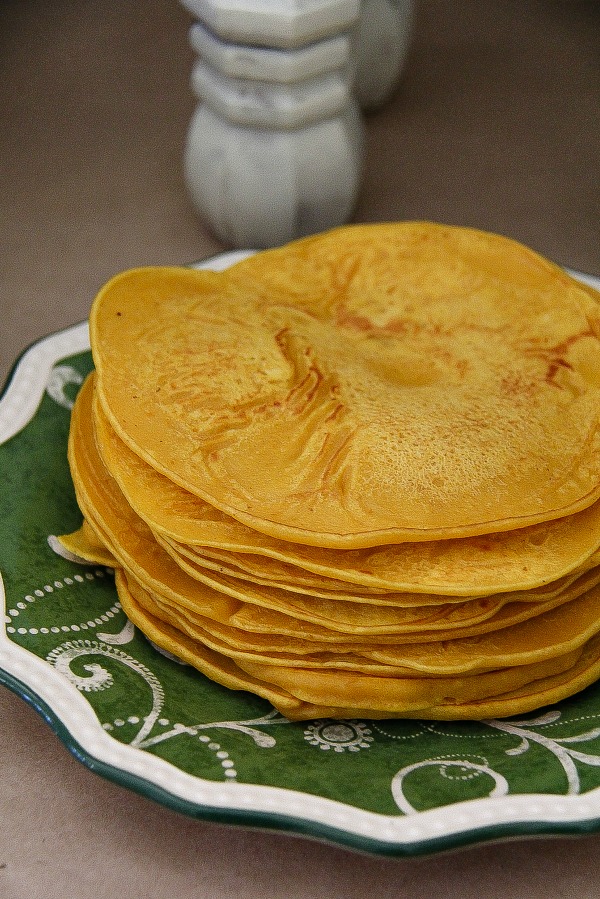 This is the last menu item and are made on the stove, alongside the oatmeal.
Again, these are not my own recipe, but you can find the recipe over at Julia's Album. They didn't come out quite as fluffy as I wanted so clearly I wasn't reading the directions properly … or most likely not measuring ingredients, because I have a tendancy to eyeball everything.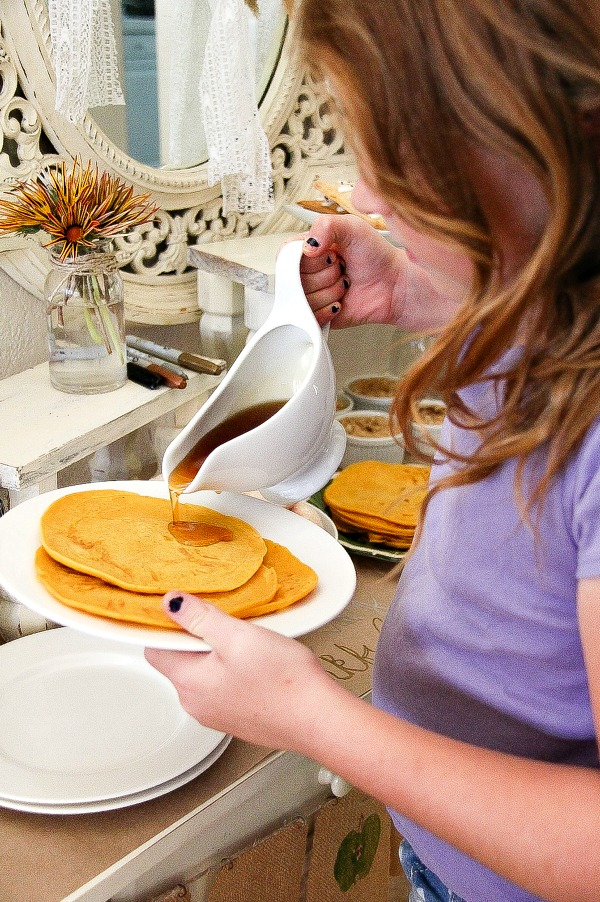 For more great recipe ideas for fall look here:
Fall Flavors Pinterest Board | Nestle at Walmart | Flavorful Moments
NESTLÉ® TOLL HOUSE® Semi-Sweet Chocolate Morsels, along with NESTLÉ® CARNATION® Evaporated Milk and Condensed Milk are available at Walmart stores in the baking aisle. 
Disclosure: This shop has been compensated by Collective Bias, Inc. and its advertiser. All opinions are mine alone. #Feast4All #CollectiveBias