I'm getting back into the exercise routine.  I'm still not back to exercising daily, but I'm getting there.
Weight: 161.4 lbs 170.6 lbs
Overall:  Down 9.2 lbs and 4.5"
(red denotes initial measurements and weight)
So another 1.4 lbs down this week.  Yay.
Note the photographs now in black and white, that's because I still have the orange toe nail polish.  I need a pedicure. Desperately.
Recipe of the week.
Breakfast Bagel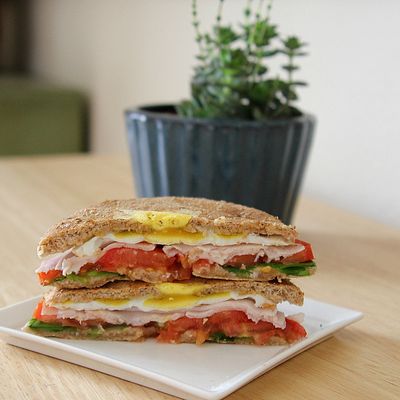 Ingredients:
Whole Wheat thin-sliced bagel
Tomato (sliced)
Spinach
1 egg
4 slices turkey
Salt and pepper
Fry the egg using a little olive oil spray. 
Open up your bagel and place the spinach, tomato, turkey and fried egg inside and top with freshly cracked salt and pepper.  Grill in the George Foreman for a couple of minutes.
Disclosure: I am one of 10 Brand Ambassadors in the George Foreman Knock out the Fat Weight Loss Challenge. I was sent a George Foreman Grill for my participation in this challenge and will be compensated for my time at the end of the 90 days.