UPDATE:  This giveaway has ended.  The two winners chosen via random.org were Secret Mommy and Bridget.
************************************
It's summer and we are all looking for ways to entertain our little ones over this long vacation time. I'll be bringing you lots of fabulous ideas over the coming weeks, that are not only practical but are sure to keep those little fingers and minds busy.
First up, I was asked to review and host a giveaway for the Creativity For Kids Classic Wood Crafts kit.  I'm sure you all know of my love for Creativity For Kids products, they are of great quality and each of the kits I've received from them has been put to great practical use, as opposed to some other craft kits, which are just that … crafts.  You know the ones, you wonder what on earth you are going to do with them once the kids have made them. 
Anyway, I immediately agreed to do the review and giveaway because, well it's wood and I love wood crafts (my dad is a woodcarver by trade – did you know that?).   I knew that I had already received the kit from them previously though when I was working as a Creativity For Kids Ambassador, but with moving, it had been packed up into boxes and was already at the new house when they had contacted me, so I had them send another thinking it could take me weeks to find the first kit.  Well low and behold, whilst I was rummaging in boxes to find my box of clay to use for one of the ideas I'd had, I came across the original kit.  So then my ideas broadened and the kids and I set to work making a variety of projects.  I think that this has been one of their favorite kits so far as there are endless possibilities.
While I was working at my computer one morning, I found Flynn doing this: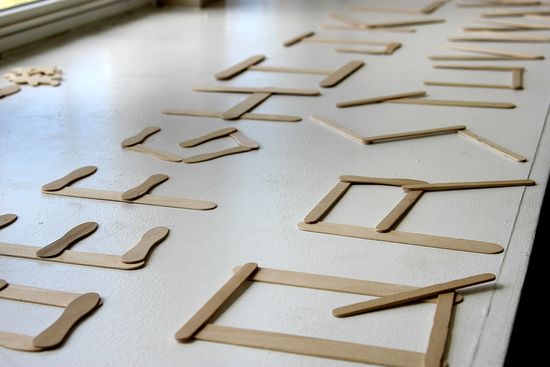 Without any instruction or direction from me, my alphabet obsessed boy decided to turn the various popsicle sticks into letters of the alphabet.  Imagine using this as a learning tool.  Give your child words to spell, or even simple math problems.  What a great homeschooling tool.
I wanted my ideas for this kit to be 'out of the box', because when you look at the packaging there really are a ton of ideas on there already, so I wanted to come up with something a little different to show you how many more ideas are out there.
Marisol came up with the next craft project.  She saw the beads in the box and immediately wanted to make jewelry. So I set her up with the eco-friendly paints and a handful of beads and she got to work painting them.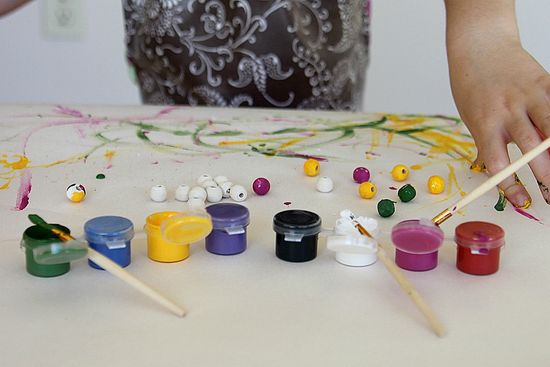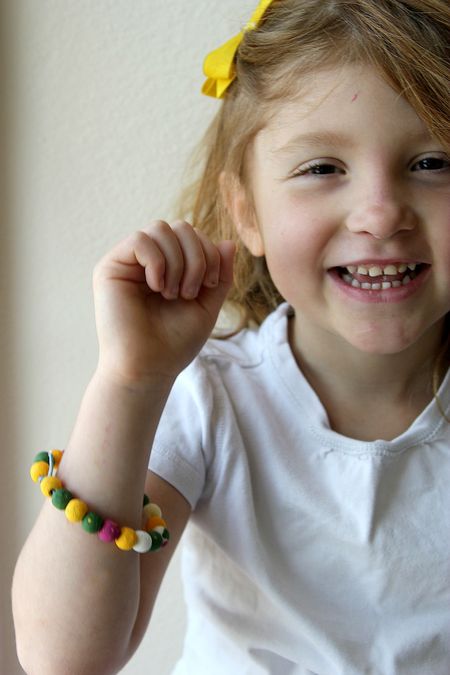 Next, it was my turn to come up with a craft project.
When we moved into our house last week we discovered that AT&T U-Verse has a Barbie Channel.  Marisol was hooked.  They have a memory matching game on there where you have to turn over 2 matching game pieces and it eventually makes a puzzle.   So naturally I decided to make a matching game for the kids.  They are at the perfect age for games and puzzles and do them every day at home.  Marisol is the Bingo champion.  She really is.  Of course though I don't have my box of stamps here to stamp the little wooden discs I wanted to use (they are arriving on the next truck with more of my craft room supplies).  So I decided to make stamps first. 
My idea was to glue some clay to the top of the wooden blocks and imprint an image in each which when stamped would re-create it.  I couldn't find my box of clay though, but did have packets of Model Magic on hand, so willing to try anything out, I gave it a whirl.  Keep in mind that Model Magic takes 72 hours to air dry, but it makes for a fun little project.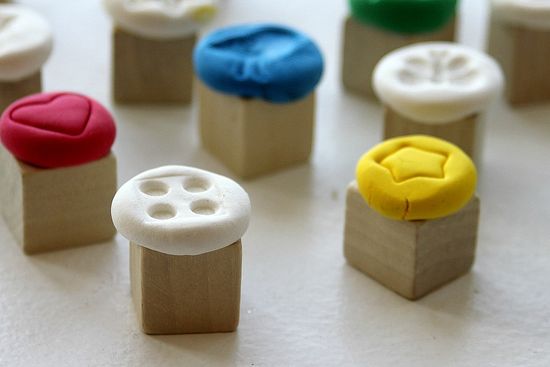 To make these stamps, roll a small ball of Model Magic and attach it with a little of the glue provided in the Classic Wood Crafts kit onto the wood block.  Then very gently with your finger, flatten the ball out, the glue will spread across the block at the same time to ensure that it attaches evenly.   Next, imprint each one with an image, words or numbers.  I used a number of different items to make the imprints – small items from my daughters dolls house, lego pieces, buttons, fondant cutters and I even bought a little $1 stamp kit from Michaels to make a cute bird imprint on one.
I put these aside to harden and then purchased a few assorted $1 mini stamp pads from Michaels.  Once they were firm, I stamped each of the wooden discs to make matching game pieces.  You can keep building on this collection to make the game harder for the kids.  The Classic Wood Crafts kit also comes with a black marker, so I used this to add detail to a couple of the discs (a leaf for the apple and a eye for the bird).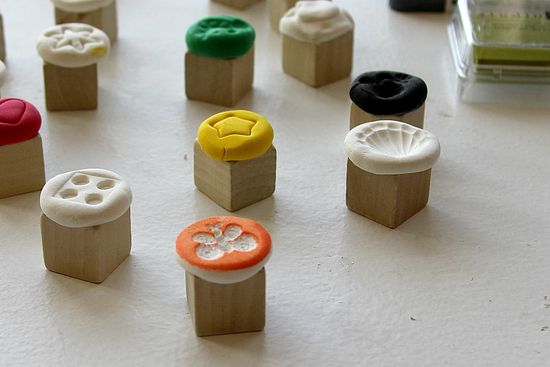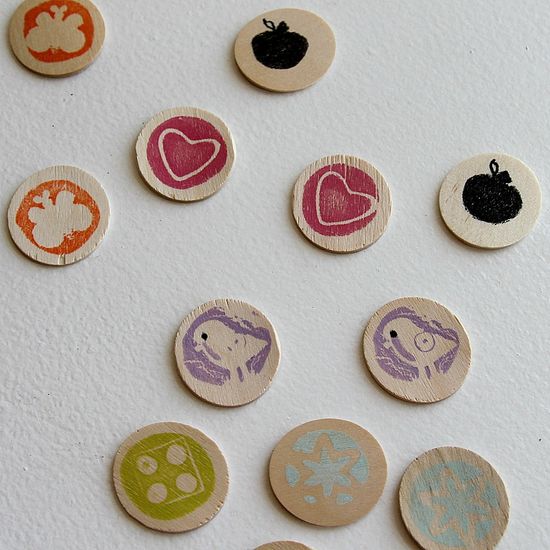 And the game?  Was a big hit with the kids.  They even took it in turns to turn over and re-arrange the discs for the other one to play the game.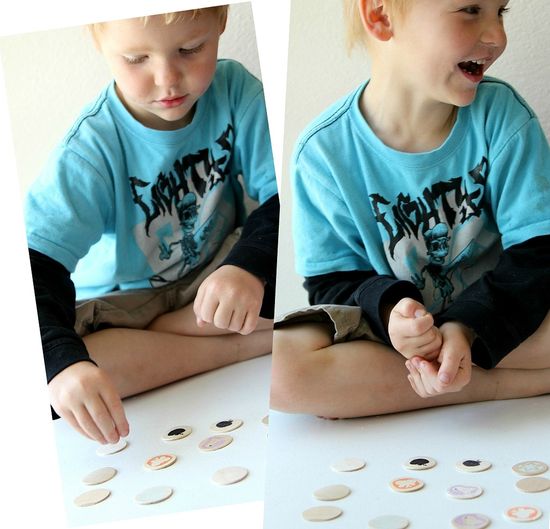 Again, in keeping with my theme of making practical crafts that we could use, and Marisol seeing that we could make flowers (there's a picture on the box), I suggested to her that we make a banner for her bedroom.  She loved this idea.  So I asked her to choose a few colors and then paint each of the petals and center circles.  Of course she decided that she wanted to paint some of her flowers orange, and there was no orange in the paint supplied, but that was easily fixed as I mixed a little red and white into the yellow tub.  She was thrilled.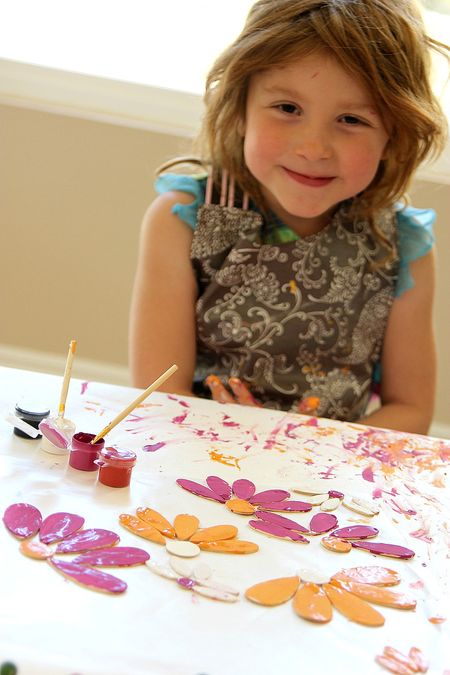 Once the paint was dry, I glued the flowers together and again set them aside to dry.  Now I had to figure out how to turn these into a banner.  There was a lovely green cord in the box so I knew I wanted to use that (you know, as if it were a stem for the flowers), but after a couple of failed attempts, I finally realized I could re-use the corrugated cardboard from the box, so I cut circles out of it and then glued them to the back of each flower with the cord running through the center.  It worked perfectly.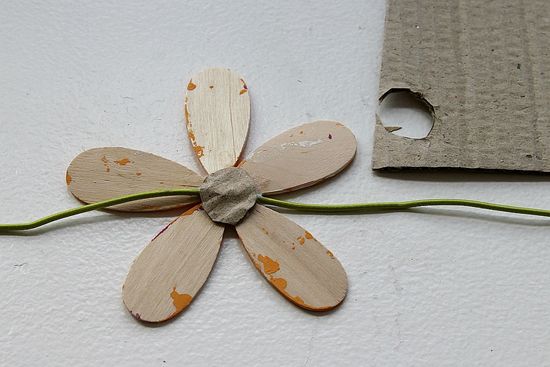 Then once set completely, we hung her pretty banner onto her bed.  She loves it.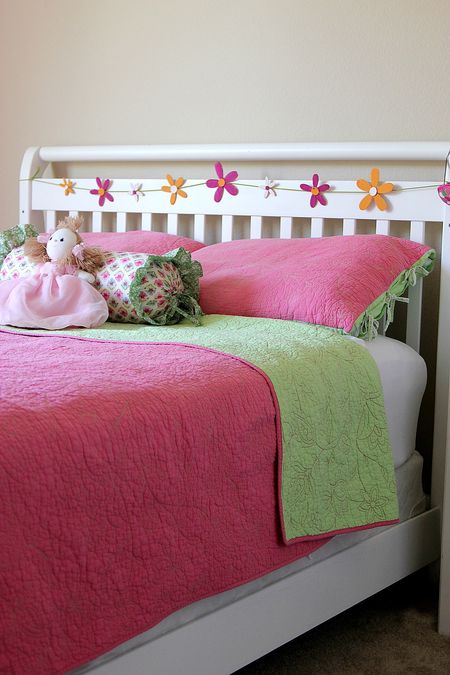 AND NOW I HAVE A GIVEAWAY TO SHARE
Would you like your own Classic Wood Crafts kit?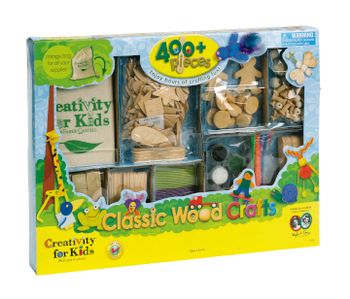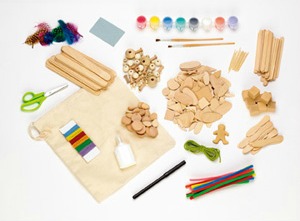 As you can see, from wood bits to glue, you will have everything you need for hours of creative crafting (contents may vary slightly) … plus, there's a great storage bag to keep all of your small pieces secure 
Go green! The lid becomes a mess free crafting solution and the box can be reused to display your creative creations.
Eco-Paint…this special formula is earth-friendly and kid approved.
Teacher's Pick Award Winner
Ages 5 and up
$29.99
It's simple to enter.  Answer this question in the comments:
What would you like to make with this kit?
This giveaway is open to all residents of the US over the age of 18 and ends on Monday June 13th at 10pm PST.   TWO winners will be drawn via random.org.
Creativity For Kids are on Facebook and Twitter.  Follow them to keep up with all the latest news.
Disclosure: I received a Classic Wood Crafts kit to review.