Happy Monday everyone.  It's my birthday!  Made all the better by standing on the scales and seeing that number continue to go down.  Yay.
Weight: 160.6 lbs 170.6 lbs
Overall:  Down 10 lbs and 4.5" 
(red denotes initial measurements and weight)
Well I didn't lose any more on the inches this week, but I am down another .8 of a lb.  Not my greatest weight loss to date, but I blame a lot of eating yummy (note: not healthy) food over the past few days.  We had friends in town for a couple of days, and I hosted a party on Friday so there was definitely a lack of exercise and a whole lot of eating going on over the past 3 days at least.  I wore a skirt yesterday that I bought when I first got pregnant with the twins, before I gained a lot of weight.  It fit.  It completely made my day. 
Recipe of the week:
Fruit Kebabs
I was inspired by @OnlyLaila to make these.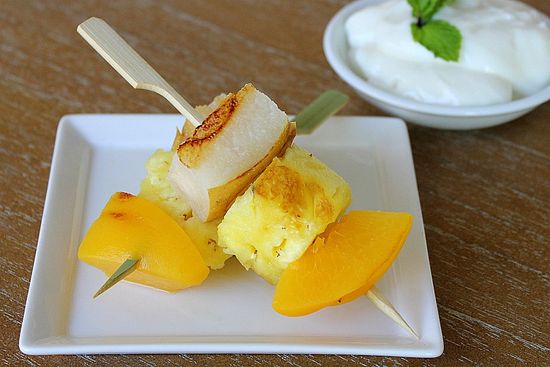 Ingredients:
Pineapple
Peach
Pear
Vanilla yogurt (for dipping)
Carefully thread your fruit of choice onto skewers and grill on the George Foreman on medium heat for just a couple of minutes.
Dip into your vanilla yogurt.  This makes a delicious and healthy start to your day.
Disclosure: I am one of 10 Brand Ambassadors in the George Foreman Knock out the Fat Weight Loss Challenge. I was sent a George Foreman Grill for my participation in this challenge and will be compensated for my time at the end of the 90 days.