This Dead and Breakfast Inn Halloween mantel is the perfect way to welcome guests to your home. Don't forget the tea and spider egg donuts.
Disclosure: This post is sponsored by Oriental Trading Company.
It's never too early to start putting up Halloween decorations. I think if Mike had his way we'd have Halloween decorations up year-round.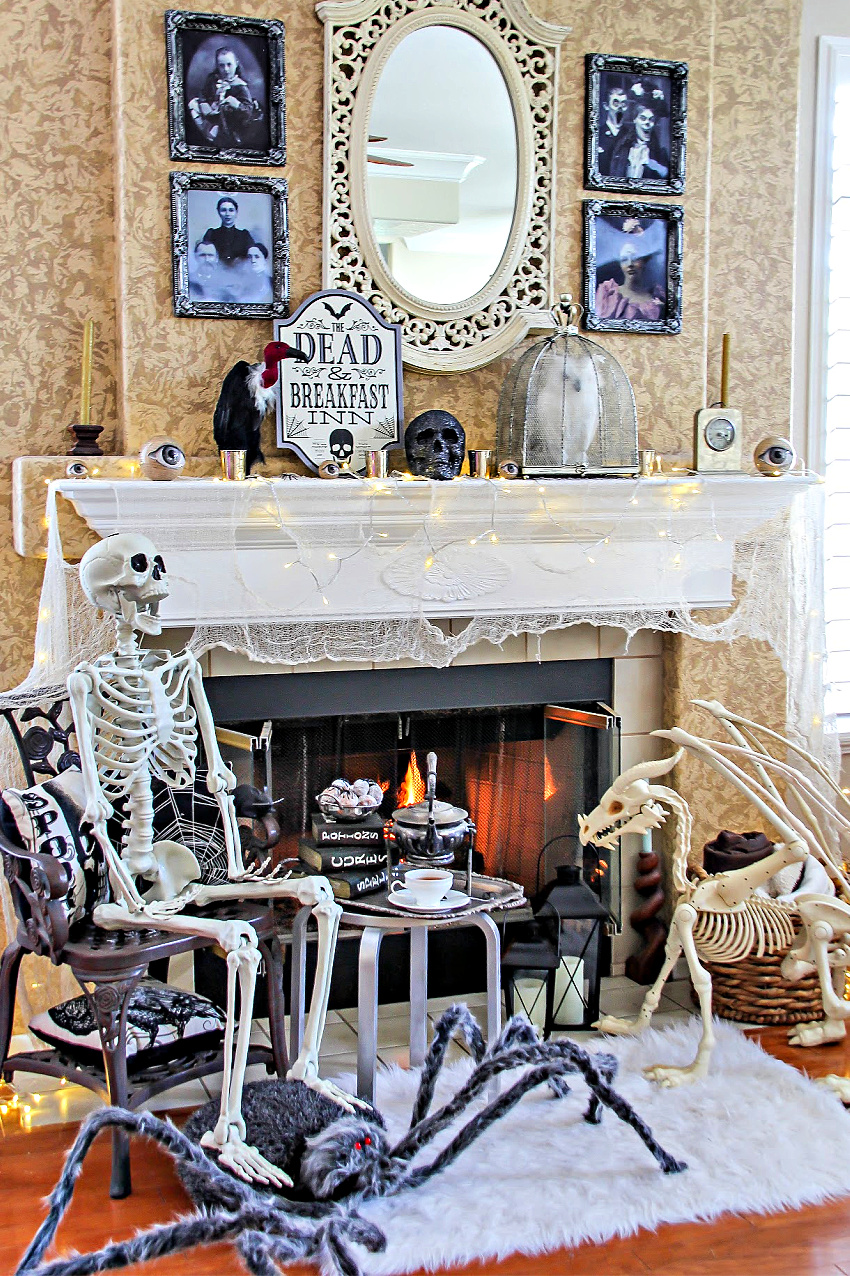 We haven't gotten around to decorating outside yet, but I have decorated the mantel. This year we've gone with a Dead and Breakfast Inn theme, complete with donuts. You know how much I love donuts!
A fire-breathing dragon 'skeleton' to start a fire is the perfect addition to this fun Halloween theme. He'll keep you warm and cozy if it's a cool morning.
Dead and Breakfast Halloween
What You Need
These items are available from Oriental Trading:
Jumbo Stuffed Spider with Light-Up Eyes Halloween Decoration
Dragon Skeleton
Vintage Throw Pillows
Natural Creepy Cloth Halloween Decoration
Gothic Dead & Breakfast Sign
Feathered Black Vulture
Eyeball Orbs Halloween Decorations
Black Metal Lanterns
Scary Spiders Halloween Decorations
Individual Rat Halloween Decoration
I already had these items at home, but you can order similar items from Oriental Trading too.
Life-Size Posable Skeleton
Pretty Possessed Print Halloween Decor
Small Skull Resin Cranium Halloween Decoration – use a can of black glitter spray paint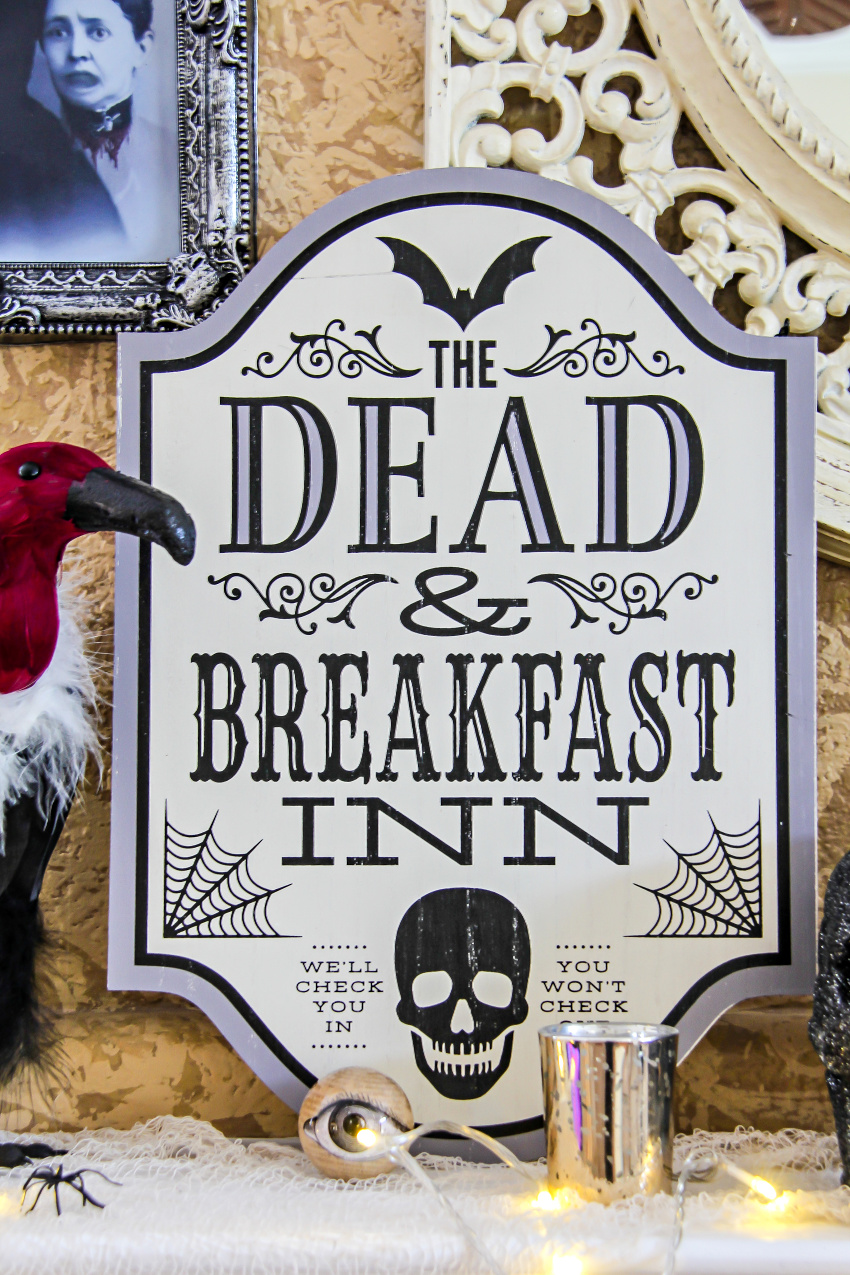 My favorite addition to our Dead and Breakfast Inn is the antique teapot that belonged to my grandmother. On one of her trays, I added teacups and 'spider egg' donuts for brunch.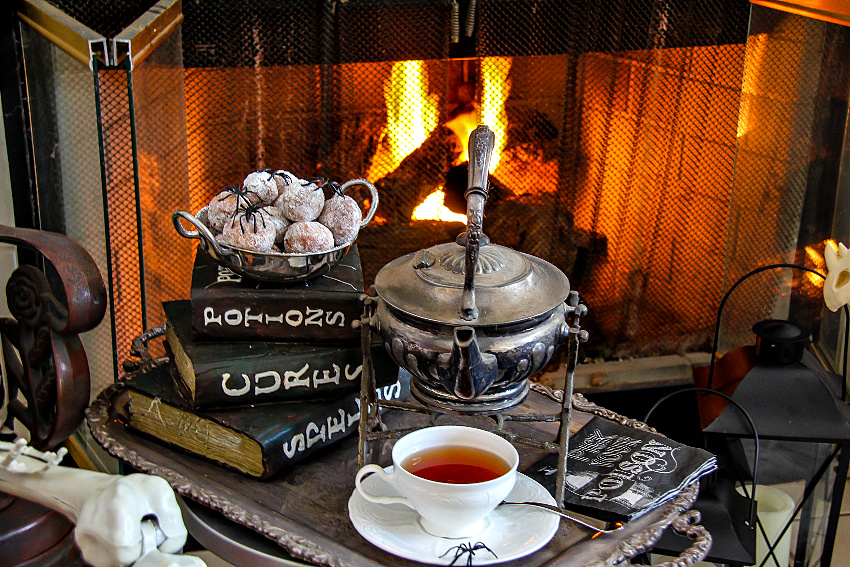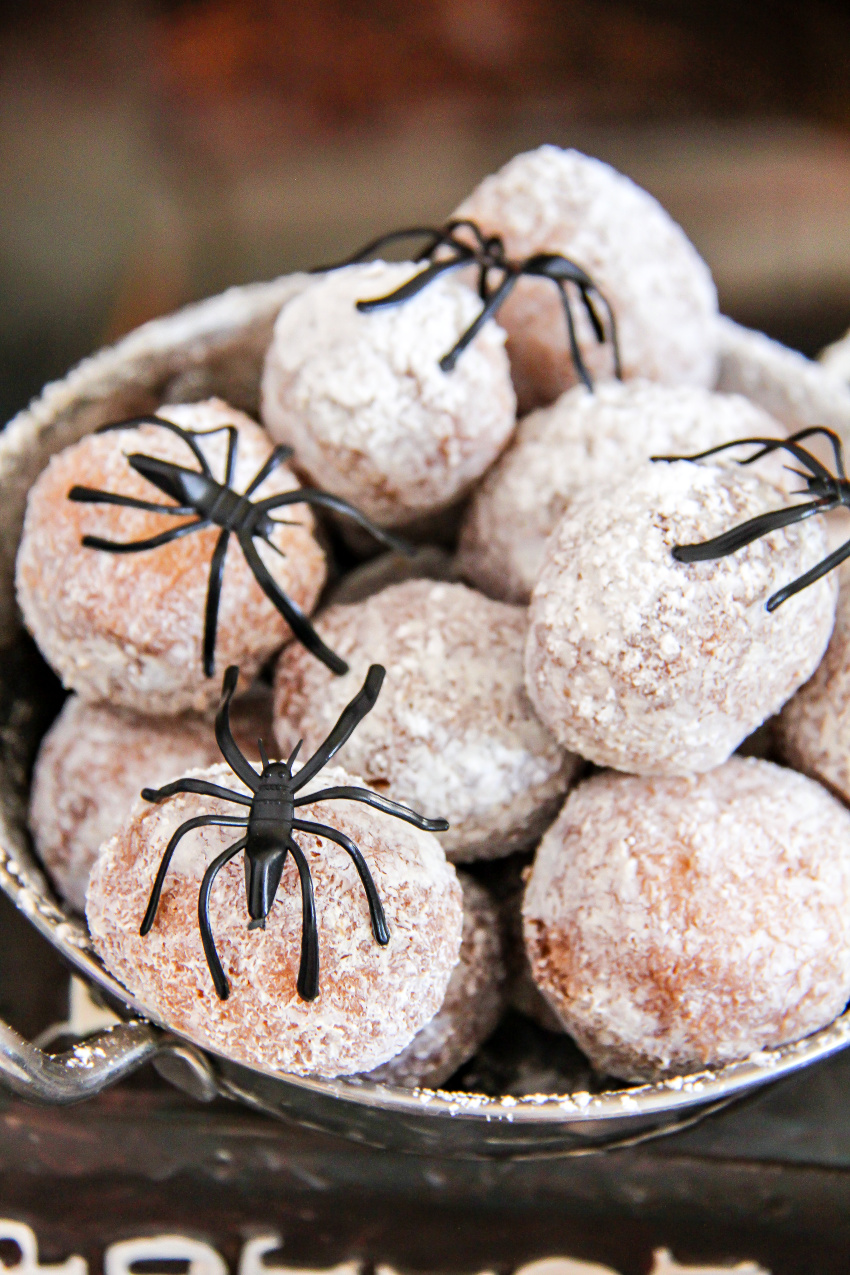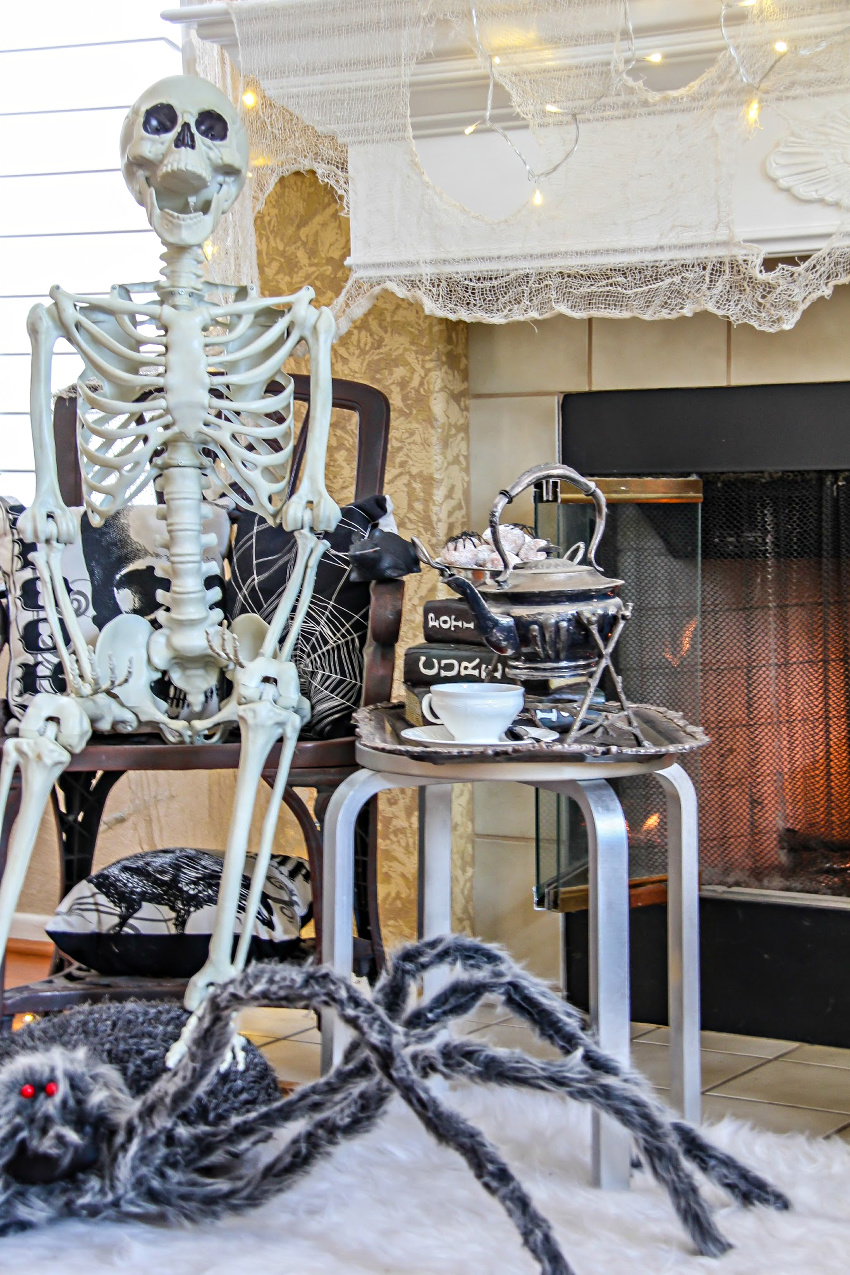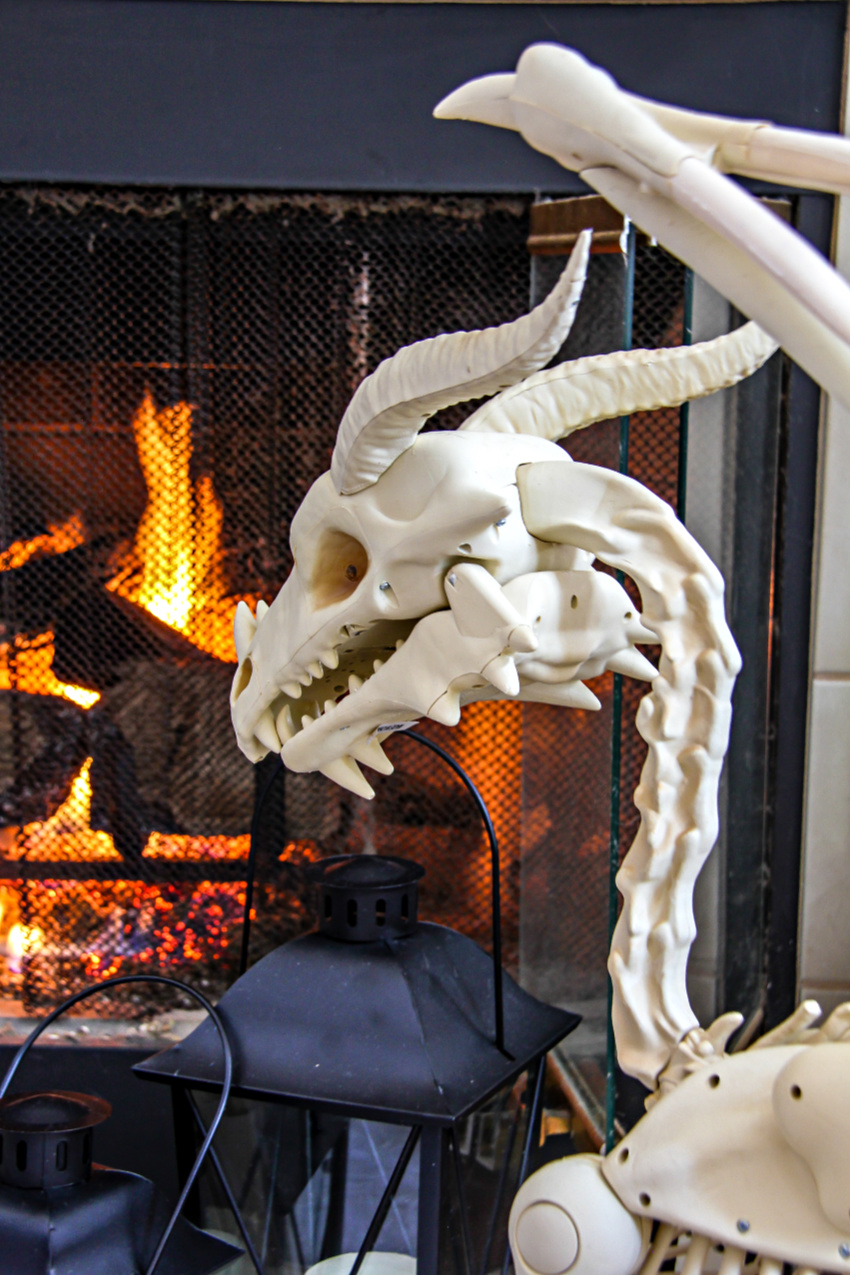 What is your Halloween theme going to be this year? Do you keep the same theme each year or change it?
Looking for more Halloween mantel ideas? Try these:
Please pin this post for later: