Are you hosting an afternoon tea party at home? We have put together a menu for you including delicious food and tea your guests will love.
Disclosure: This shop has been compensated by Collective Bias, Inc. and its advertiser. All opinions are mine alone. #TeaProudly #CollectiveBias
In Australia, some of our family traditions, including afternoon tea, were adopted from Britain. Afternoon tea, also known as high tea, is often served in fancy hotels and restaurants. It is normally served for girls' days out, Mother's Day, bridal showers, and baby showers and consists of finger sandwiches, bite-sized desserts, pastries, and tea.
For afternoon tea at home, my mum would put out an assortment of biscuits or cake, fresh fruit, tea, and pastries. There were always fresh flowers from the garden in the middle of the table too. It always seemed to be the time of day that neighbors, family, or friends would pop over too. I have carried on that tradition and have afternoon tea with my kids every day after school. We don't sit around the table as I did growing up, but it's still an important time of day for us to connect as a family.
Note: Our 'high tea' is very different from the actual definition of high tea. I encourage you to research the history of high tea.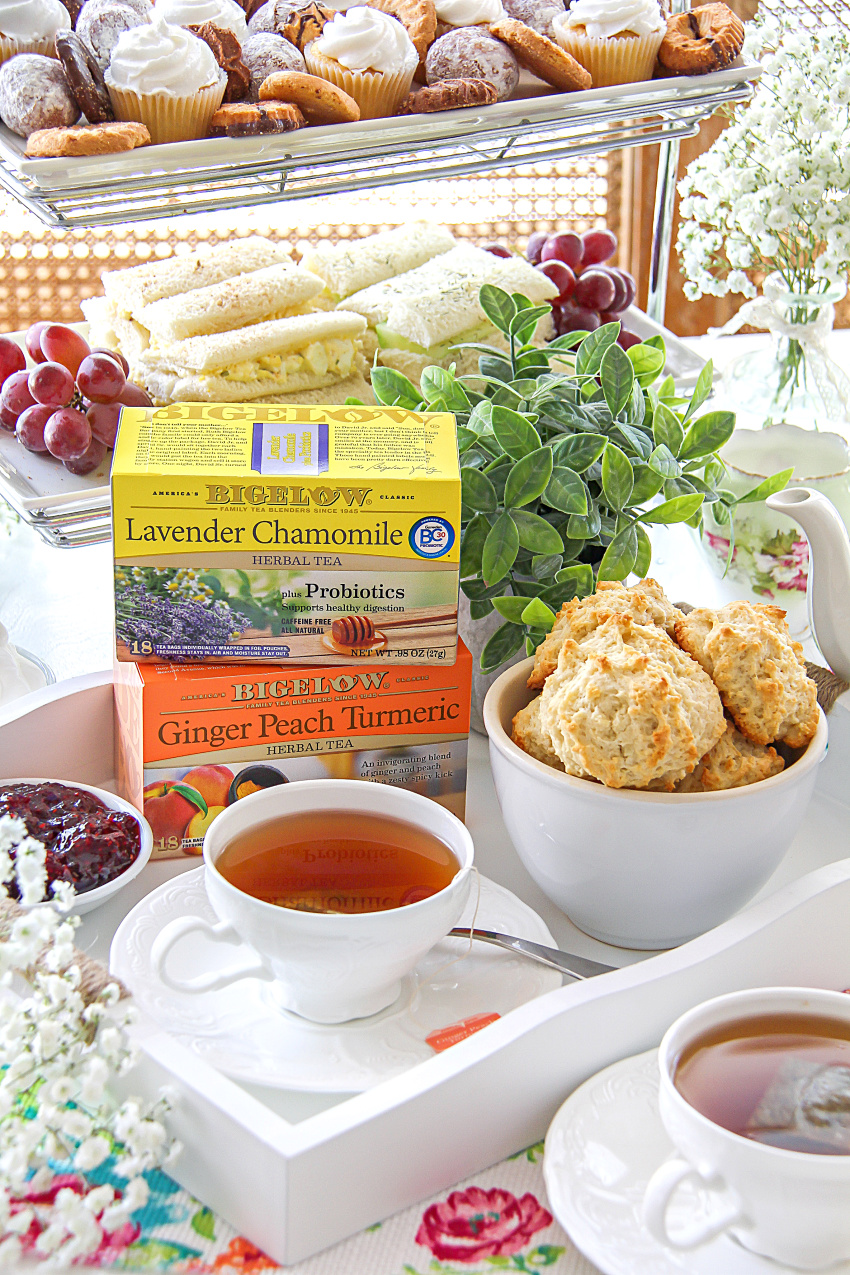 Afternoon tea menu
An assortment of teas including herbal and regular for guests who prefer cream and sugar.
Finger sandwiches with assorted fillings such as smoked salmon, egg salad, or cucumber with cream cheese.
Scones with jam and freshly whipped cream. Alternatively, flavored scones with a little butter.
Biscuits (or cookies)
Chocolate éclairs
Mini pavlovas
Muffins
Tea loaf
Fruit or jam tarts
Fresh fruit
English muffins with assorted jams, lemon curd, or marmalade
I included two of the four new Bigelow Tea herbal teas in our afternoon tea table.
Lavender Chamomile Herbal Tea with Probiotics
Ginger Peach Turmeric Herbal Tea
Matcha Green Tea with Turmeric
Green Tea with Ginger plus Probiotics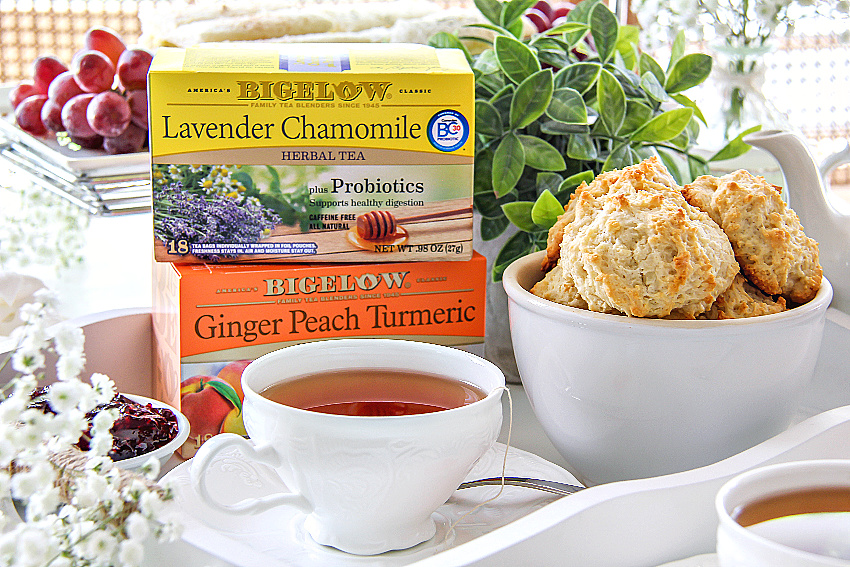 If you would like to purchase the NEW Bigelow Tea flavors, click through the image below to order them from Walmart.com.
How to serve afternoon tea
What are some of your favorite bite-sized foods you would include for afternoon tea? Let's get more ideas flowing in the comments. I'd love to try more with the kids.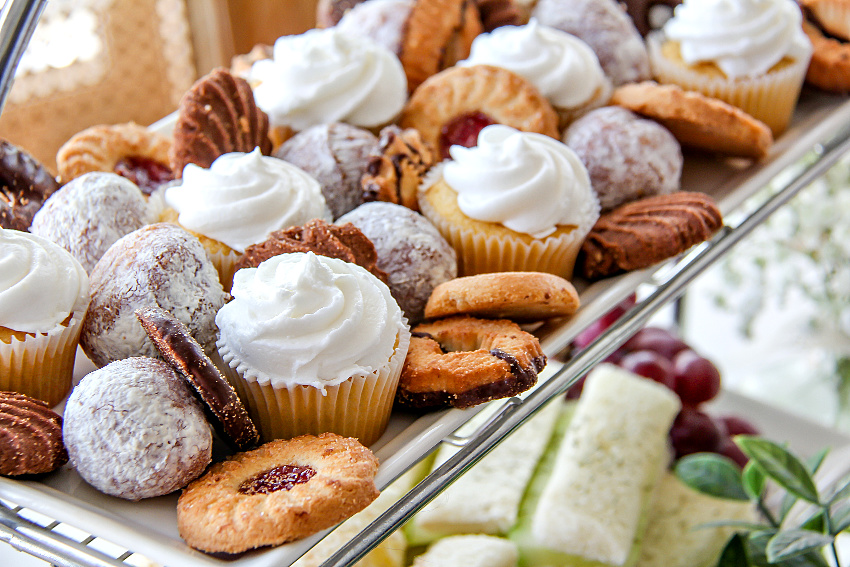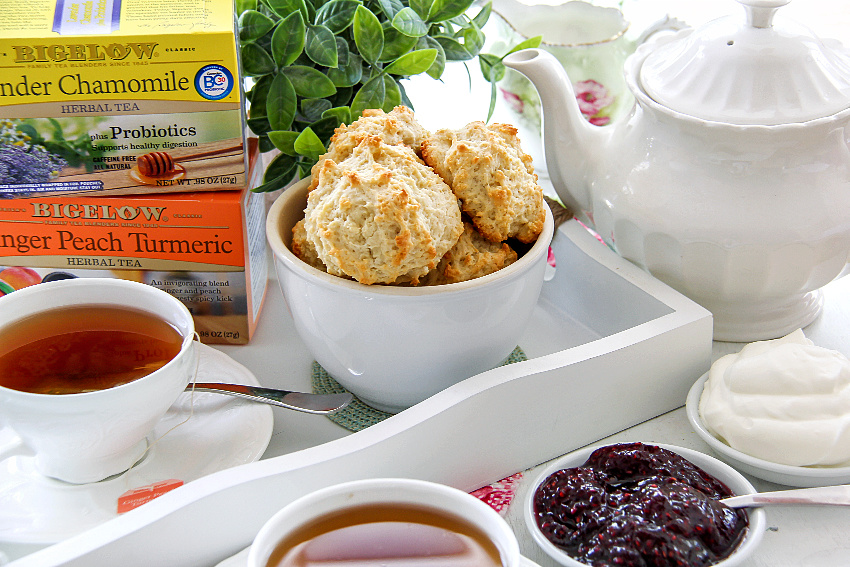 About Tea Proudly
Tea proudly is Bigelow sharing everything they are proud of that gives consumers the reassurance they are making the right choice and are in the know. Share how you Tea Proudly with the new Bigelow Tea flavors by sharing your 'tea moments' on social media using the hashtag #TryNewBigelowTea. You can find the NEW Bigelow Tea varieties at Walmart.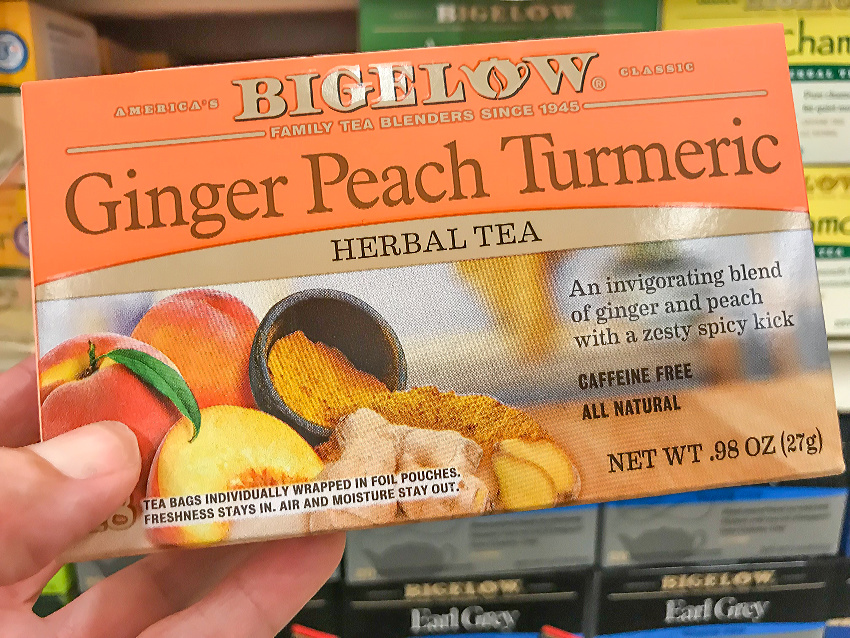 Looking for a recipe that uses Bigelow Ginger Peach Turmeric herbal tea? Make our peach bourbon iced tea recipe, it's delicious. Use the same recipe to make a pitcher of iced tea using the Lavender Chamomile flavor too.
Please pin this post for later: