Fall sports are under way and whether you are homegating or tailgating you can celebrate in style.
A Hot Dog Bar is a simple way to go, and is bound to please everyone from kids to adults.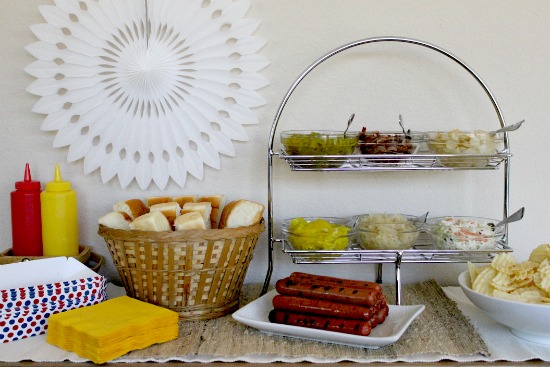 Here are my tips:
Place hot dog toppings in glass bowls with lids. These will stack nicely in a cooler for tailgating as well as provide a cover to keep bugs out. They also make for quick and easy clean-up for homegating parties. Pop the lid on and put your leftovers directly into the refrigerator.
Prepare a variety of hot dogs according to what your guests prefer from vegetarian, to beef, and turkey.
Instead of fries on the side (especially for tailgating) provide potato chips instead.
Suggested toppings: (these are our favorites) sauerkraut, coleslaw, banana peppers, bacon, onions, relish, mustard, and ketchup. Here are a few others you might like: grated cheddar cheese, jalapeno peppers, chili, tomato, and baked beans.
Tailgating grilling tips: We love our Weber Q200 Portable Tabletop Grill with a rolling cart. It's perfect for tailgating. Don't forget a small grilling pan for cooking the onions and re-heating the bacon, beans, or other dishes if you pre-cooked them at home (which I recommend).
Wide cardboard food trays are perfect for not only holding your hot dog, but also your potato chips and napkin, because we all know when you are tailgating, being able to hold your food in one hand, or having a lap-friendly container is essential.
Don't forget the King's Hawaiian Hot Dog Buns and visit the King's Hawaiian site for delicious relish recipes such as the Easy Breezy Island Relish and the Aloha Pineapple Relish.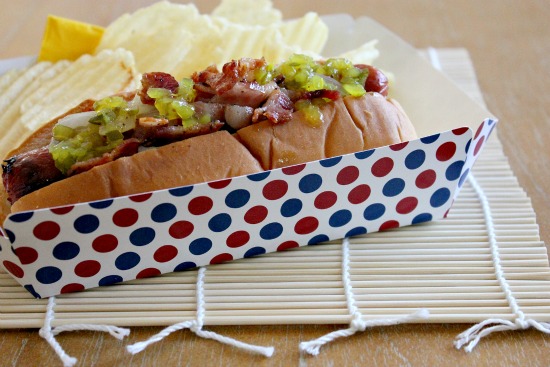 My hot dog of choice is topped with bacon, relish, and sautéed onions. Yum! What's yours?
**************************************
KING'S HAWAIIAN has an all-star line-up of sandwich products which includes: Mini Sub Rolls, Sandwich Buns, and Hamburger Buns and Hotdog buns.
Whether you are at your kid's game or the stadium, KING'S HAWAIIAN is a great choice for a family tailgate.
What is your family's favorite part of game day? Comment below and be entered for a chance to win $200 to put towards your next game day event.
This is a sponsored conversation written by me on behalf of Kings Hawaiian. The opinions and text are all mine. Official Sweepstakes Rules.