This handmade stork pinata inspired by The Storks Movie is the perfect addition to a baby shower or gender reveal party.
Disclosure: This blog post is sponsored by Warner Bros Pictures
The new animated movie, STORKS, is coming to theaters this weekend. The kids and I are so excited to catch an advance local screening this week.

STORKS comes from the studio that delivered THE LEGO MOVIE and stars the voice talent of Andy Samberg, Jennifer Aniston, Ty Burrell, Kelsey Grammer, Keegan-Michael Key, Jordan Peele, Katie Crown, Danny Trejo.
Forever in party planning mode, of course this movie made me think of baby showers. My son, who is almost 21, went to a baby shower last weekend. Of course he had no idea what to buy as a gift, so sent me a copy of their needs and I put together a little stork inspired package for the happy couple containing a few essentials. And that got me to thinking about how fun it would be to have a stork themed baby shower, especially for a gender reveal, which seems to be all the rage at the moment.
And so I made this fun stork piñata that would be perfect for a gender reveal baby shower.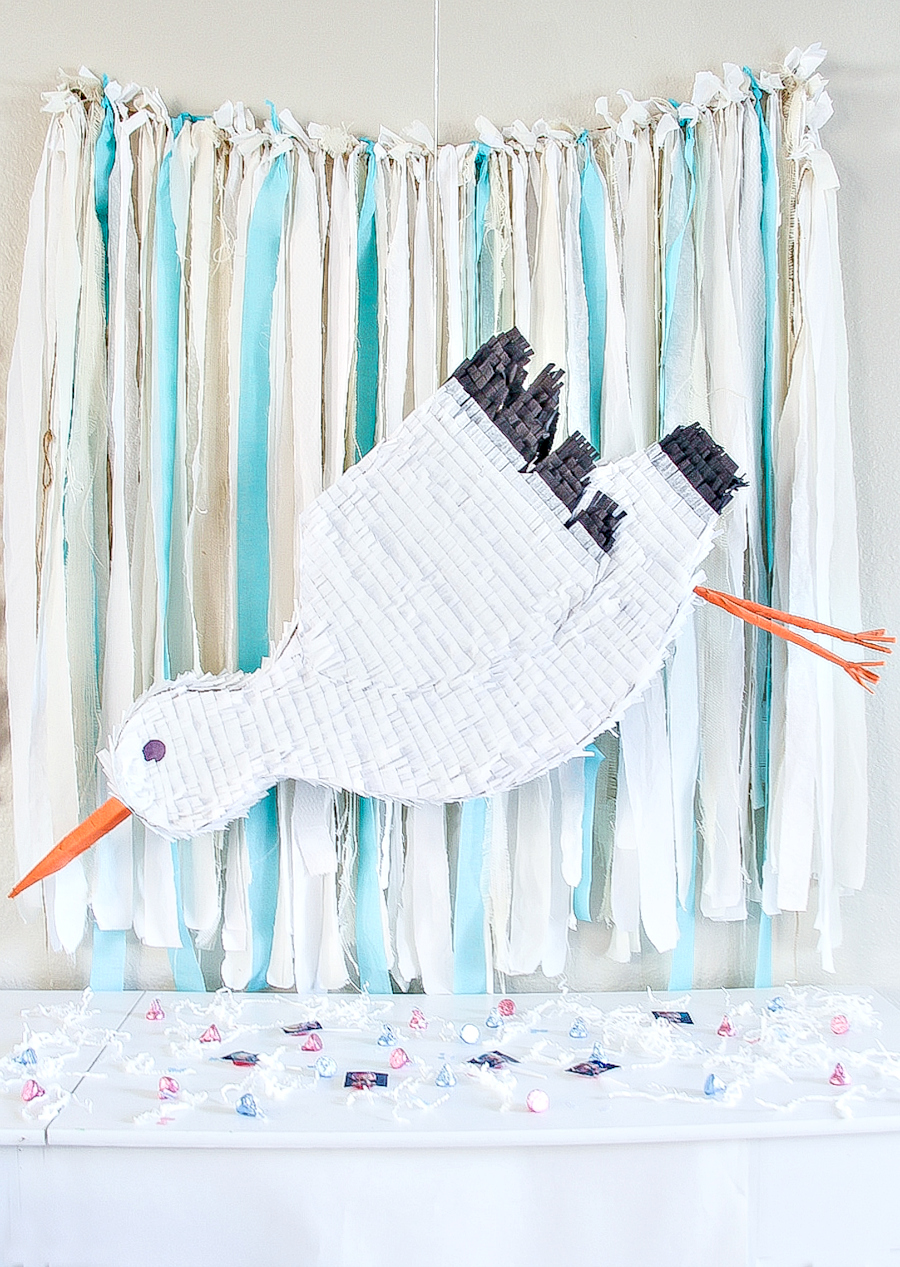 You would simply fill it with all things pink or blue.
Piñata's are surprisingly easy to make. I've been making my own for a few years now. But of course, depending on the size, they can be a little time consuming.
What You Need To Make A Stork Pinata
Cardboard
Crepe paper streamers – white, black, and orange
Scissors
Glue stick
Packing tape
Pencil
How To Make A Stork Pinata
Start by sketching out the basic shape for your piñata on the cardboard.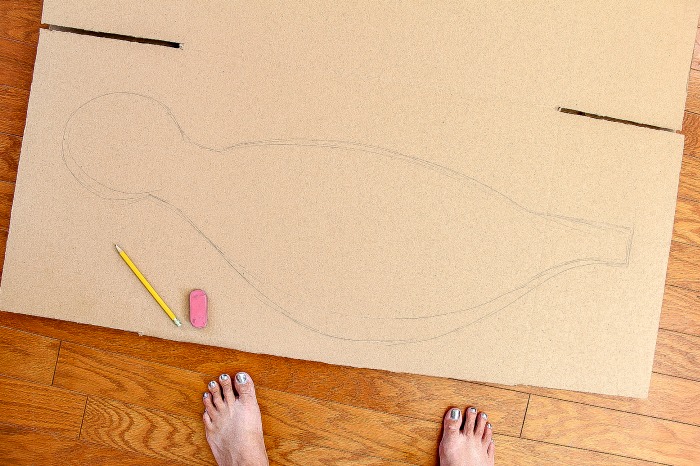 Cut it out, trace around it, and cut out a second one exactly the same. You pretty much need two of everything as you are constructing a box that will hold the candy and other treats.
Once you have your basic shape, including the wings, cut out long strips of cardboard approximately 3 inches wide.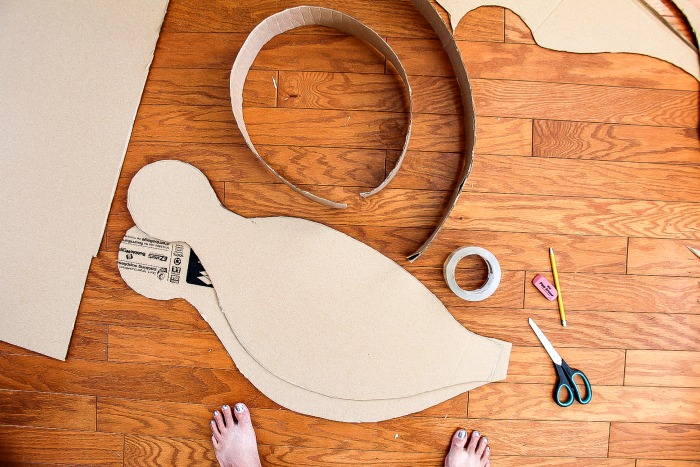 Bend the long strips of cardboard and attach them to the main pieces using the packing tape.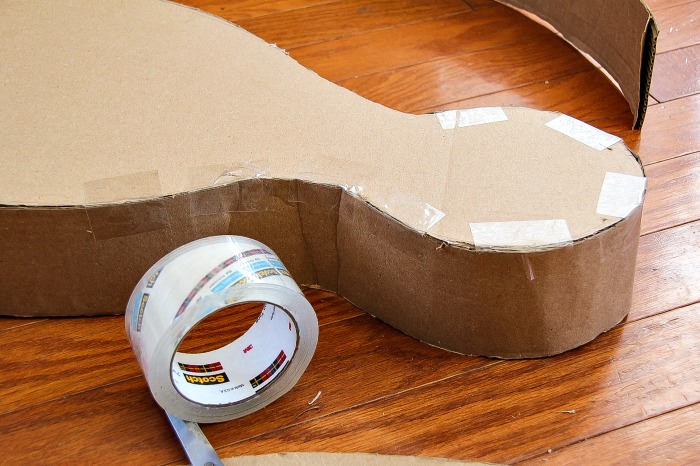 And then glue the wings into place.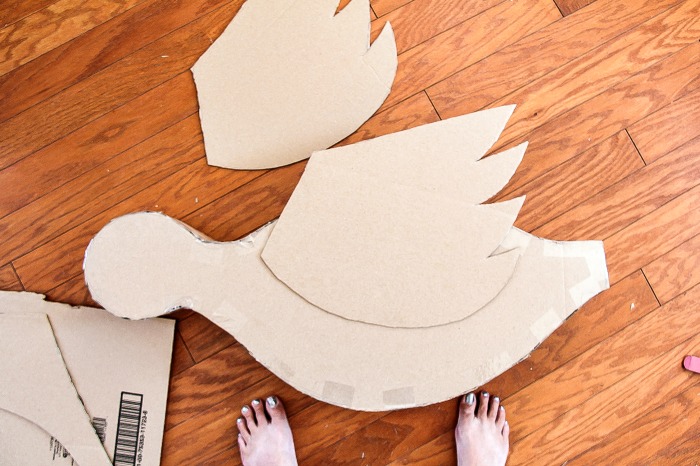 In the top of the stork, between the wings, cut a small flap. This is for filling the piñata with candy and treats.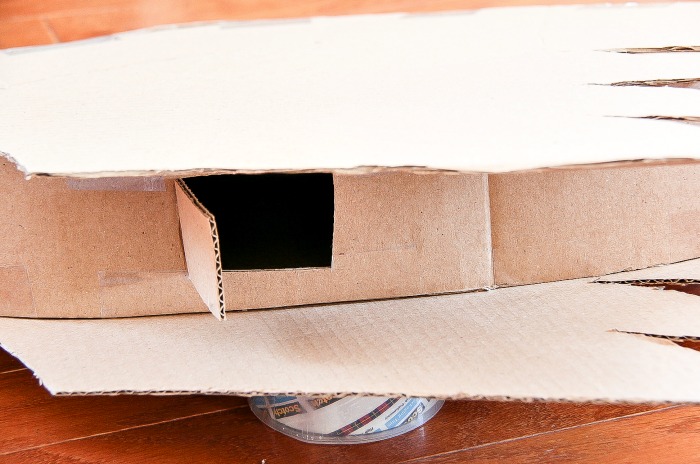 Cut two long triangles and tape the pieces together using packing tape. Cut a circle into the front of the storks head and insert the triangles to form a cone shape. Glue it into place.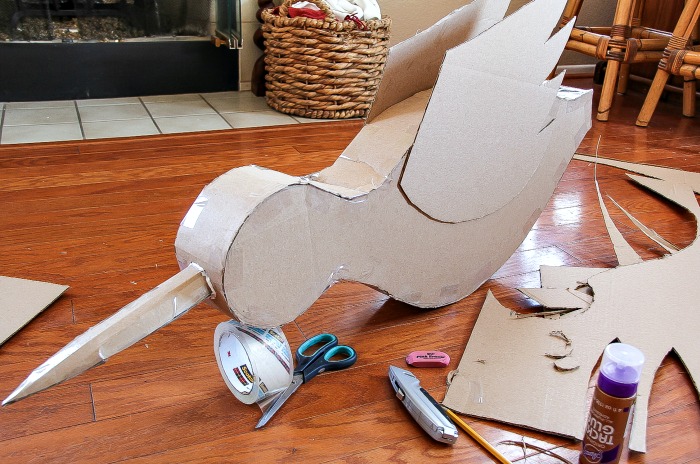 Then cut two long thin strips of cardboard, roll and tape the sides together down to the last 2 inches, and then cut the end into three sections to form the legs and feet. Cut two slots into the base of the stork, insert the legs, and glue into place.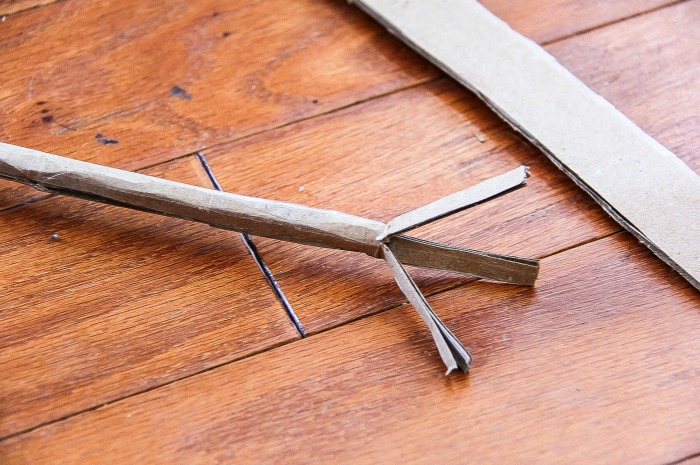 Now you are ready to start what is the most tedious portion of piñata making, add the crepe paper fringe.
Begin with the black tail and wing feathers, and then work towards the beak of the stork with white.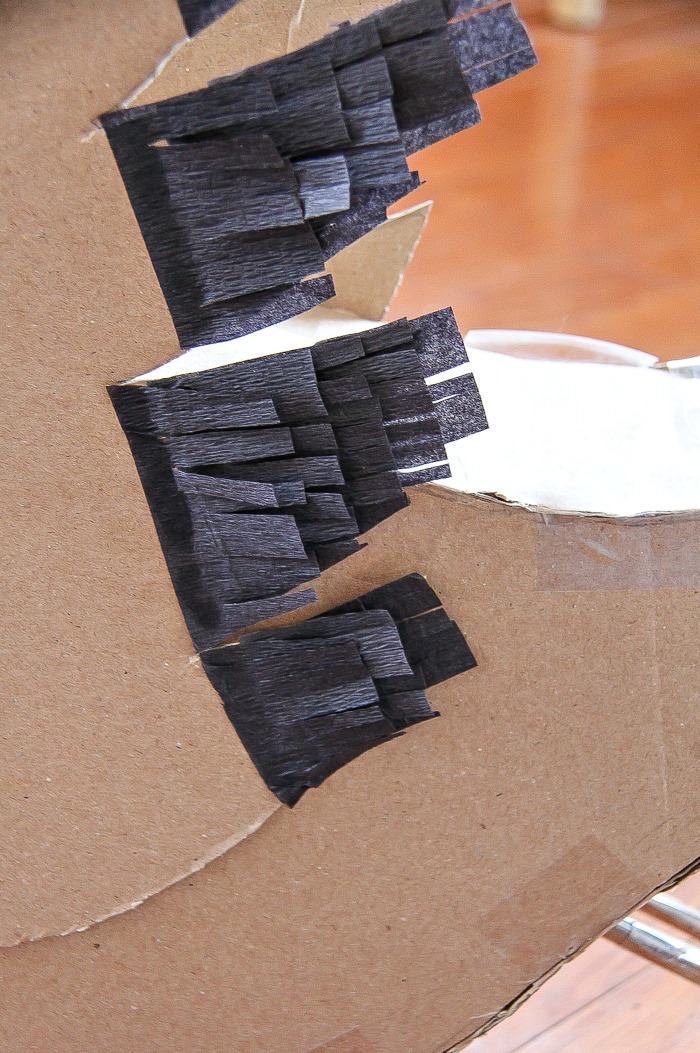 Wrap the beak and legs in orange crepe paper streamers and glue the ends into place.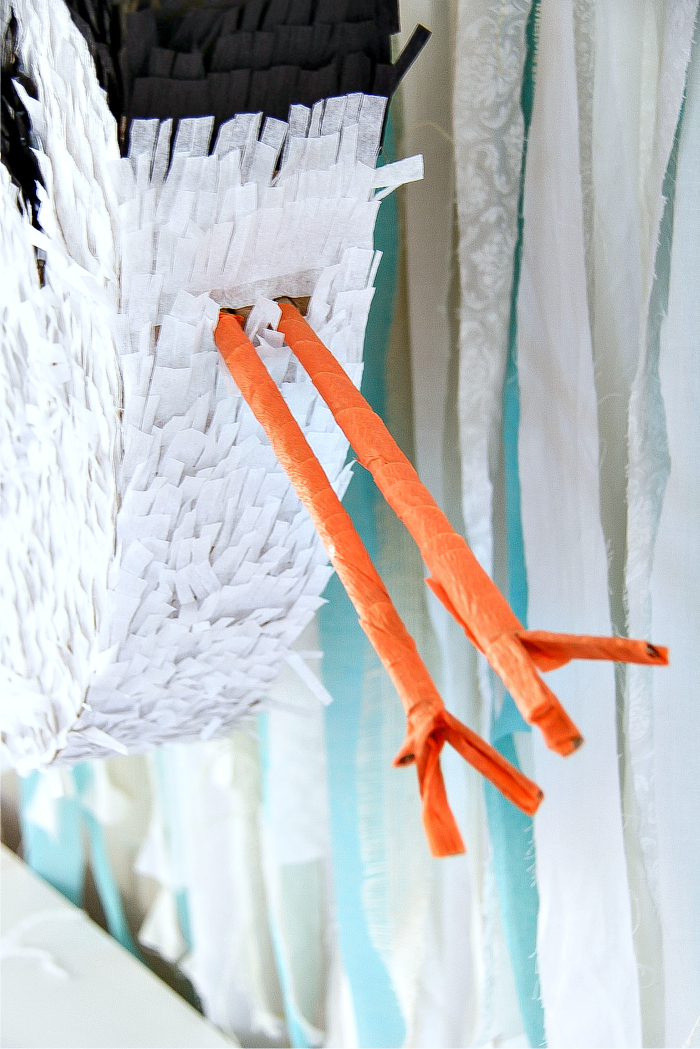 And there you have it, a stork piñata that's perfect for a gender reveal baby shower, or any baby shower for that matter.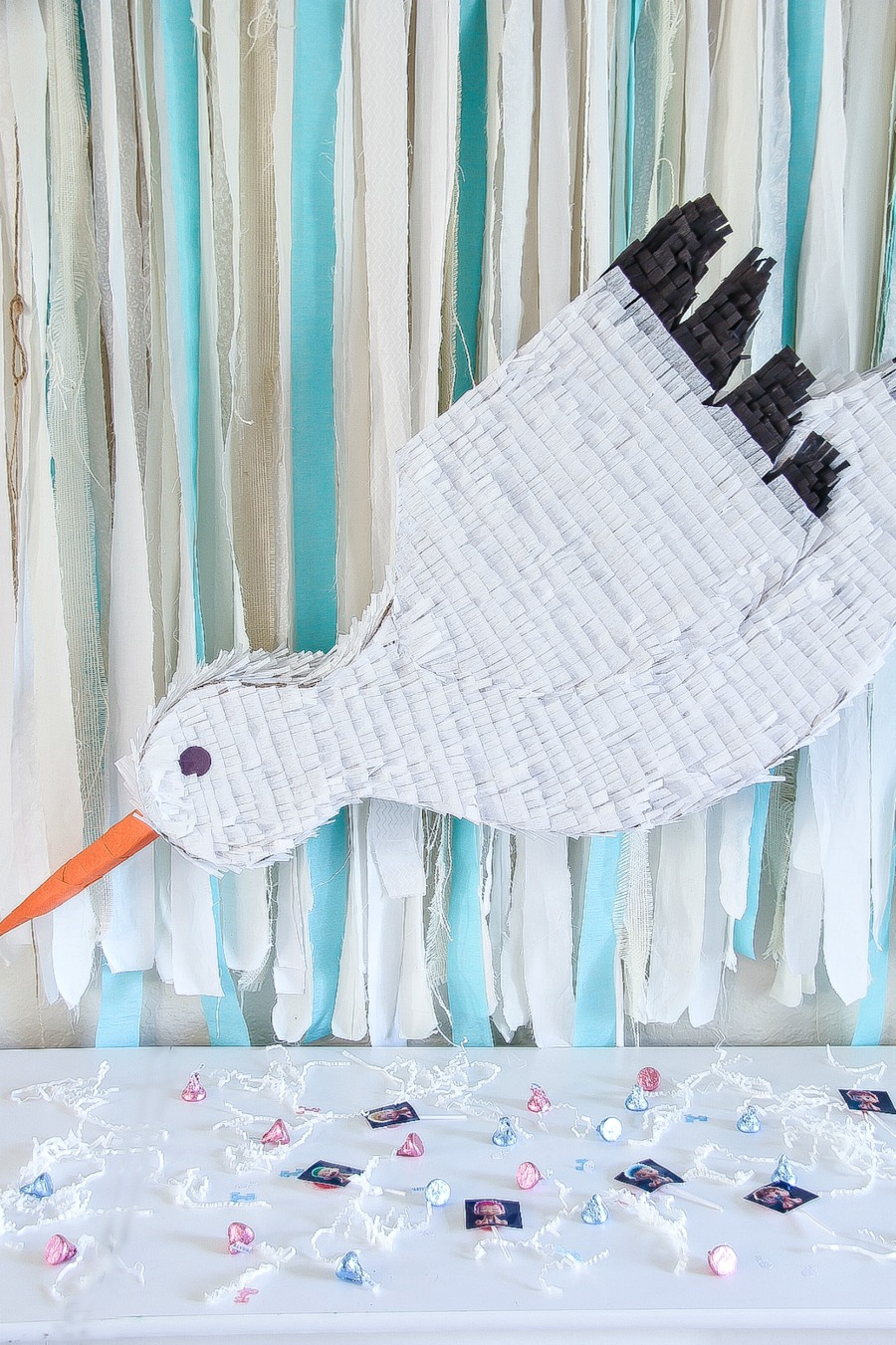 I included some fun lollipops in mine that had images of babies from the STORKS movie on them.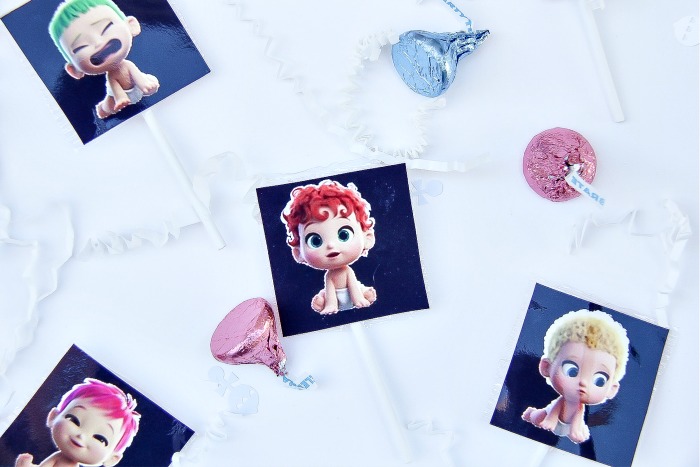 You can download and print these images here. Either print on sticker paper, or print on photo paper and glue onto lollipop wrappers.
Want to know more about STORKS?
Visit the Official Site and follow on Facebook, Twitter, and Instagram
Watch the trailer below and save the date for your flock to see it in theaters this Friday!
Pin this post for later: