When my husband suggested that we give the kids just one bag to collect apples when we went apple picking in Julian recently, I immediately instructed him to get them one each.  Why not, it would be fun, there would be less fighting, they love apples …
Then we had baskets filled with apples at home.  The kids couldn't eat them fast enough, we had already made applesauce at school so I didn't want to do that again.  So I made an apple tart.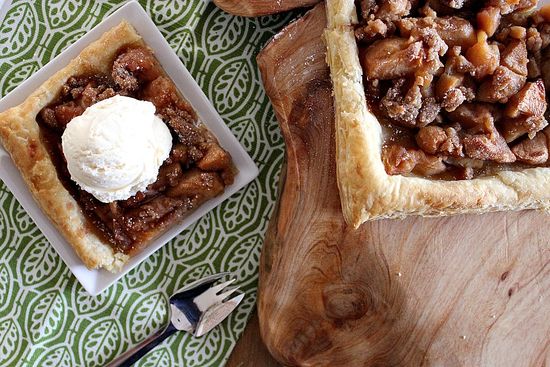 Ingredients:
Apples – I had about 10 small ones, but 4-5 large ones would work too.
Pepperidge Farm Puff Pastry Sheets – 1 sheet defrosted
1/2 cup Apple Cider
1 tbs Blue Agave Sweetener
2 Cinnamon Sticks
2 tbs White Whole Wheat Flour
1 tbs Granulated Sugar
1 tbs Butter (softened)
1 tsp Cinnamon
Confectioners Sugar
Peel and core the apples.  Place in a slow cooker with the apple cider and agave sweetener.  Stir to combine.  Place a cinnamon stick on each side of the slow cooker.  Cook on low for 4 hours.
About 30 minutes before the slow cooker is due to finish, turn the oven onto 400F. 
Lay the puff pastry sheet on parchment paper on a cookie tray.  Spoon apple mixture onto the pastry leaving approximately 1 inch all around for the pastry to rise.
Combine the flour, granulated sugar, butter and cinnamon in a bowl.  Crumble over the top of the apple.
Bake for approximately 20 minutes – or until puff pastry has risen around the apples and browned a little.
Set aside to cool for about 5 minutes then sift a little confectioners sugar over the top.  Serve with vanilla ice-cream.
This would make a lovely addition to your Thanksgiving meal.