A fun day trip from San Diego to Arizona using Roadside America as a guide for quirky roadside stops.
Having felt like a bit of a prisoner in my own home for a few days this week (with Flynn being contagious) I resorted to scouring the Roadside America website (thanks to my friend Sharlene for getting me addicted to it) and mapping out day trips that we could take the kids on where they wouldn't be in contact with other children.
Today we did our first one to the California/Arizona border.  It was absolutely stinking hot outside with the temperature reaching 106 at times but we had a great day and saw so many offbeat places.  I love going to places that other people would never even think about going to and don't even know exist.  I especially love places that you drive past and don't even think about until you know the amazing history behind their existence.
FIRST STOP: OFFICIAL CENTER OF THE WORLD
Now I'm pretty sure that this really isn't the center of the world however the Mayor of Felicity (named after his wife Felicia Lee and elected into office with a unanimous vote of 2-0) Jacques-Andre Istel somehow convinced the Imperial County of California to legally make a spot on his property the official center.  He built a pyramid there after all Felicity is one of the driest and hottest places in the U.S. and it's in the Sonoran desert, so why the heck not.  There is a bronze disk on the floor but unfortunately, we were unable to go inside the pyramid today as this tourist destination is only open to the public between December and March.  There is also a little church behind the pyramid and a 25-ft spiral staircase salvaged from the Eiffel Tower.  I'll be sure to head back again during tourist season so I can place my toe on the bronze disk, make my wish and receive my certificate.
SECOND STOP: TERRITORIAL PRISON
The Territorial Prison in Yuma, Arizona has been closed since 1909 but for the 33 years that it operated there were over 3,000 men and 29 women jailed there.  Some of the crimes I found were quite bizarre, or should I say not the kind of crimes one would be jailed for or put into solitary confinement for these days.  Then there is what was known as the 'Dark Cell' which was pitch black when the door was shut and let me tell you, we went in there and we all had a feeling of uneasiness, you literally couldn't see a thing around you.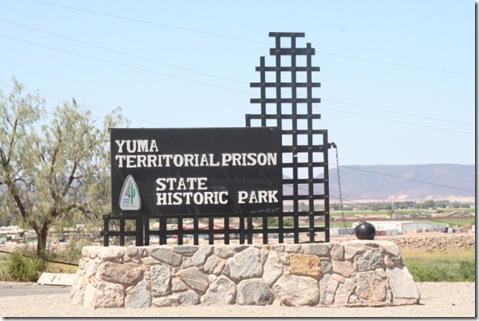 I'm not sure if you can read the 2 below profiles so in case you can't prisoner no.1 was sentenced to 2 years for manslaughter and 3 days in solitary for laziness.  Prisoner no.2 was sentenced to 2 years for seduction under the promise of marriage.  How many women wish this was still a law? haha.
From a prisoner in my own home to 'prisoner'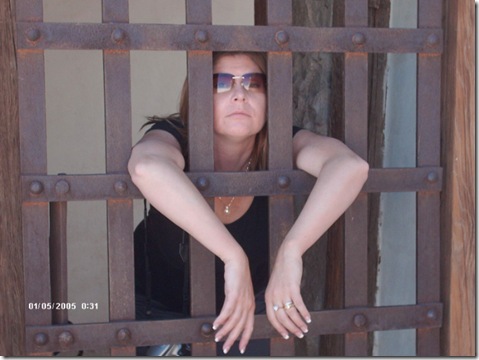 THIRD STOP: BRIDGE TO NOWHERE
The McPhaul Bridge (named after Arizona Ranger Henry Harrison McPhaul) was built in 1929 but they thought it was too flimsy and after building a dam upstream in 1968 they diverted the river and rerouted the highway over a smaller bridge.  That bridge ended up collapsing in a flood in 1993 but the other bridge although being closed still stands and leads to nowhere.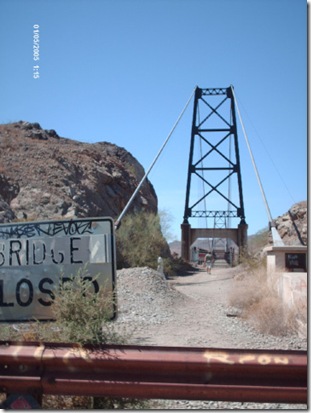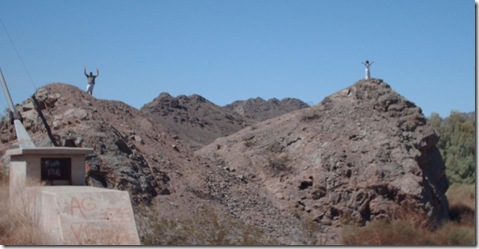 FOURTH STOP: TINY CHURCH
This tiny church in Yuma, Arizona was built by a farmer on the edge of his fields in honor of his wife.  It measures approximately 7ft x 12 ft inside.  It is honestly the sweetest little church I have ever seen.  It was actually open when we got there and although nobody was in there we signed the visitor log and left a donation.
FIFTH STOP: ATOMIC CANNON
Unfortunately, we were running out of time on our little road trip so this was more of a drive-by photography session.  We didn't have time to venture into the Yuma Proving Ground to visit the museum or other equipment on display but we did get to see the 200mm gun-howitzer at the entrance.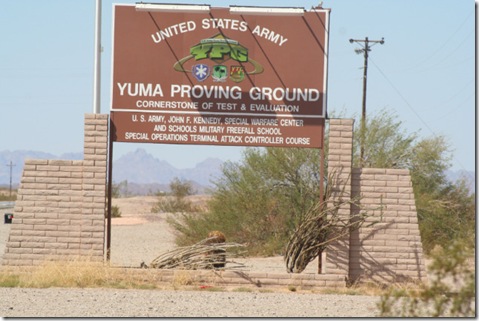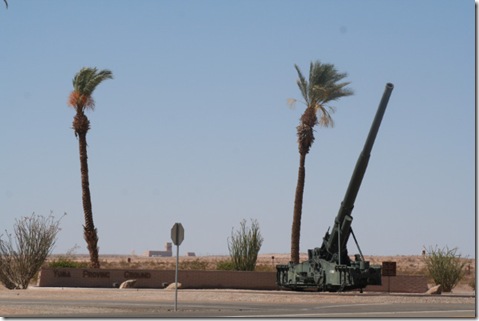 SIXTH & FINAL STOP: MUFFLER MAN – MUTANT COWBOY
Apparently, Muffler Men can be spotted all over America's highways.  They were built by a company owned by Steve Dashew called International Fiberglass from the mid-1960s to about 1974.  They were sold as 'attention getters' for retail stores.  If you spot one of these hulking figures report them here.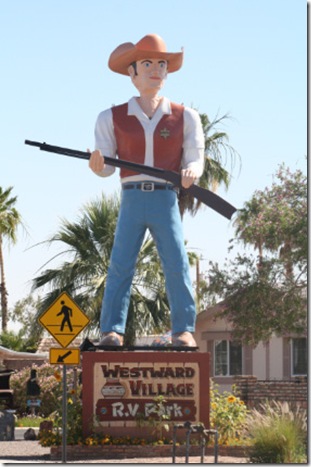 NOW FOR SOME RANDOM PHOTOS FROM OUR ROAD TRIP.
Let's start with the temperature that it reached at times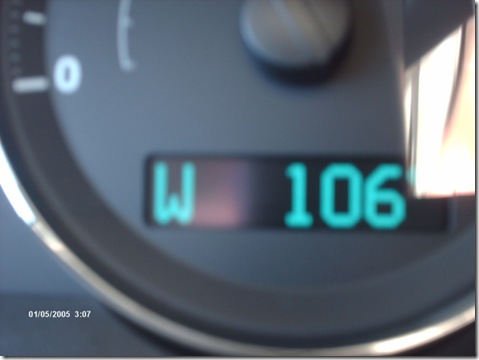 and now for some random shots from the drive