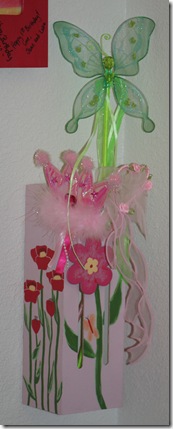 Every little princess needs many many wands to match the different fairy and princess outfits she has, right. 
Let's just say that because I have a small obsession with pretty wands that Marisol has quite a few of them.  However, I had nowhere to put them display them so I decided to make a little something that I could attach to her wall so I she would have easy access to them and they could always be on display instead of hidden away in the wardrobe where they were until this morning.
Marisol loves the new addition to her bedroom.  Her little face lit up when I showed her where her wands were and she spent a lot of time in there this morning taking her wands out and putting them back in again. 
Although I'm not sure it was the box I painted that she loved as much as seeing her beautiful 'butt' wand (that would be butterfly to those that haven't read previous posts where Marisol calls butterflies 'butts'.
My project started out as this a $5 butterfly house from Michaels. I removed the lid and painted the box white on the inside and a soft pink on the outside. Then hand-sketched the pictures.  I then painted those and attached a wooden flower to the front to make it pop out a little and painted that too.  Here are a few photos of each side once they were painted