This pancake stack topped with whipped cream, sprinkles, and a birthday candle is the perfect way to start a special birthday.
Disclosure: I partnered with Reddi-wip to create this fun party table. #PartyReddi
Start your kids birthday with a very special birthday cake pancake stack.
It's the perfect way to start the day! The best part is you can make the pancakes the night before so you aren't rushed, especially if their birthday falls on a school day. Just heat, assemble, and enjoy!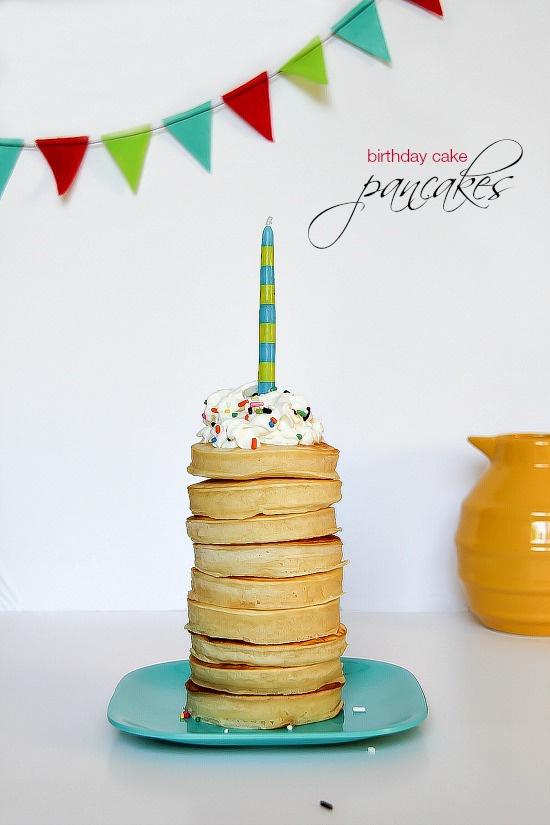 I made mini pancakes because I knew the kids would think they are fun. I think if I stacked larger ones, they simply wouldn't be able to eat the whole thing.
To ensure the pancakes were the same size I used four round metal rings on top of my griddle. Spray them with a little non-stick spray before each use.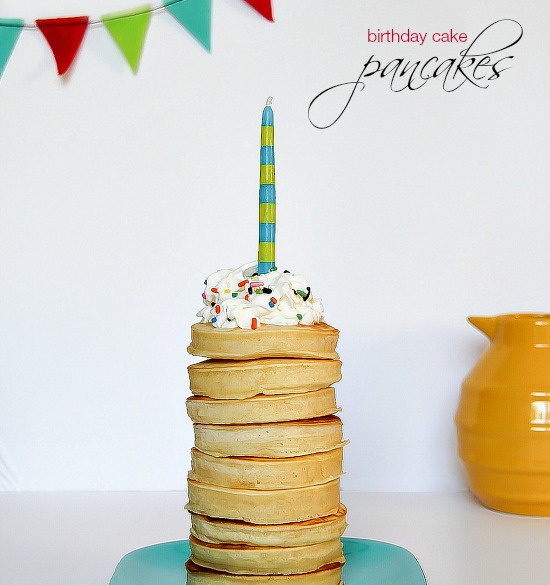 Ingredients
2 cups all-purpose flour
1/4 cup sugar
2 tsp baking powder
1 tsp salt
1 cup milk
2 eggs
1 tsp vanilla
non-stick cooking spray
Sprinkles
Instructions
Sift the flour, baking powder, and salt into a medium-sized bowl and set aside.
In a larger bowl cream together the sugar and egg. Whisk the eggs and add them to the mixture along with the vanilla. Combine thoroughly on low speed with a blender.
Spray your metal rings (if you use them) with non-stick cooking spray. Pour a little mixture into each ring, leaving about 2-3mm from the top. The pancakes will rise a little and if you fill to the top the mixture will overflow.
Once the mixture has risen, looks thick on top and bubbles begin to appear, flip it over. Cook for another minute or two and then remove the pancake from the pan and place it on a cutting board. Using a knife or fork carefully remove the metal ring and place it back on the griddle, spray it a little again and make your next batch.
Top your pancakes with Reddi-wip and sprinkles, pop in a candle, and celebrate.
Recipe: by Tonya Staab tonyastaab.com
alternatively: use 2 cups self-raising flour in place of the all-purpose flour and baking soda.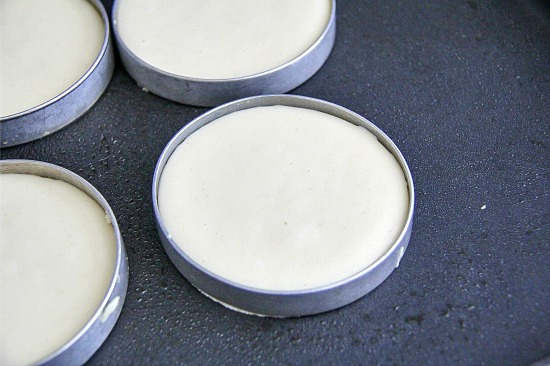 For more #PartyReddi Reddi-wip ideas visit Evite and grab your $1 off Reddi-wip coupon available at Walmart.
Please pin this post for later: