Have you seen the Life of Pi yet? Or read the book? It's supposed to be amazing. I have the book, and cannot wait to grab a few quiet moments to start reading it.
Did you know that World Market are selling Life of Pi products in-store. If you love Indian food, homewares and collectibles, then you will love this collection.
Inspired by the movie I made Cardamom Nankaties. I have a deep love for Indian food.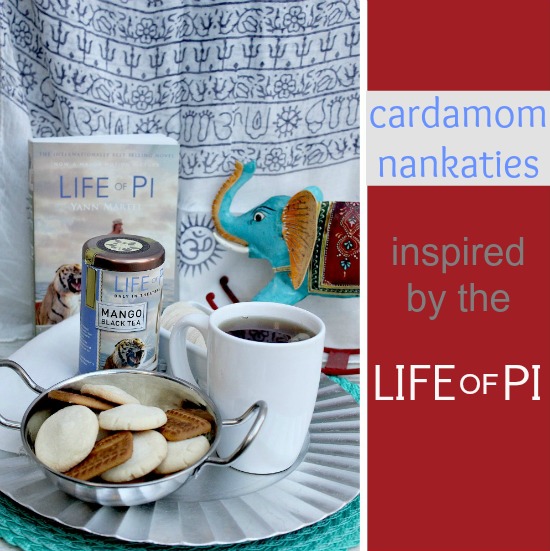 Ingredients:
1 1/4 cups all-purpose flour
1 cup confectioner's sugar
3/4 cup butter (softened)
1/2 cup sweet rice flour
1/4 tsp almond extract
1/4 tsp salt
1 tsp ground cardamom (skins removed and seeds ground)
Preheat the oven to 350F.
Cream the butter and confectioner's sugar using an electric mixer until light and fluffy. Add the almond extract and blend for a few more seconds until combined.
In a separate bowl combine all of the dry ingredients together. Add to the butter mixture and using the electric mixer beat lightly until ingredients are just combined.
Line a cookie tray with parchment paper.
Using your hands form the dough into a ball. Break off small pieces around the size of a large marble and roll in your hand. Place a couple of inches apart on the cookie tray and gently flatten into a round shap, leaving the center of the cookie a little higher than the sides.
Bake on a rack in the middle of the oven for about 18 minutes, or until the edges of the cookies are just slightly browned.
Remove from the oven and set aside on wire racks to cool. Note: the cookies will harden as they cool. Store in an airtight container.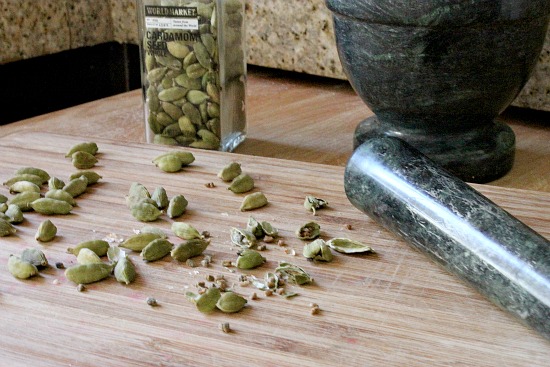 You can find cardamom seeds at World Market in the spice section. They smell absolutely divine.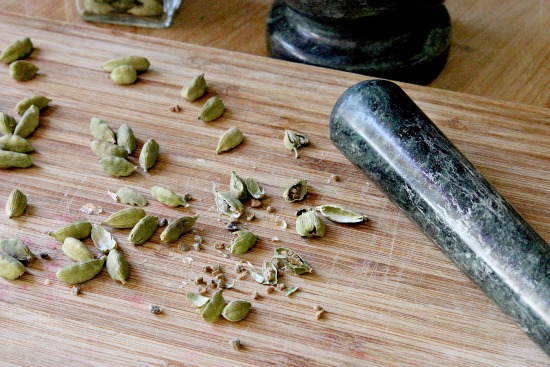 Enjoy your cardamom nankaties with Life of Pi Mango Black Tea and Parle-G cookies (which are popular in India). Both of these items are available at World Market stores too.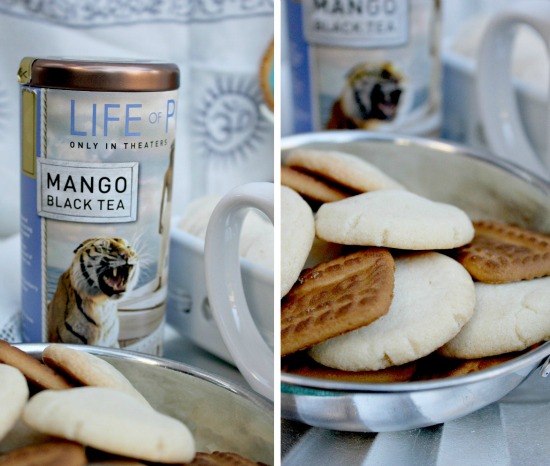 I can't wait to sit down with a cup of mango tea and cookies to read the book.
Some of the other items I picked up at World Market are the rocking elephant, the Life of Pi paperback, the gorgeous white and grey woven scarf hanging in the background, and the hammered stainless steel kadhai.
If your book club is going to be reading this book, then this collection of tea and cookies are the perfect accompaniment to your discussions.
Here are photos of some of the Life of Pi items you can find at your World Market store.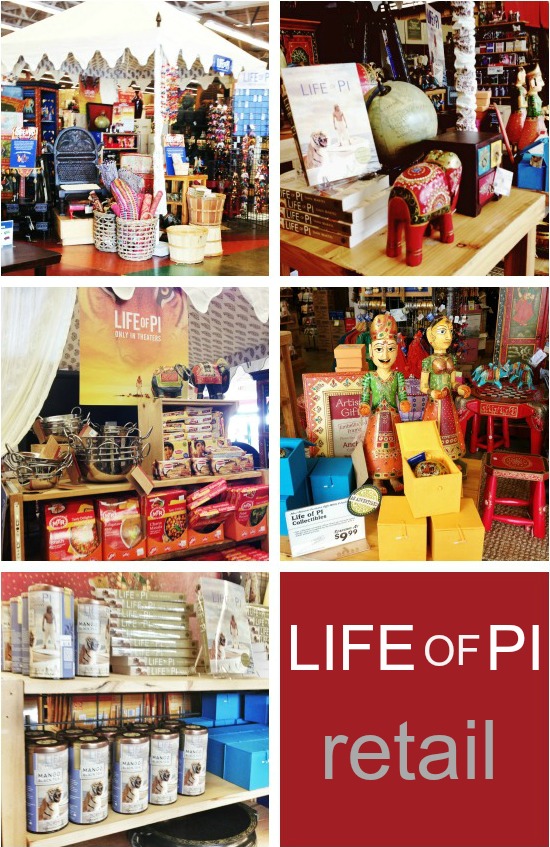 Life of Pi is the story of an Indian boy named Pi, a zookeeper's son, who survives a disaster
at sea and is thrown into an epic journey. While adrift in the middle
of the Pacific Ocean, he forms an amazing and unexpected connection with
another a fearsome Bengal tiger. The movie opens in theaters November 21, 2012. You can watch the trailer for Life of Pi here.
Enter the World Market, Life of Pi Sweepstakes
Grand
Prize package includes: a dream trip for 2 to India and a $1,000 World
Market Gift card. There will also be 3 runner up prize winners that will
each receive a $500 World Market gift card!
The Life of Pi Sweepstakes runs from 11/17 – 12/28.
If
you share the sweepstakes with 5 of your friends (via FB share or
email) you can receive 5 additional bonus entries. This is part of the
registration process when entering. Users can also enter daily for more
chances to win.
Keep up-to-date with all things World Market here:
Disclosure: This shop is part of a social shopper marketing insight campaign with Pollinate Media Group™.