Easy and delicious carrot cake cupcake recipe that uses fresh ingredients and is perfect for any occasion.
Did you know that February 3rd is National Carrot Cake Day?  No?  Me either.  Until the lovely folks at Smart & Final announced it via Twitter and Facebook.
Never one to miss an opportunity to make a cake, I just had to make these delicious carrot cake cupcakes.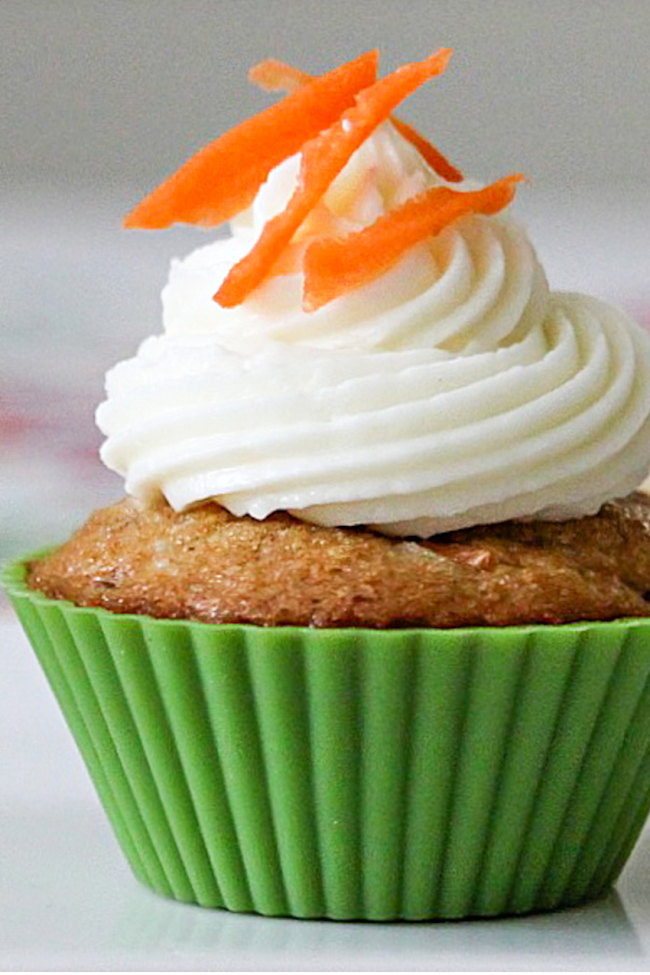 Cake Ingredients
2 cups white whole wheat flour
2 tsp baking soda
2 tsp baking powder
2 tsp ground cinnamon
pinch of salt
3 large eggs
2 cups of sugar
3 tbs applesauce
1/2 cup buttermilk
2 tsp vanilla extract
2 cups grated carrot
1 can crushed pineapple (drained)
1 cup sweetened flaked coconut
1 cup chopped pecans
Cream Cheese Frosting Ingredients
1 12oz tub of cream cheese
1/2 cup butter (softened)
2 cups powdered sugar
1 tsp vanilla extract
Pre-heat the oven to 350 (F).
Combine the first five ingredients in a medium-sized bowl and set aside.
In a second bowl blend (on medium speed) the eggs, sugar, applesauce, buttermilk, and vanilla. 
Gradually add the dry ingredients into the second bowl (about a cup at a time), blending as you go until all of the dry ingredients have been added and combined thoroughly.
Fold in the carrot, crushed pineapple, pecans, and coconut.
Bake for approximately 15 minutes if doing mini cupcakes (pictured above), but if doing a cake (which I did in 2 loaf pans) then bake for approx 30 minutes.
Frosting:
Blend all 4 ingredients in a bowl on medium speed until combined.
Once piped on (I used a 4B tip), top with a little grated carrot.
And just because the photograph above doesn't show the delicious chunky ingredients in the cake…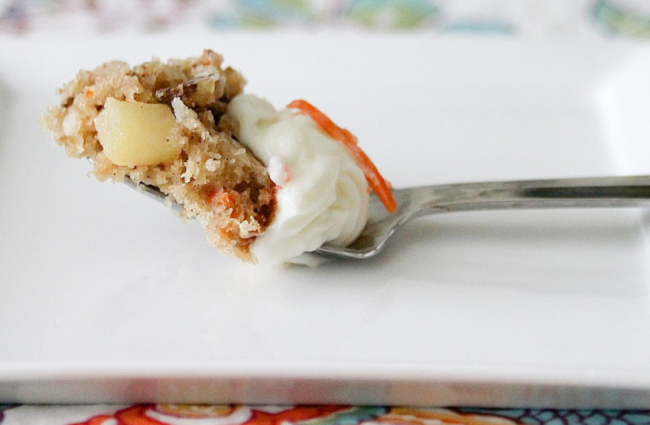 Wouldn't these make a lovely Easter Party Treat too?
If you would like to print the recipe, please click on the green 'printer' button under the social sharing buttons.
Please pin this post for later: