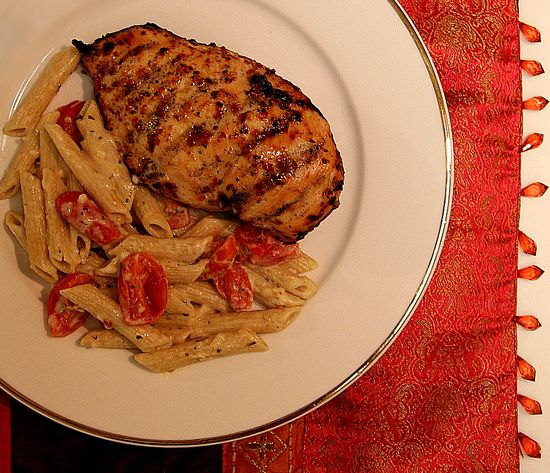 Ingredients:
3 cups penne pasta, uncooked
¼ cup KRAFT sun-dried tomato dressing, divided
4 small boneless skinless Chicken Breasts
1 cup fat-free reduced-sodium chicken broth
½ tsp. each garlic powder & black pepper
4 oz (1/2 package) PHILADELPHIA Neufchatel Cheese, cubed
2 cups grape tomatoes
½ cup KRAFT shredded parmesan cheese
8 fresh basil leaves, cut into strips
My modifications: Whole Wheat Penne, 1/2 cup KRAFT sun-dried tomato dressing and Gourmet Garden Basil in place of fresh basil (which was out of stock in my local store)
Prep time: 30 minutes
Makes: 4 servings
To make:
1.    Cook pasta as directed on package. Meanwhile, heat 2 tbsp. dressing in large skillet on medium heat. Add chicken, cover. Cook 5 to 6 minutes on each side or until done (165º F). Remove chicken from skillet, cover to keep warm. Carefully wipe out skillet with paper towel.
2.    Add remaining dressing, broth, and seasonings to skillet; cook 3 to 4 min. or until heated through. Add Neufchatel; cook and stir 2 to 3 min. or until Neufchatel is melted. Stir in tomatoes, cook 3 min.
3.    Drain pasta. Add to ingredients in skillet with Parmesan and basil, mix well. Serve topped with chicken.
My modifications: I marinated the chicken using the KRAFT sun-dried tomato dressing and had Randy cook it on the grill outside. 
This recipe is great.  It's quick to make, especially if you send your husband outside to grill the chicken while you make the pasta and sauce, and it's delicious.  Even the picky twins ate it and for the first time ever Marisol did not request that the 'yucky skin stuff' be removed from the chicken – she normally only eats the white meat and everything around it must be cut off (unless it's chicken nuggets, of course).
The original recipe was provided by the Love My Philly team.
Feel free to follow them on Twitter and Facebook.
Disclosure: I was provided coupons and a cookbook by the LoveMyPhilly team.