If you are a military family heading to Disneyland, these tips and discounts will help cut costs and give you more memories with your kids.
My sister and nephew recently visited from Australia. Naturally, Disneyland and Disney's California Adventure Park were on our must-see list. For eight of us, I knew it was going to get a little pricey for 3-Day Park Hoppers and to stay at the Disneyland Resort for three nights.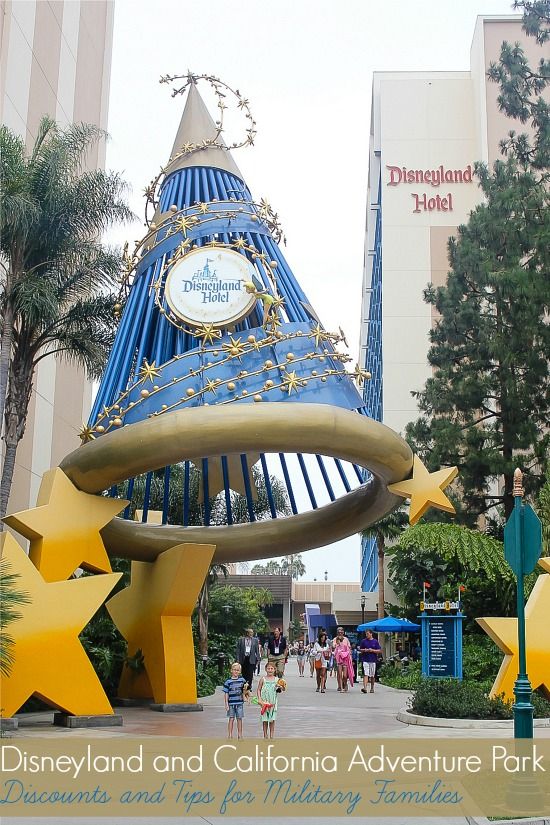 I'm going to break-down some of the military discounts available and tips that we used to help cut costs.
Disneyland Resort Military Discounts Available
3-Day Park Hopper Tickets
Military promotion (until September 28, 2013): $125 per 3-Day Park Hopper
Military promotion (August 12, 2013 – September 25, 2014): $129 per 3-Day Park Hopper
Note: There are blackout dates for these tickets so if you are planning a trip to the Disneyland Resort check the dates before purchasing your tickets. *Please check with your local military ticket office for current prices.
What you need to know: You are limited to 6 3-Day Park Hopper tickets at the discounted military price (this could be different depending on where you purchase them). These tickets will be in YOUR name when you purchase them and you MUST enter the parks with all ticket holders where your party will be issued cards so they can come and go as they please after the initial paper ticket has been handed over. So no, you cannot just purchase these for friends and family. Military members and their family (over the age of 10) need to show a military identification card upon initial entry into one of the parks.
Disneyland Hotel
If you are purchasing 3-Day Park Hopper Tickets, most likely you will want to stay at one of the Disneyland Resort hotels.
I highly recommend the Disneyland Hotel. There are room discounts available and it isn't limited to just one room. We had 8 family members staying at the Disneyland Hotel booked 2 rooms with the military discount. However, there must be at least one person with a military identification card at check-in per room. They will ask for your identification during check-in.
The pool is fantastic. There are lifeguards on duty, two waterslides for the kids, and a spa. It is the perfect spot to relax in the afternoon before heading out for dinner and then back into one of the parks for the nighttime shows.
Note: There are blackout dates, so please confirm these dates before making reservations and purchasing your tickets.
Disneyland hotel parking
Self-parking is $15 per night (for up to 2 nights), of $22 per night for valet parking.
Show your military identification card as you enter the hotel parking. You will be given a laminated flyer to place on your dashboard and you will receive free valet parking for the duration of your stay. We received free valet parking for 2 vehicles for the length of our stay.
Goofy's Kitchen
Goofy's Kitchen is a great spot for a meal with the kids. Disney characters including Disney princesses, Goofy, Pluto, and Minnie come right up to your table for photographs, hugs, and autograph signing. I'm not a buffet person, (I tend to avoid buffets as much as I can), but the food here was great. We only wish we'd gone in hungrier. Reservations are recommended, however, we turned up at 6 pm for dinner without one. There was a 25-minute wait, which was in a viewing room with old Disney cartoons playing on a screen to entertain the kids. This kept them more than entertained during the waiting time.
Show your military identification card when you check-in at the restaurant and you will get 10% off your meal.
By eating here and meeting some of the characters, you won't need to stand in lines at the Disneyland park to meet them. However, Marisol did insist on meeting Minnie Mouse on three separate occasions, one of which I was stuck in line for 60 minutes waiting. Thankfully the rest of our group were busy on rollercoasters at the time.
Magic morning
Magic Morning is not just for military families but is available to hotel guests. Each member of the family (over age 3) staying at the hotel will be issued a room key. You must have this along with your theme park ticket to enter the parks during the Magic Morning hours. Magic Morning hours allow you to enter the park 1 hour before it opens to the public.
Disneyland: Tuesday, Thursday, Saturday
Disney California Adventure Park: Monday, Wednesday, Friday, Sunday
What you need to know: Fast Pass kiosks will not open until the park has opened to the public, so head straight to the rides you want to go on before the lines start. Some of the more popular rides later in the day will have wait times of 90 minutes if you do not take advantage of the Magic Mornings and FastPass tickets.
There are three ways to enter the park during the Magic Mornings – monorail (Disneyland only), Disney's Grand Californian Hotel & Spa (California Adventure Park only), or the main theme park entrance. Use the main entrance. There is only one ticket line at the monorail and unless you are there as it opens you will be waiting in line (if you are heading to the back of Disneyland, this might be a good option for you). At the Grand Californian Hotel, there are only 2 entrances and that gets quite busy with guests from the hotels using that entrance. It is much quicker to just go to the main entrance as it's opening.
Other benefits
Use your room key to charge purchases for meals, toys, and whatever else you want at both Disneyland Park and Disney's California Adventure Park directly to your room. This is great if you separate from your family during the day and want to make purchases but keep all of your expenses together. Note: you will not be able to use it at stores in Downtown Disney such as Build-a-Bear and the LEGO store.
When making purchases at the parks have packages sent directly to your room so you don't have to carry them around.
Disney character wake-up calls.
Access to the Disneyland Hotel pool and monorail waterslides.
There are exclusive workshops at the Disneyland Resort hotels. During our stay, they were hosting outdoor Disney movie nights.