This focaccia with heirloom tomatoes, corn, and goat cheese is perfect for dinner, entertaining at home, or meatless Monday.
Last night I made Focaccia with Heirloom Tomatoes and Goat Cheese. Yes, more tomato recipes. Those vines just won't stop producing tomatoes.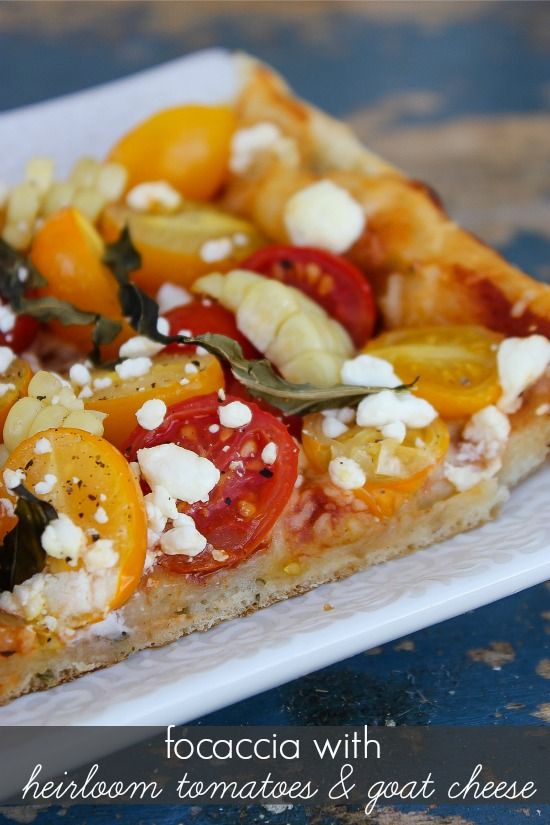 If you're looking for some other recipes to make if you have an influx of homegrown tomatoes, check out these too: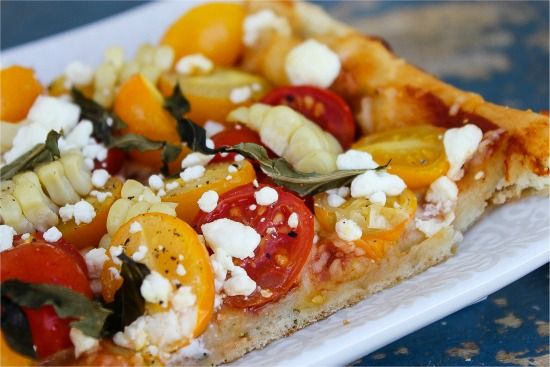 Ingredients
Rosemary Focaccia (pre-purchase dough or The Kitchn have a great recipe)
Pizza sauce
1 tbs olive oil
4oz crumbled goat cheese
1/2 cup grated mozzarella cheese
grape heirloom tomatoes - as many as you can fit on the focaccia, I used about 2 cups
1 corn on the cob - steamed and kernels cut off the cob in chunky pieces
1/4 cup basil - julienne
pepper
Instructions
Brush a little oil on a baking dish and pre-heat the oven to 425F.
On a lightly floured surface, roll (or use your fingers) to spread the dough into a rectangular shape. Place on the baking dish.
Spread pizza sauce in a thin layer over the top and sprinkle the mozzarella cheese over that. Top with tomatoes, corn, goat cheese, basil, and pepper.
Pop into the oven for about 12 minutes until the sides have risen and turned brown and a little crispy.