Stop dog bowls from sliding around the floor with this easy 30-minute DIY dog food and water bowl stand made from wood.
I was selected for this opportunity as a member of CLEVER and the content and opinions expressed here are all my own.

We've had our dog Sparky for 9 years. He was 10 months old when we got him, my ex-husband was deployed at the time, I had three kids at home, and one morning when watching the news I saw his little face staring at me through the screen … he was looking for a home. So of course I had to give him one.
And for 9 long years I have watched him push his food and water bowls around the floor when he's eating, and I've tripped over them in the middle of the night when I've come downstairs in the dark, but do you think I did anything about it? Nope! Until recently.
I have a very handy boyfriend, he can whip things up in no time, so when I mentioned to him that I wanted to make a dog food bowl stand for Sparky we headed to the hardware store, picked up tools and wood and he set to work … and 30-minutes later he was done.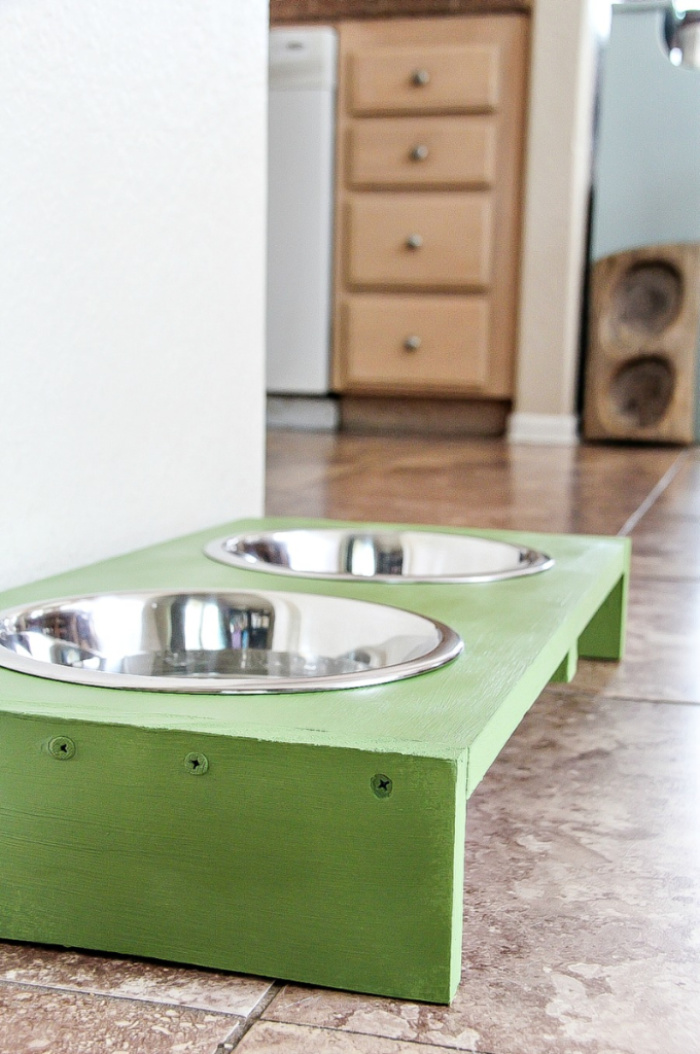 Note: If you paint or stain it, the project will take longer than 30-minutes, but the construction itself only took 30-minutes.
You can make this as complicated, or as easy as you want. A few suggestions are: make a cross out of wood for the legs, purchase small wood legs at the hardware store, or even add metal legs for a more industrial look.
What You Need To Make A Wood Dog Food Bowl Stand
Wood – just get one long plank approx 15-20mm thick, it needs to be long enough to fit 2 bowls with excess on either side as well as to make the legs.
Jigsaw
Drill
Screws
Pencil
Paint or wood stain
Dog food bowls
How To Make A Wood Dog Food Bowl Stand
The first thing you need to get is your dog food bowls because this will gauge how long your stand needs to be, and the size of the holes that need to be made to sit the bowls in.
Once you have your bowls, place them upside down on the wood and trace around them – we actually got a little fancy with a compass, but this is an easier way to do it.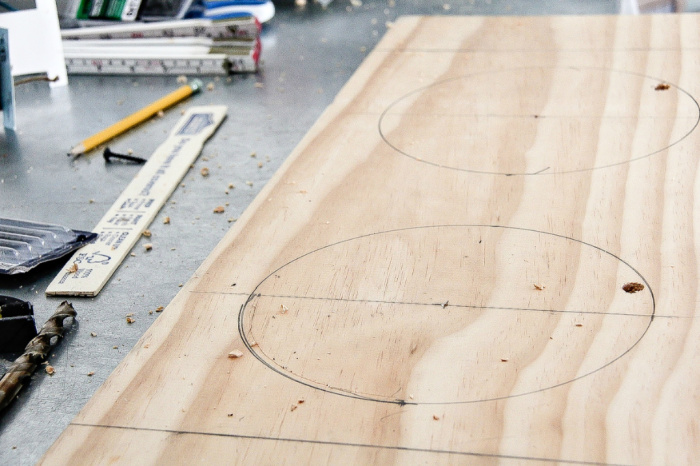 Measure out space around the bowls, so we left 1.5 inches around each side of the bowl, and then 2.5 inches between the bowls.
Use the jigsaw to cut off the excess wood.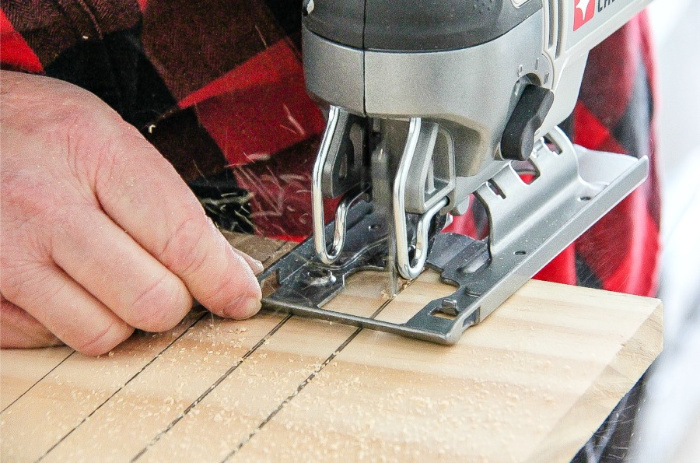 Drill holes in each of the circles, and then using the jigsaw cut out your circles. NOTE: If you traced around the bowls do not cut on the line, you need to cut at least 5mm inside the line so that your bowl sits on the wood and doesn't fall straight through the hole.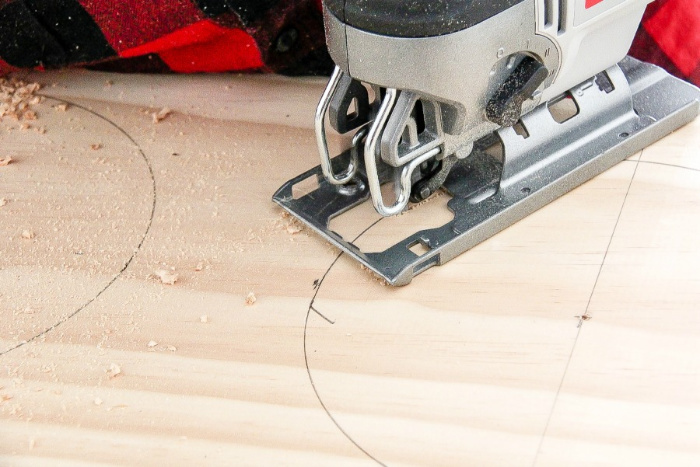 When measuring your legs don't forget to take into account the height of the bowls, and the height of your dog. You don't want to make the stand so tall that your pet has to strain to reach their food or water, but you also don't want the bowls to touch the floor because that just makes unnecessary noise and they won't be sitting in the holes properly. We made the legs about 10mm taller than the bowls. 
Next, drill holes for the screws in each of the pieces to prevent the wood from splitting. and attach the legs to the main piece by drilling the screws into place.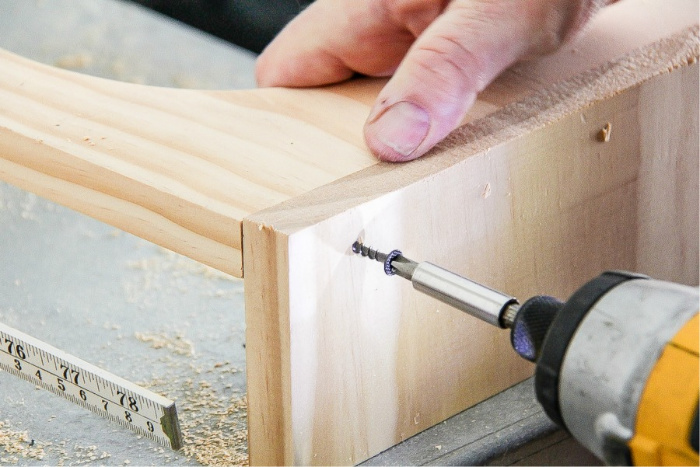 As you can see someone was a little excited about this project but was not very happy that he couldn't see what was going on.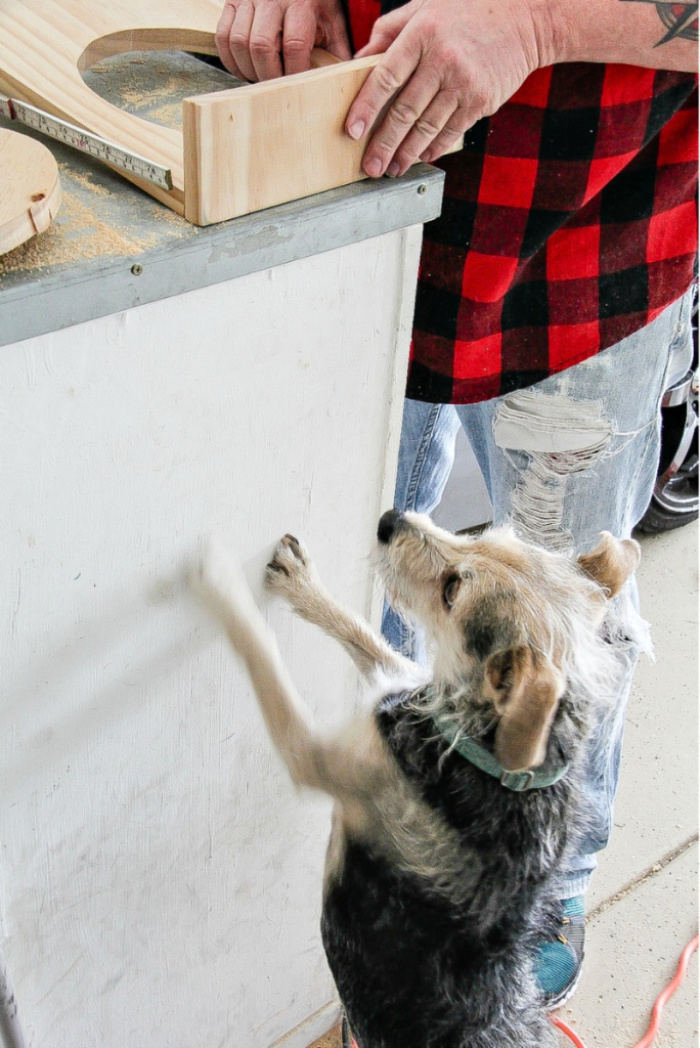 We added a small excess piece to the underside center of the stand too to help prevent warping under weight.
And there you have it.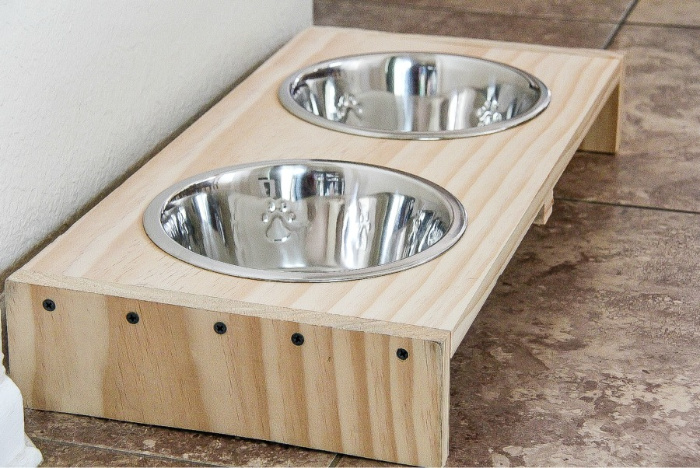 Being that Pantone's color of the year is Greenery, and that it's my favorite color, of course that's the shade of green I decided to paint the stand in. I happened to have a tub of American Decor Chalky Finish paint in 'new life' on my paint shelf so went with that. You'll want to do three coats and apply a varnish after to help protect the paint from food or water that accidentally ends up on it.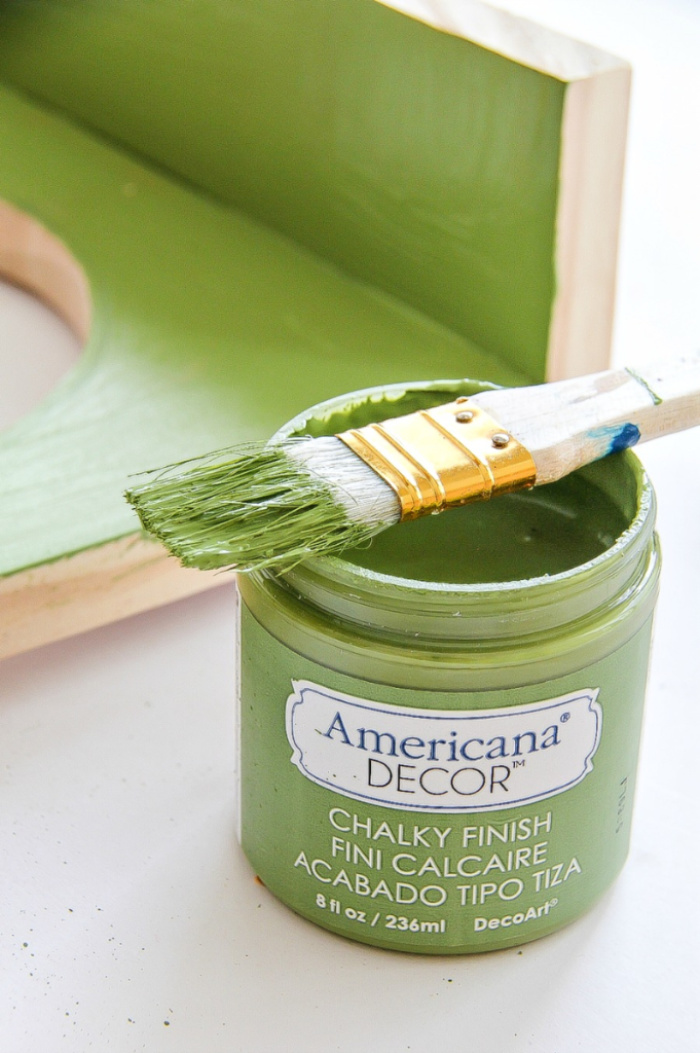 It turned out just great. So simple, but I'm so happy that I'll no longer be tripping over bowls in the middle of the night
And of course Sparky is just so happy, it's the perfect height for him, and he doesn't have to chase his food across the floor anymore.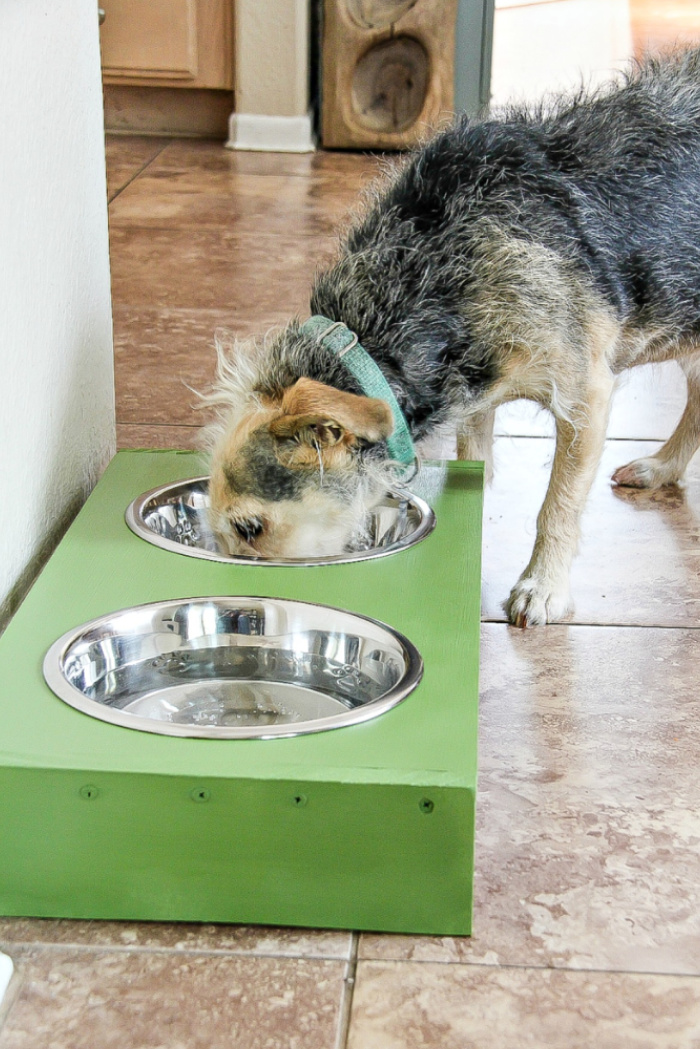 Freshpet is a refrigerated and all natural pet food made with fresh ingredients. They never uses artificial or chemical preservatives, or any mysterious ingredients like chicken meal. Instead, it's just like a home cooked meal you'd make for your pet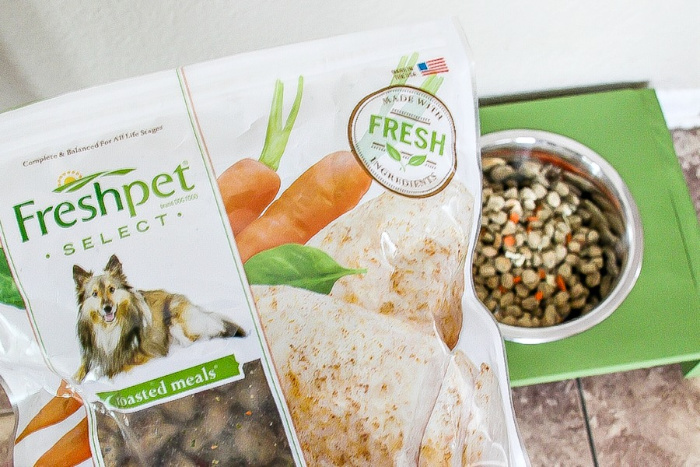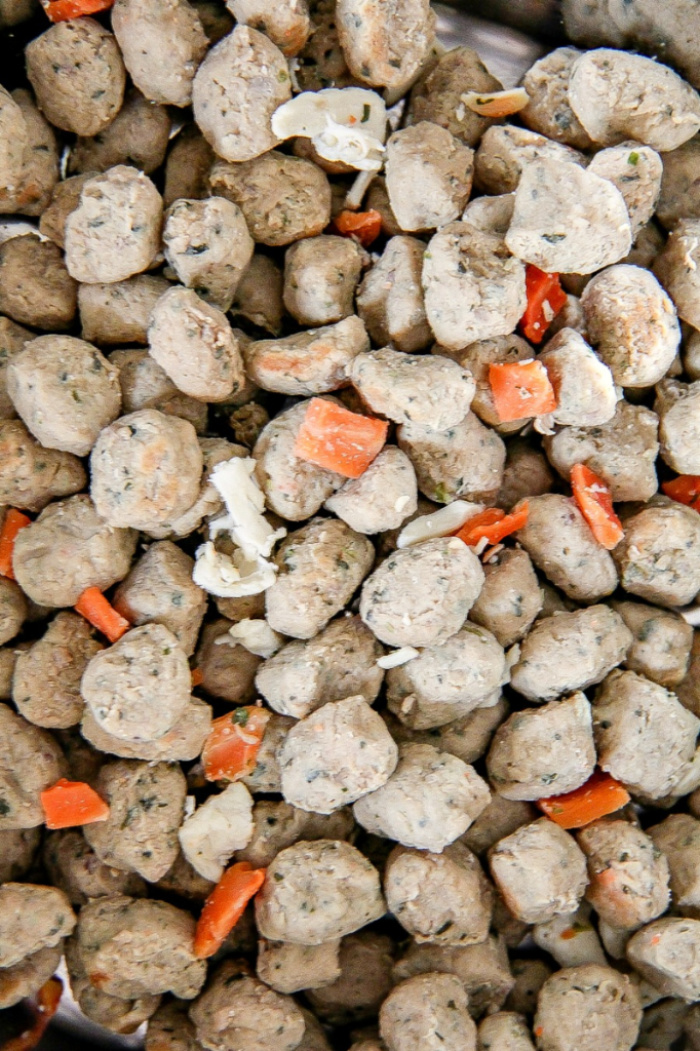 Learn more about Freshpet's benefits of a fresh diet, and check out Freshpet's amazing transformational stories as well as how pets have gone completely wild at mealtime.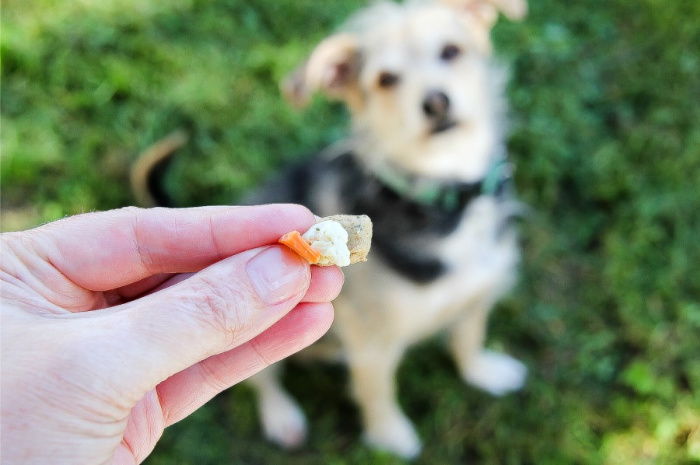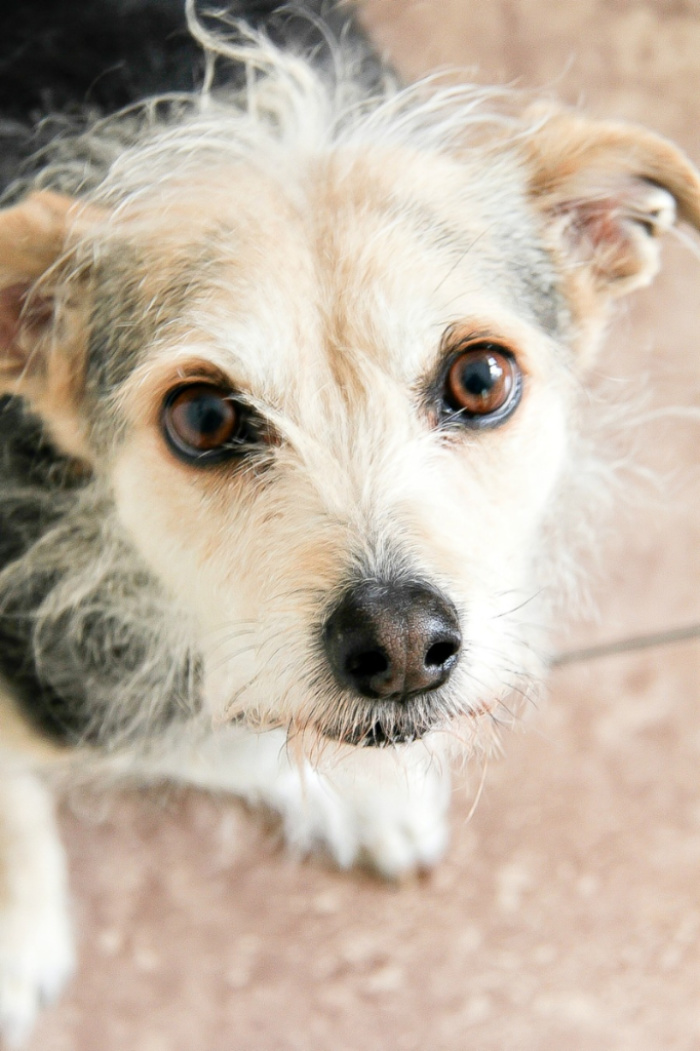 Pin this post for later:



Save
Save
Save
Save
Save
Save