As I try to green up my life a little at a time I thought I would share a few more earthy tidbits.
IDEAL BITE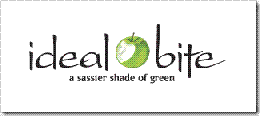 Here is a website I think is worth signing up with.  It's called Ideal Bite and in a nutshell it gives you 'bite-sized' ideas for greener living.  When you sign up they send you a daily email with a little 'green' tip.  Their tips so far have been fabulous (fitness, food, painting rooms etc) but unlike most other websites I've been on they don't preach, they just offer a few ideas and they make it fun.  It's FREE too and you can also sign up for 'green' ideas based on where you live – at the moment this is only for NY, San Fransisco, Chicago, LA, Seattle, Denver, London and D.C … hopefully they'll add more places.
RE:VOLVE
I was reading in Rachael Ray mag today that RE:VOLVE has teamed up with Coca Cola.  Apparently apparel is now being made using recycled plastic bottles.  So each of the graphic t-shirts made by RE:VOLVE keep about 5 plastic bottles out of landfills. 
JUNK MAIL CATALOGS
I'm a bit of a junk mail junkie – I love my Pottery Barn Kids catalogue along with a few others and I hold off on making purchases until I get those wonderful coupons from Bath & Body Works and Michaels. I was however getting a little tired of receiving stuff from companies I'd never heard of and never ordered from so I have started emailing them and guess what, all of the ones I've contacted so far have been more than happy to stop sending me stuff in the mail.  I explained my need to save a few trees and to save my mailman's back and they were more than apologetic in their replies to me and were more than happy to let me search their websites for products in the future instead of receiving catalogues in the mail.  So if you are tired of the mountain of paper you receive each day, try contacting the companies directly, hopefully they'll be as happy to oblige as the ones I've contacted.
BIKE TO WORK DAY
Don't forget that tomorrow is 'bike to work day'.  So get those legs moving and ride to work or school or just to run a few quick errands instead of taking the car.  Just think of it this way, you save on gas money, get some exercise, help with the pollution problem and if you don't have too far to go hopefully you'll get to work or school a little quicker seeing as you won't be sitting in traffic.
…. and now I'm off to clean out the 3 kids wardrobes and pack up a bag of clothing that they no longer fit into to drop off at the military thrift shop tomorrow.