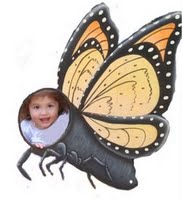 Today we took the little munchkins to the zoo … we have a membership, that's why we go SOOOOO often he he. We always try to let them do something different when we are there just to mix it up a bit.
After the zoo we drove to downtown San Diego and had a very late lunch at one of our favourite restaurants Bondi– a true Aussie restaurant/bar. For those who eat at Outback, I've boycotted it simply because it isn't true Australian food, you can't serve simple everyday food, slap an Aussie label on it and lead people to believe that it is Australian – I cannot eat at a place that calls chicken wings 'Kookaburra wings' and until they get a meat pie on the menu I won't be eating there.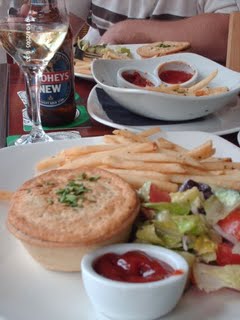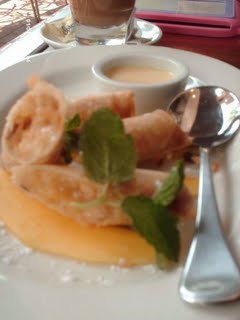 Meat pies, chips and a fresh salad. Randy enjoyed an Aussie beer and I had a lovely glass of wine from where I grew up. Dessert was apple and blackberry spring rolls with custard and fresh mango – can anybody say OMG delicious.