Looking for a delicious pantry and freezer meal? Make this tuna pasta bake in individual mini baking dishes.
Disclosure: I received 6 of the mini bakers from Create-ologie and I love them.
I absolutely love baking in individual dishes, whether it's a dessert or a main meal, food always look so neat and pretty in small baking dishes, plus you can refrigerate leftovers and leave them in the same baking dish to reheat.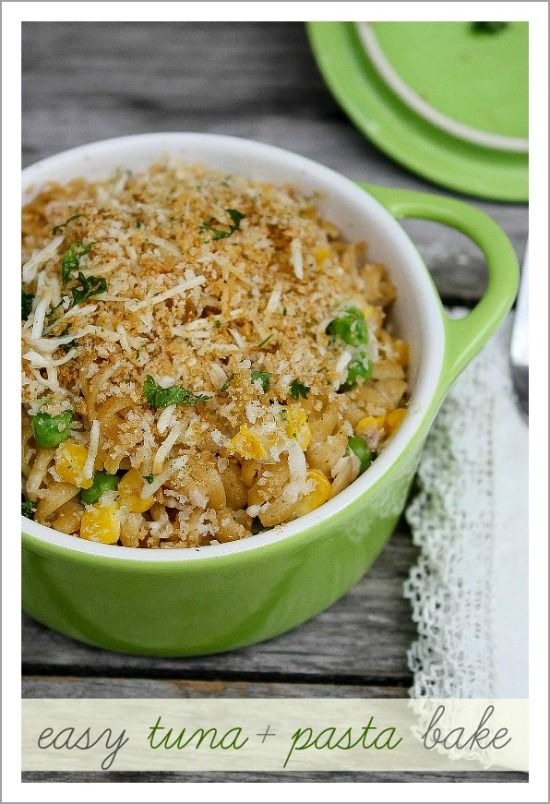 Ingredients
1 box spiral pasta
2 large tins (or pouches) of tuna
1 cup corn kernels - if frozen, thaw
1 can creamed corn
3/4 cup breadcrumbs
1/4 cup parmesan cheese - grated
1 lemon - juice and zest
1/4 cup fresh parsley - roughly chopped
1 onion - finely chopped
1 tsp chopped garlic
1 cup peas - if frozen, thaw
1 pkg low-fat feta cheese - crumbled
1 pkg extra light ricotta
1 tbs butter
Instructions
Preheat the oven to 350F.
Prepare the pasta according to package directions and drain.
In a bowl combine the parmesan cheese, breadcrumbs, lemon zest, and parsley and set aside. This will be your topping.
Melt butter in the large pot you cooked the pasta in and saute the onion and garlic.
Turn down the heat to a simmer and add the pasta. Stir to combine. Include the tuna, lemon juice, peas, corn, creamed corn, feta, and ricotta. Stir until everything is combined and warmed through.
Spoon tuna and pasta into mini bakers and any extra into a casserole dish. Top with the parmesan cheese mixture you had set aside. Bake for 20 minutes until the top is browned and a little crispy.
Recipe: by Tonya Staab tonyastaab.com
This recipe filled not only 6 mini bakers but also a casserole dish for leftovers that we enjoyed for lunch the next day.
Serve your tuna pasta bake with a garden salad and fresh French bread.
The Mini Bakers can be purchased from Create-ologie. Look at the amazing colors they come in.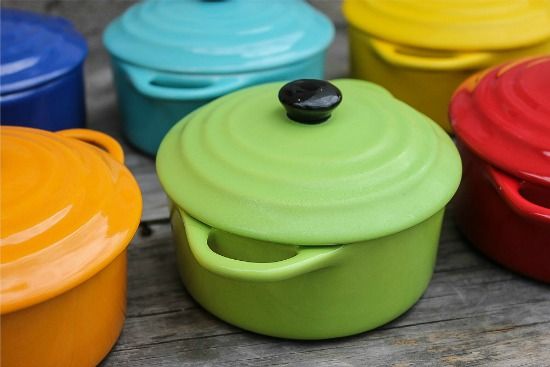 Create-ologie is a new online destination where you can purchase the most lovely products for your home, garden, and office. You will also find inspiration on how to use them.
Please pin this post for later: