Today is our last official weigh-in day for the George Foreman 90 Day Challenge.  I'm a little sad to see our challenge come to an end.  I relied heavily on being made accountable each week.  Maybe I should continue on anyway.
Last week was a little tough to fit in healthy food and exercise.  You see a little thing called BlogHer was in town.    The week was all kinds of crazy.  There was lots of dining out, lots of work to be done (for the Cheap Sally Party) and lots of events to attend.  I managed to catch up with a few of the #knockoutthefat girls though so that was a highlight of course.  You can see a photo here from @momma_oz.
Here are this weeks weigh-in and measurement results:
Weight: 157.0 lbs 170.6 lbs
Overall:  Down 13.6 lbs and 6.5" in 14 weeks.  That's almost a pound a week. I have to be happy with that.
(red denotes initial measurements and weight)
I'm going to end my final post with something completely unhealthy, but I feel like celebrating.  It's funny because I was asked after a previous recipe whether it was healthy or not, because the reader had never thought of what I had made as being healthy.  This is not just about providing healthy recipes.  I'm keeping it real here.  I like to have a treat every now and then.  I am not about to give up some of my favorite things.  For me, it's all about balance.  It's about primarily eating healthy 'meals', but splurging once in a while on something that I crave. 
Those who know me, know I have an issue with fire (I once had 3rd degree burns on my hand – it was a long and very painful recovery). Don't get me wrong, I love a fire pit, a fire place and grilling outdoors just like everyone else, but I will never go at it alone.  These are only lit if my husband is around.  So when he's not, I love to come up with a great alternative, which is just one reason why I'm loving my George Foreman grill so much.  I can use it, minus the flames and get great results.
Recipe: Grilled S'mores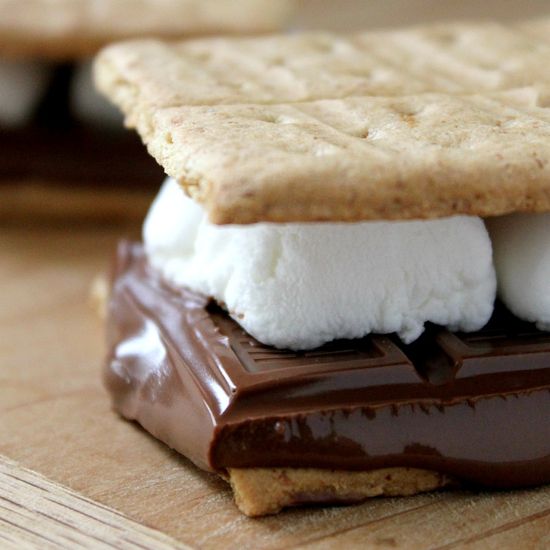 These take 35 seconds to cook and you can fit 9 on the grill.
Want to know how to make them?  There's a few small tricks, so feel free to watch my video.
Disclosure: I am one of 10 Brand Ambassadors in the George Foreman Knock out the Fat Weight Loss Challenge. I was sent a George Foreman Grill for my participation in this challenge and will be compensated for my time at the end of the 90 days.