Want to teach the kids more about fall and the history of Thanksgiving? Here are 30 books you should read with them this year.
It's Autumn, and the kids are back to reading 20 minutes each night in bed for their school reading log. So, I've put together a list of 30 books for Fall and Thanksgiving so kids can learn more about this wonderful time of year. They will love learning about why leaves change colors, why we give thanks, and explore fun fall activities they can do.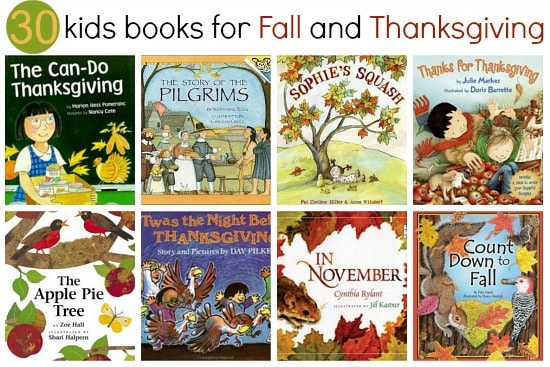 Note: This list was originally put together for a website called Rusty and Rosy, however that is now offline so I moved the content I put together over here.
Books about fall
Count Down to Fall, by Fran Hawk
Fall Mixed Up, by Bob Raczka
Apples and Pumpkins, by Anne Rockwell
Little Critter: The Fall Festival, by Mercer Mayer
Sophie's Squash, by Pat Zietlow Miller
The Apple Pie Tree, by Zoe Hall
Leaf Man, by Lois Ehlert
Fletcher and the Falling Leaves, by Julia Rawlinson
In November, by Cynthia Rylant
We're Going on a Leaf Hunt, by Steve Metzger
Apple Farmer Annie, by Monica Wellington
Why Do Leaves Change Color?, by Betsy Maestro
Woody, Hazel and Little Pip, by Elsa Maartman Beskow
Apple Cider Making Days, by Ann Purmell
Autumnblings, by Douglas Florian
Books about the Pilgrims and Thanksgiving
'Twas The Night Before Thanksgiving, by Dav Pilkey
The Pilgrims' First Thanksgiving, by Ann McGovern
One Little, Two Little, Three Little Pilgrims, by B. G. Hennessy
Thanksgiving is for Giving Thanks, by Margaret Sutherland
The Story of the Pilgrims, by Katharine Ross
Thanksgiving Mice,by Bethany Roberts
Thanks for Thanksgiving, by Julie Markes
The Can-Do Thanksgiving, by Marion Hess Pomeranc
Thanksgiving Rules, by Laurie Friedman
… If You Sailed on the Mayflower in 1620, by Ann McGovern
Mousekin's Thanksgiving, by Edna Miller
What is Thanksgiving?, by Michelle Medlock Adams
The Night Before Thanksgiving, by Natasha Wing
T is for Turkey: A True Thanksgiving Story, by Tanya Lee Stone
Turkey Trouble, by Wendi Silvano
Do you have favorite books you read to your kids during fall and Thanksgiving? Leave the names in the comment section below to add to our reading list.
Please pin this post for later: