I posted on Friday about Randy and his food obsession (well his obsession of food going bad before it's used) so today I did a big clean-out of the pantry.
Our family is big on snacks. We just love to snack … okay … really we just love to eat but there is always somebody snooping in the pantry for snacks. So for the past few weeks there has been a common theme with Jay and I opening the pantry door and closing it again in a huff not being able to find anything to eat. How can this be? Look at these 2 shelves, does this look like there are no snacks to you? Oh and this was after I threw out 1/2 a trash bag of things.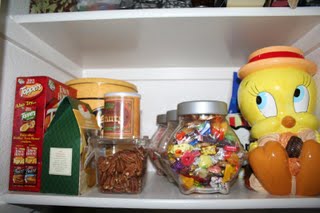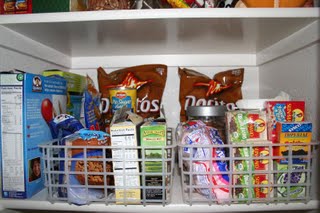 So next Randy suggested that we try and get through the next 6 days on the food that we have in the house and not food shop at all. The cupboards and the refrigerator are pretty much full and yet every day I can't think of a thing to cook. I'm always missing crucial ingredients for recipes and find myself popping out to the store just to buy one or two items and coming back with 4 or 5 bags of 'stuff'. So he issued me a challenge that from Sunday through Friday I cook with what we have and nothing more, he wants most of the cupboards, refrigerator and freezer empty by Saturday morning.
I scoured the internet for a couple of hours trying to find recipes to fit the ingredients I had in the house with no success. Crap, I have to be creative. Oh lordy, what on earth have I gotten myself into?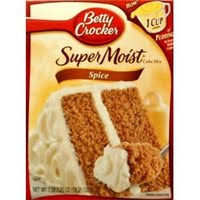 So first off I found a box of Betty Crocker Spice cake mix in the top of the pantry. I found 2 half used tubs of icing in the refrigerator and numerous packets of themed cupcake liners. Viola, snacks for the next few days (and possibly breakfast for me too) … and yes just for one day I got over my obsession with having the 'right' cupcake liners and used a combination of Christmas, Halloween and sports ones instead.


NEXT ON THE LIST WAS DINNER.This is what I came up with and it was a big hit with the boys and the babies. Flynn insisted on sitting in his highchair until every morsel was finished and Marisol screamed when I tried to feed her with the spoon because she just HAD to feed herself.
2 10.75oz cans Cream of Mushroom Soup
2 7.1oz bags Chicken of the Sea Pink Salmon
2 cups frozen vegetables (I used beans, corn, peas & carrots)
1/2 cup milk
2 cups cooked white rice (I used Jasmine)
1tsp salt
1tsp crushed red pepper (heaped tsp)
1tbsp minced onion
1 cup grated cheddar cheese
1tsp paprika
Pack the cooked rice into the base of a baking dish. Mix all ingredients (apart from cheese and paprika) in a bowl. Pour over the top of the rice. Sprinkle cheese and paprika over the top and bake in a 350 degree oven for about 30 minutes.
SPECIAL TREAT FOR THE BABIES 17 MONTH BIRTHDAY TOMORROW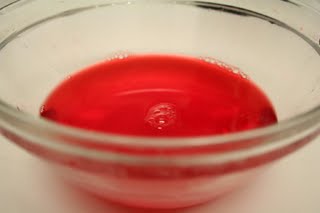 Jello (found a box stashed in with the baking supplies)