We are on day 4 of our 'cleansing' the kitchen. So far things are going surprisingly well. We are not starving, no matter how much I thought we would. I'm being a little creative with my cooking but thankfully everything I have made has been a hit with the boys … my biggest critics.
Tonights dinner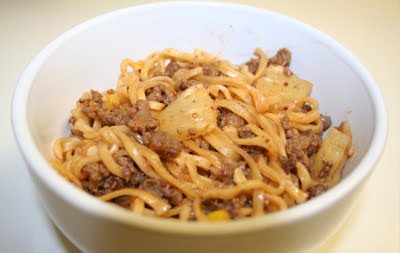 Ground beef with pineapple & noodles
1 package ground beef
1 packet asian noodles
1 tbsp Extra Virgin olive oil
1 tbsp mustard
1 tbsp brown sugar
1 tbsp lemon juice
1 tbsp soy sauce
2 tbsp ketchup
1/2 cup corn kernels
1 8oz tin diced pineapple
1 tsp minced garlic
1 tsp minced onion
dash of white pepper
I cooked the noodles according to the instructions on the packet and set aside. Put 1tbsp oil in the frying pan and brown ground beef with garlic and onion. Add the remainder of the ingredients and stir fry for about 5 minuts. Turn the heat down and add the noodles. Simmer for about 5 minutes stirring often so it doesn't stick to the bottom.