Much to my husband and sons horror I cooked a vegetarian dish for dinner tonight. They both asked if they could have steak with it and my husband thought he'd just 'check' the freezer to see if there was in fact any meat in there and asked if I could add some chicken or meatballs in with his, but no damn it they were going to eat what I cooked. Besides, my husbands pet hate is food being thrown out. He hates that vegetables go off in the refrigerator and is regularly cleaning it out and commenting about the expiration dates on items that I've left in there like science experiments.
I found a recipe on-line that I liked the look of but amended a few of the ingredients to suit what I had on hand.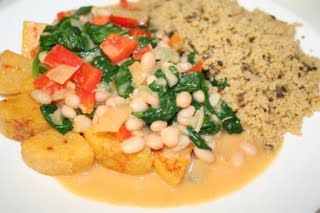 Polenta, White Beans and Spinach
Extra Virgin Olive Oil (just a little for frying)
1 tube Monterey Sun-dried Tomato Polenta (cut into bite-size cubes)
1 tsp minced garlic
1 small onion (diced)
1 red bell pepper (diced)
1/2 tsp paprika
1 can white beans (drained & rinsed)
approx 4 cups fresh baby spinach
1/2 cup vegetable broth
1/2 cup shredded monterey jack cheese
2 tsp sherry cooking wine
Heat a little oil in a non-stick frypan and add polenta. Cook for about 10 minutes or until it begins to brown. Set aside. Turn down to medium and add a little more oil to the pan. Add garlic, onion and bell pepper. Stir until onion is soft. Add paprika, beans, spinach and vegetable broth. Cook until the spinach is wilted, stirring regularly. Turn off the heat and add in cheese and cooking wine. Stir until throroughly mixed and cheese is melted. Serve the vegetable mix over the polenta.
We had couscous on the side but I would have actually preferred noodles, I just couldn't be bothered racing out to the store at the last minute to get some 🙂