Host a fun family movie night with these handmade pull-string pinatas that you can fill with movie treats and temporary tattoos inspired by the SING movie.
Disclosure: This post is in partnership with Universal Pictures Home Entertainment
When SING was first released in theaters, we said a prayer for the rain to stop, threw blankets and pillows into the car, grabbed a friend and headed to the drive-in movie theater about an hour from home to watch it. And the rain did stop as we were pulling in, and we had such a fantastic night. We all absolutely loved the movie and sang songs from it most of the way home.
And now, SING Special Edition is available on Blu-ray & DVD with over 60-minutes of bonus content and three all-new entertaining mini-movies featuring the cast from SING as well as an exclusive Tori Kelly music video.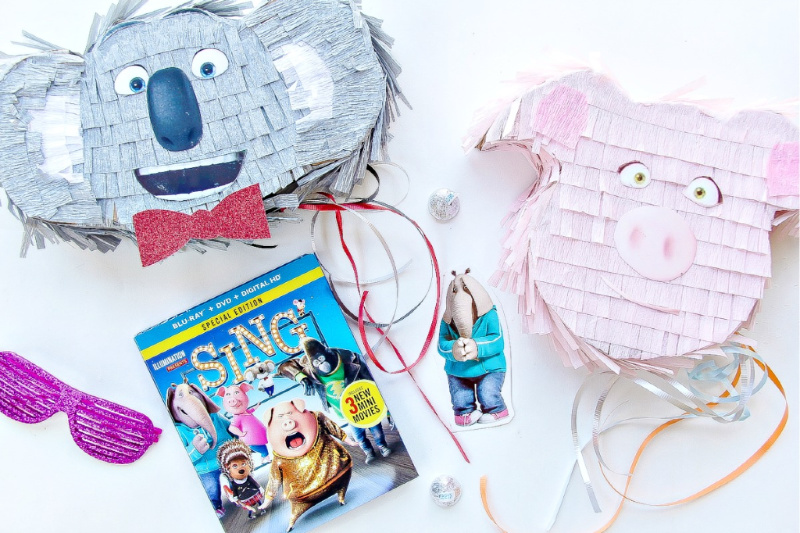 With spring break upon us, what better time to have a SING family movie night at home, and I've put together a couple of fun ideas for you including mini pull-string piñatas that you can fill with candy, SING tattoos, and fun movie-watching props like small costume pieces.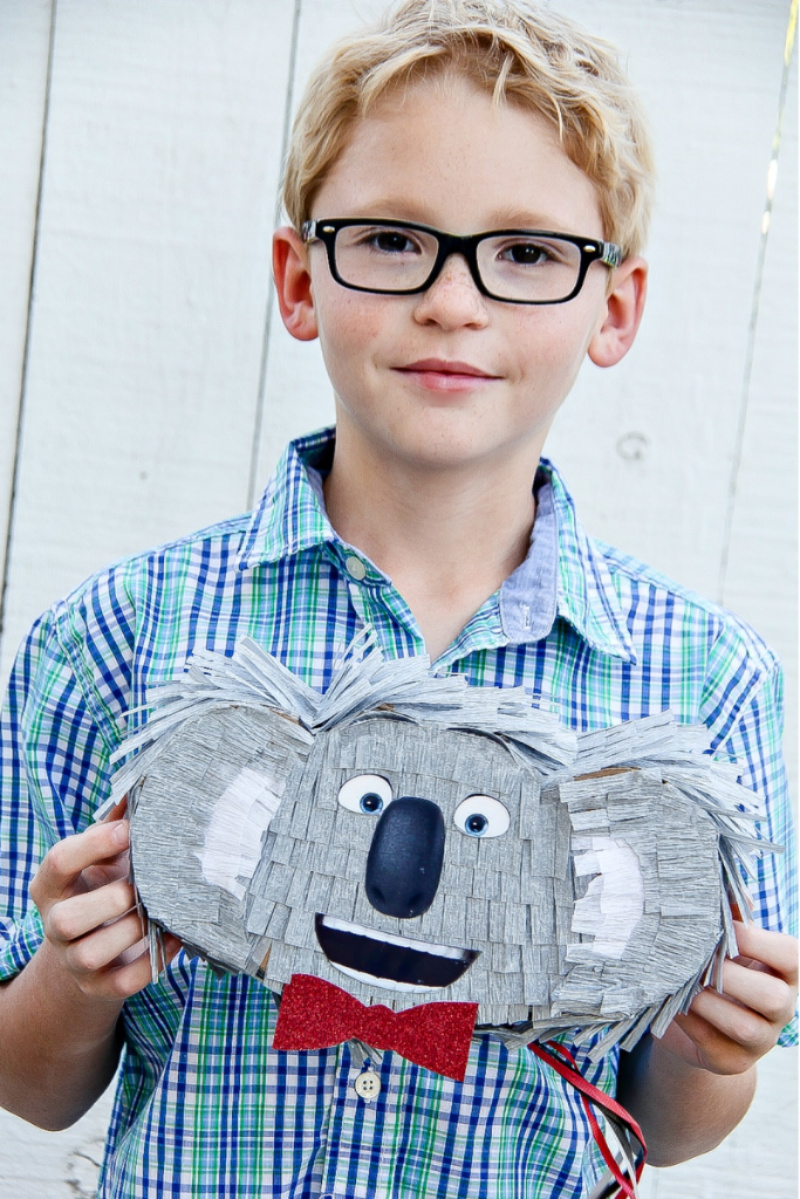 Isn't this Buster Moon piñata just the cutest? Oh but that's not all, keep scrolling down for details on how to make this and a Rosita piñata. Plus download and print the tattoos I've put together for you of your favorite SING characters.
Small pull-string piñatas are so much fun for family movie. You can make one for each of your favorite SING characters, and then fill them with so many fun things to suit each child's likes such as:
What To Put in Pull-String Pinatas
candy
scrolls with lyrics to the songs so kids can sing along
fun glasses, hair accessories, or bow ties for the kids to wear
tattoos (download my free printable below)
Now let's make the Rosita and Buster Moon piñatas.
What You Need To Make Pull-String Pinatas
Cardboard – an old box works just fine
Packing tape
Crepe paper streamers – grey, white, pink (2 shades)
Glue
Scissors
These downloads for Rosita and Buster Moon
Red glitter card stock
How To Make Pull-String Pinatas
Begin by printing out the downloads and cutting out the faces onto photo paper. You will use these as not only the template for your pinata, but to also cut out and add the facial features to your finished piñata later on.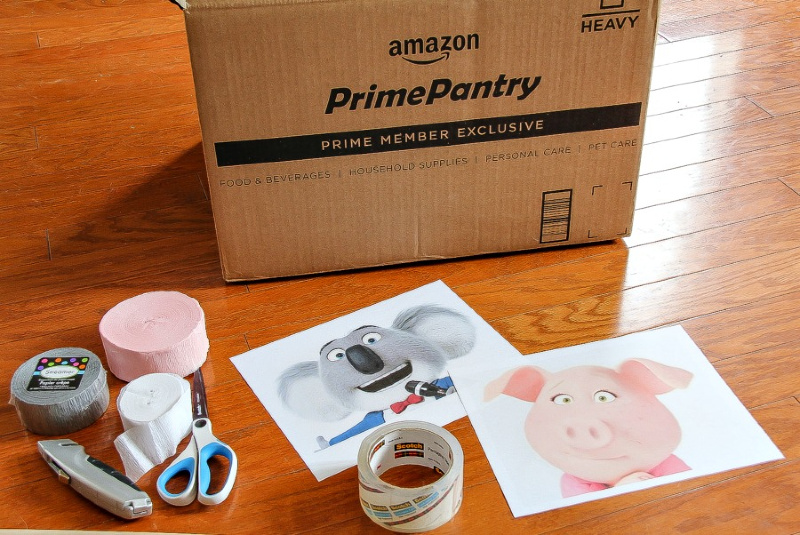 Trace around each of the faces on the cardboard. You'll need two of each.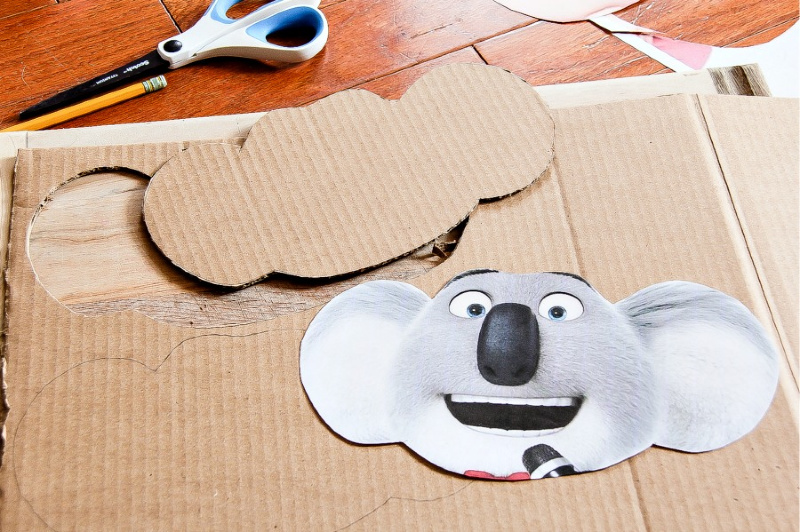 Cut a few strips of cardboard about 2.5 inches wide. Gradually attach the strips to the front and back of the head using the packaging tape. Once finished cut a flap at the bottom of the head so you can get candy in and out of your piñata. Then, cut strips of crepe paper with a fringe in each strip, and glue them all of the piñata.
Tip: it's easiest to do the sides first, and then work from the bottom to the top on the front and back.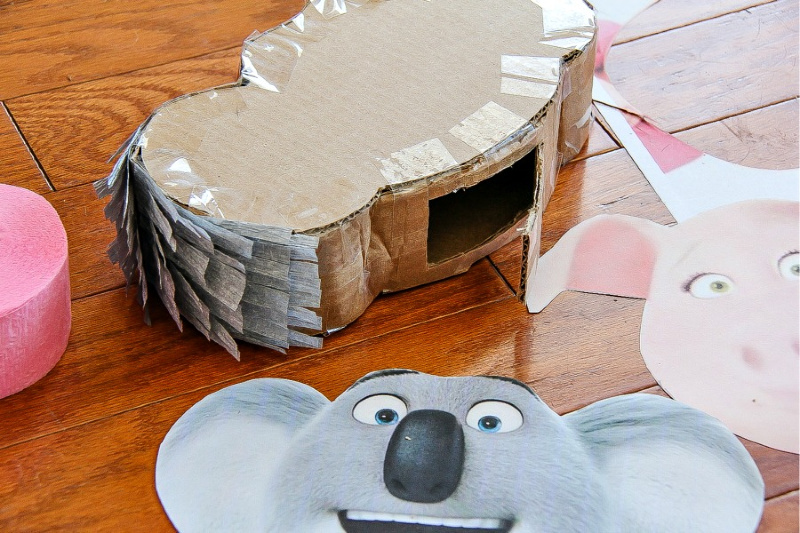 Once finished, cut out the facial features for Rosita and Buster Moon and glue them into place on the piñata too. Then cut out a bow tie from the red card stock for Buster Moon.
This is a great activity for the kids to do, and will keep them occupied for a good hour or two.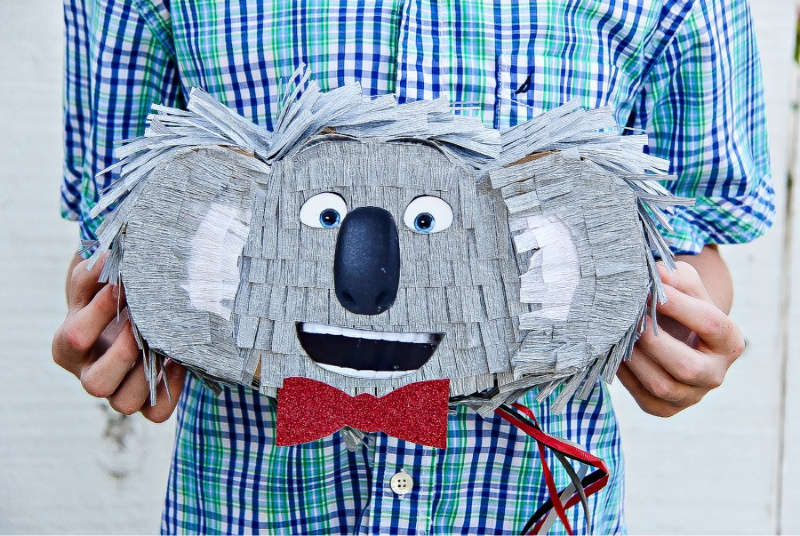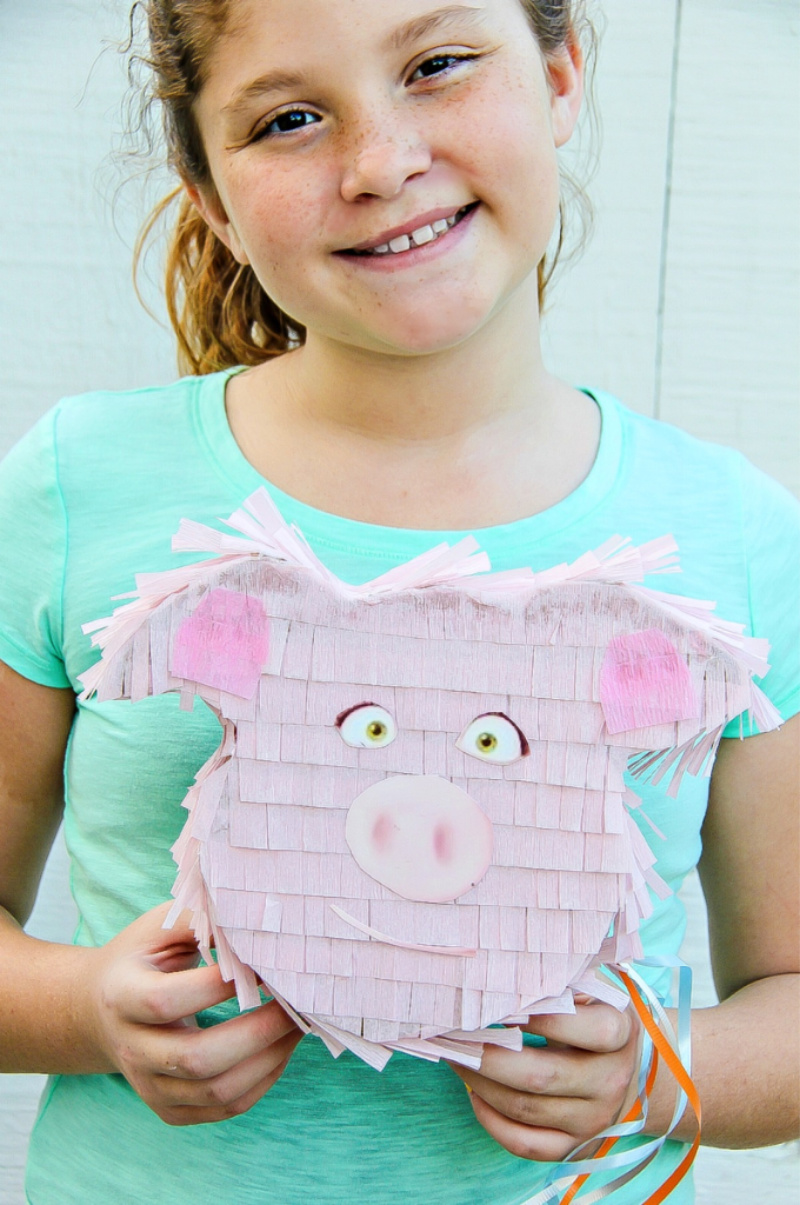 The very last step is to cut a small hole in the edge of the flap at the base of each pinata and tie some string or ribbon through so that kids can easily open it to get their treats out.
Now, go grab my SING movie tattoos too. You will need tattoo paper to print them on.
Note: The images for the tattoos have already been reversed so you can just print and go.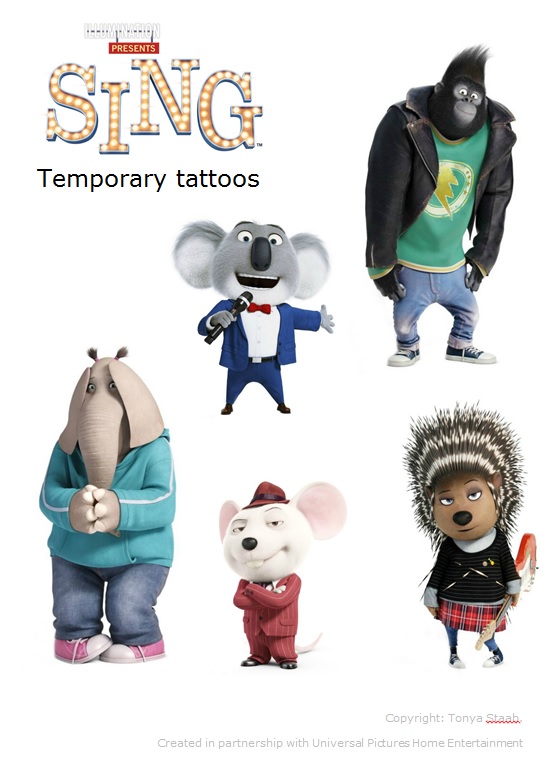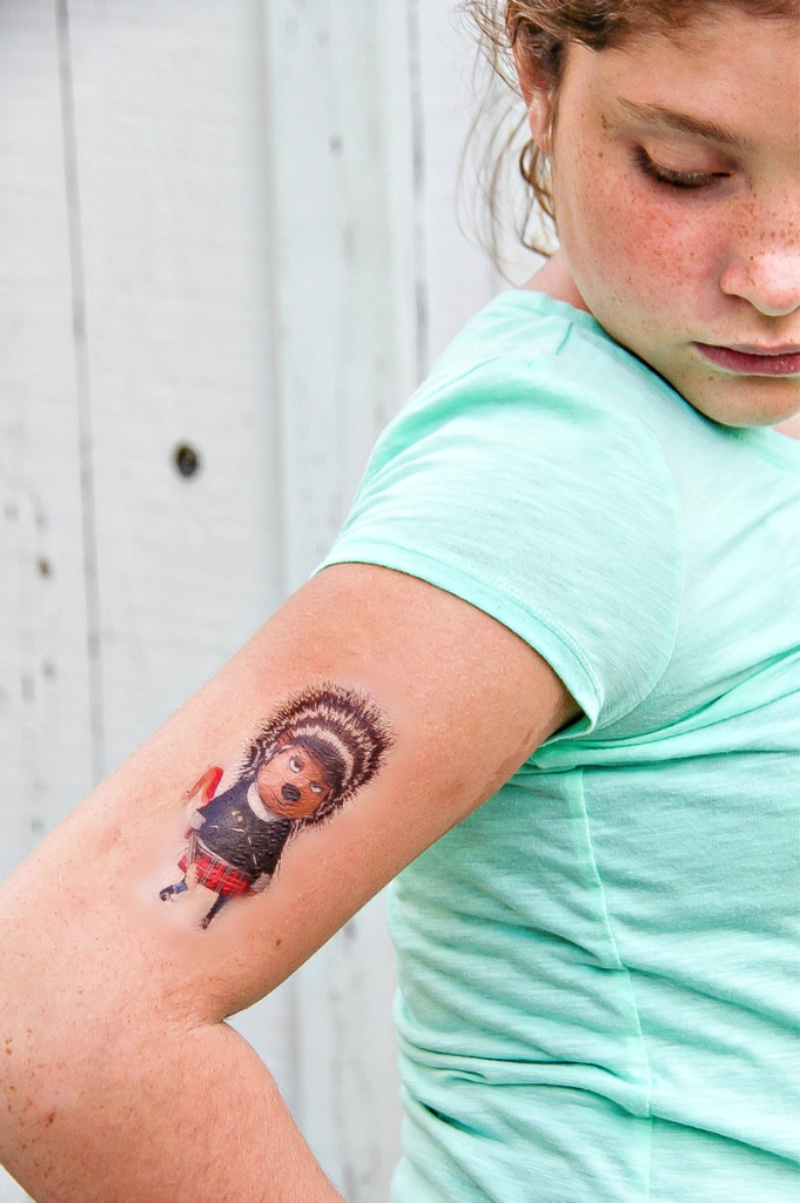 Now you are ready for an epic family movie night that the kids will absolutely love.
Watch the trailer here:
Pin this post for later: