There ain't no gators on this beach but there sure were some very active toddlers ha ha.
Today we met up with Lisa and her little girl Joli for some fun at the beach.  When we left home in the morning it was really warm and sunny but it was actually quite overcast and a little chilly down at the beach so we didn't stay too long.  Unfortunately we also barely had a chance to chat as my bugs were off in the water THE ENTIRE TIME we were there and Joli was happily playing in the sand.
The bugs sliding down the hill to play in the water
Jay burying himself in sand.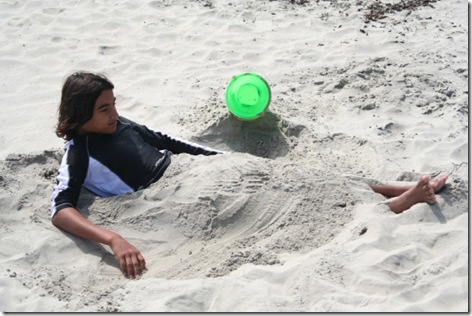 Marisol and Jay had a fabulous time jumping over the waves.
Surprisingly Flynn was more than happy to play on the beach, but Marisol wanted to be out in the water as far as we would let her go.
Then she made it her personal mission to return every piece of seaweed to the water.  Only problem was, it kept washing back up onto the sand again ha ha.  Flynn was trying to tell me what he found.
Jay with a sand dollar he found and Flynn picked up every shell, rock and piece of seaweed he could so he could inspect it thoroughly and see how far he could throw each item.