Do your kids really need a lot of chocolate for Easter?
Do you need to give a spring or housewarming gift?
Having a garden party and looking for gifts for your guests?
Have a look at these.  There are so many possibilities.
This first set I put together for a friend and her family.  The pots are Bio-Pots that I picked up from Cost Plus World Market a while ago.  They are made from straw, rice husks and bamboo and recycle back into the earth.  I filled each with gardening tools, gloves, garden signs and a packet of seeds purchased from Target and Michaels.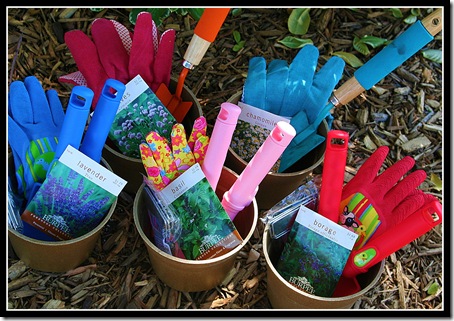 I've always had a rule at Easter.  Not too much chocolate.  I normally put a few pieces inside eggs and hide them around the yard, but ever since Jay was little I've given a gift at Easter and/or handmade items.  These little kits were purchased at Cost Plus World Market and we will be giving these to the twins for Easter inside a large egg at the end of their bed.  I'm sure they'll be very excited to grow their own flowers and vegetables.