Looking for a delicious, creamy, gluten-free pasta recipe? Try this Gluten-Free Baked Shrimp Alfredo Pasta dish.
Disclosure: This post was sponsored by ALDI as part of Influencer Activation for Influence Central.
Last week I shared a couple of our favorite products from ALDI, the liveGfree® Gluten-Free Baking Mix for pancakes, and the liveGfree® Gluten-Free Chocolate Crème Sandwich Cookies, along with a super-easy summertime treat using the sandwich cookies.
This week I have a delicious gluten-free baked shrimp alfredo pasta recipe.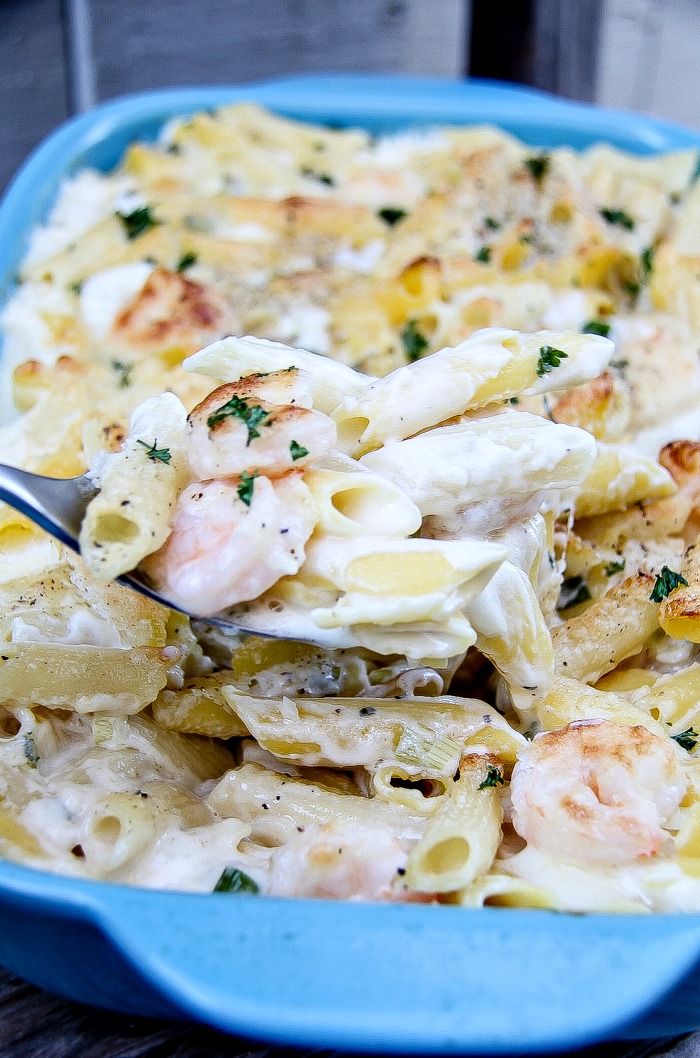 Gluten-Free Shrimp Alfredo Recipe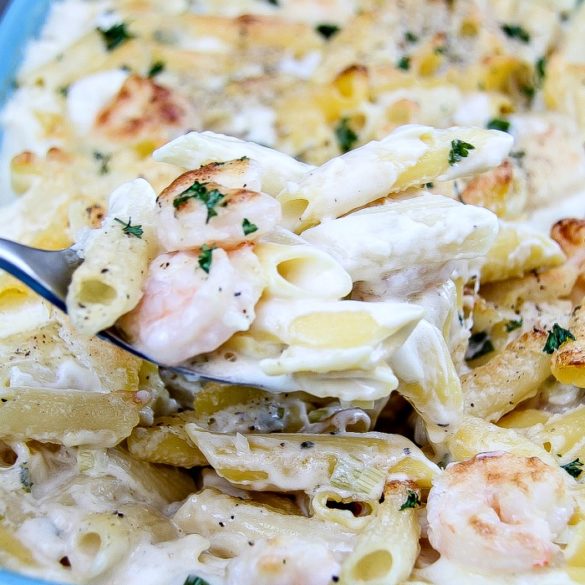 Ingredients
1 box liveGfree® Gluten-Free Penne Rigate
2-3 cups Sea Queen Large Cooked Shrimp, tail off
1 stick Countryside Creamery Sweet Cream Unsalted Butter
1 cup white wine
3 tbs liveGfree® Gluten-Free All-Purpose Flour
16oz Countryside Creamery Heavy Whipping Cream
1/4 cup cream cheese
2 tsp minced garlic
5 green onions
1 cup grated mozzarella cheese
1/2 cup grated Parmesan cheese
1/4 cup fresh parsley
salt and pepper
Instructions
Preheat oven to 375F.
Boil a large pot of water to cook the pasta as per the package directions.
While the pasta is cooking make the Alfredo sauce. Melt the butter in a large pan, add the chopped white/light green ends of the green onions and the garlic and saute until the onion has softened.
Add the white wine and heavy cream. Whisk and bring to a slow boil.
Add the cream cheese and whisk until melted.
Add the flour and whisk until sauce has thickened.
Stir in the mozzarella, half of the parsley, and the salt and pepper.
Add the shrimp, heat throw, and then toss in the cooked pasta, stirring to combine.
Spray a casserole dish with cooking spray and pour your pasta in. Top with the remainder of the parsley and the Parmesan cheese.
Bake in the oven for 20 minutes.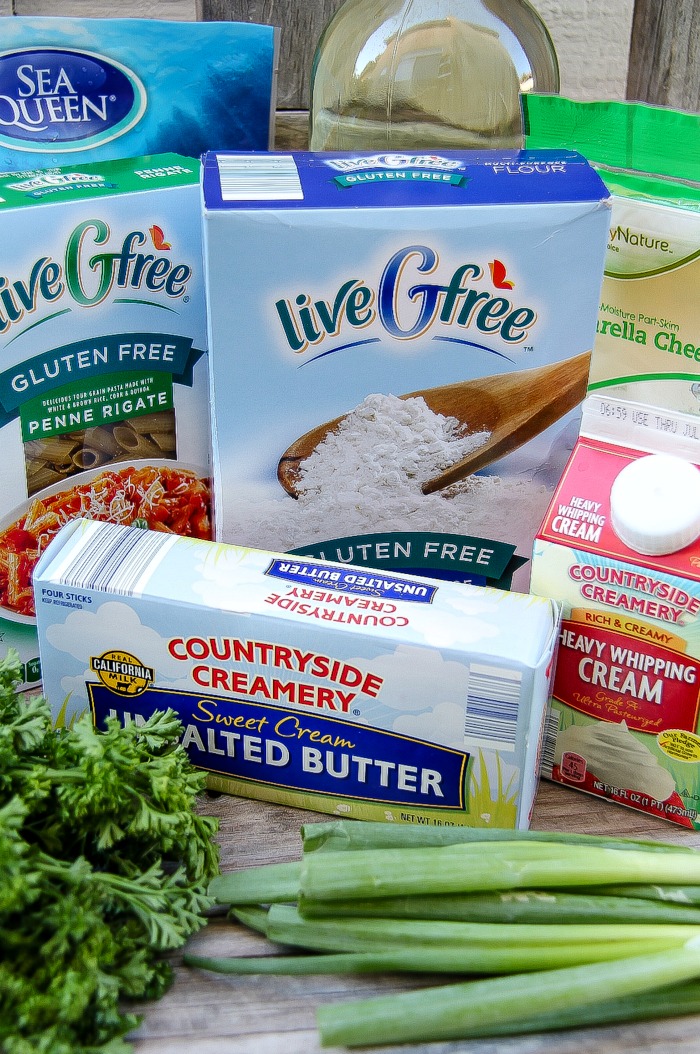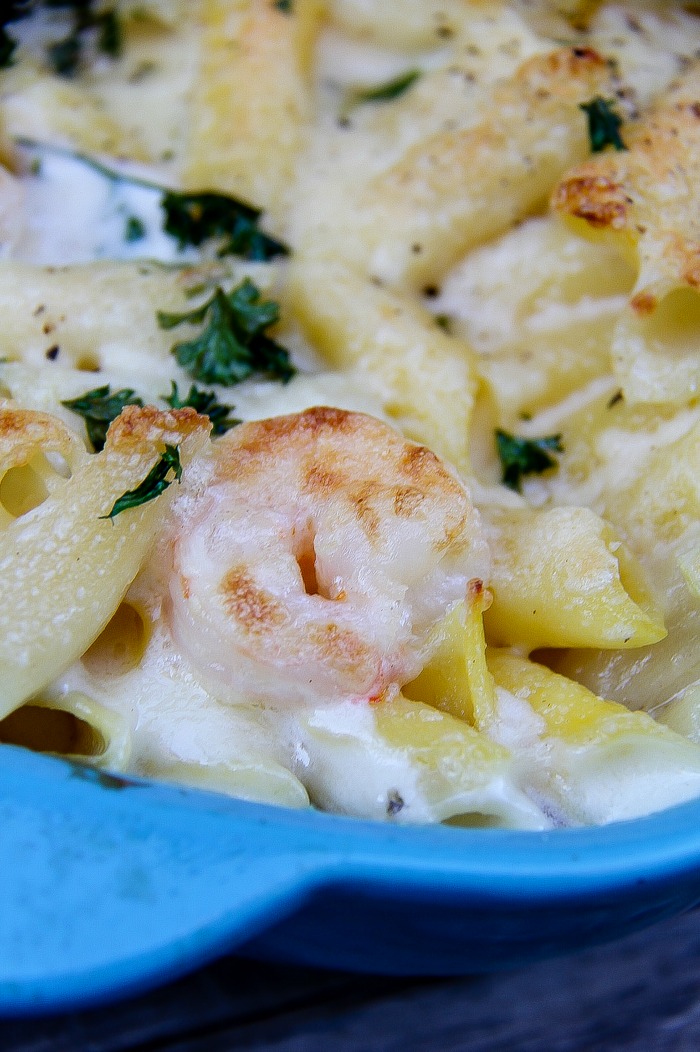 About Aldi Gluten-Free Brands
If you haven't checked out ALDI yet, here's a little about them.
ALDI has a different style when it comes to grocery shopping in all the right ways. Shoppers will find that by shopping at this easy-to-shop food market, they can save up to 50%* on their grocery bills with high-quality products at everyday low prices.
*Based upon a price comparison of comparable products sold at leading national retail grocery stores.
Ninety percent of the groceries ALDI sells is under its own ALDI-exclusive brands, which are regularly tested to make sure they taste just as good, if not better than the national brand. 
ALDI offers its SimplyNature® line which includes USDA Certified Organic and Non-GMO verified items, liveGfree® gluten-free products, USDA Choice meats, and NeverAny! products that are free from added antibiotics, hormones and animal by-products.
ALDI has opened 26 stores in Southern California.
Website | Facebook | Instagram | Twitter | Blog