Celebrate Ninjago style with this handmade Green Ninja Mech Dragon pinata inspired by The LEGO NINJAGO Movie.
Disclosure: This Dragon Piñata inspired by The LEGO NINJAGO Movie is sponsored by Warner Bros. Pictures.
We are so excited about The LEGO NINJAGO Movie being released in theaters on September 22nd. If you've been visiting my blog for a while you would know how much we love LEGO, and Flynn loves LEGO NINJAGO!
The LEGO NINJAGO Movie stars Dave Franco, Justin Theroux, Fred Armisen, Abbi Jacobson, Olivia Munn, Kumail Nanjiani, Michael Peña, Zach Woods, and the legendary Jackie Chan.
In this big-screen NINJAGO adventure, the battle for NINJAGO City calls to action young Master Builder Lloyd, aka the Green Ninja, along with his friends, who are all secret ninja warriors. Led by Master Wu, as wise-cracking as he is wise, they must defeat evil warlord Garmadon, The Worst Guy Ever, who also happens to be Lloyd's dad. Pitting mech against mech and father against son, the epic showdown will test this fierce but undisciplined team of modern-day ninjas who must learn to check their egos and pull together to unleash their inner power of Spinjitzu.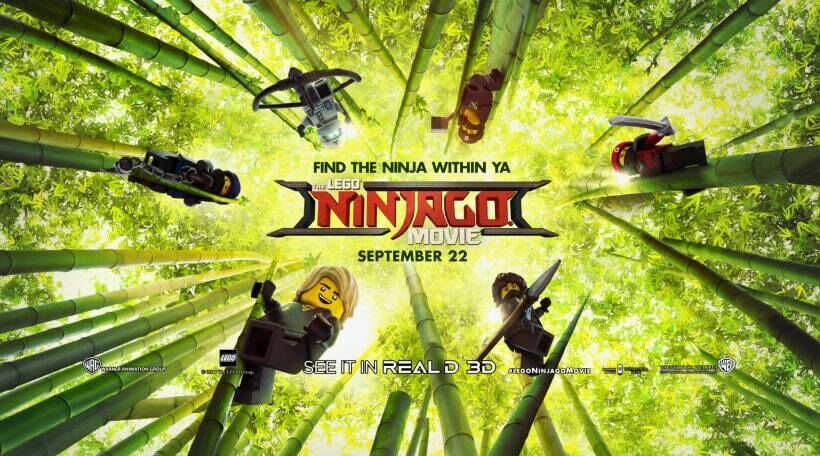 I'll be bringing you more next week about the movie, including interviews, and more from LEGOLAND California, but for today, let's celebrate this fabulous new movie with a fun DIY project that your kids are going to love.
The Green Ninja Mech Dragon P

iñata

!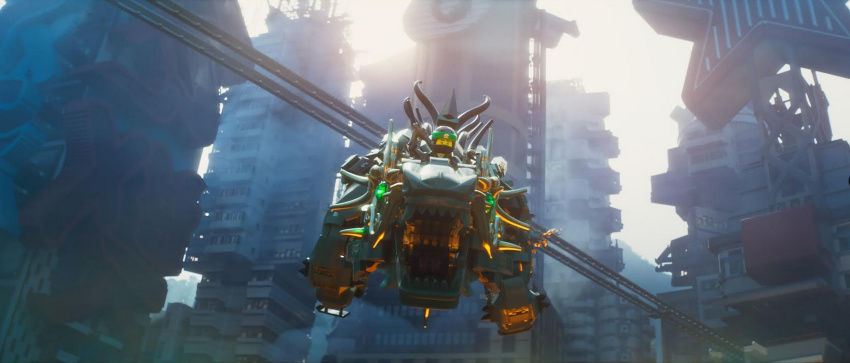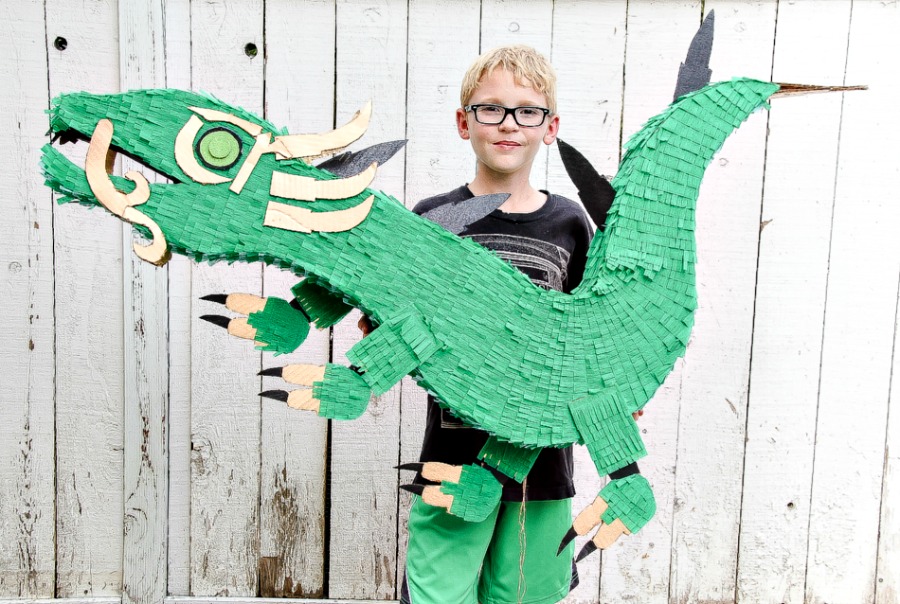 Isn't he spectacular!
Now, this is a slightly time-consuming project, but so rewarding, and the look on your kids' face when you are done will be worth it.
What You Need To Make a Ninjago Dragon Pinata
Cardboard box (preferably flat)
Crepe paper streamers – green and aqua
Paint – black, green, and gold
Glue – both hot glue, and a glue stick
Packing tape
Scissors and box cutter
Green glitter scrapbook paper
How To Make a Ninjago Dragon Pinata
This looks more daunting than what it is. I've used a lot of photos below to show how to make it so if you follow along you'll see that it's much easier than it looks.
The first step is to get the basic outline of the dragon sketched onto the cardboard.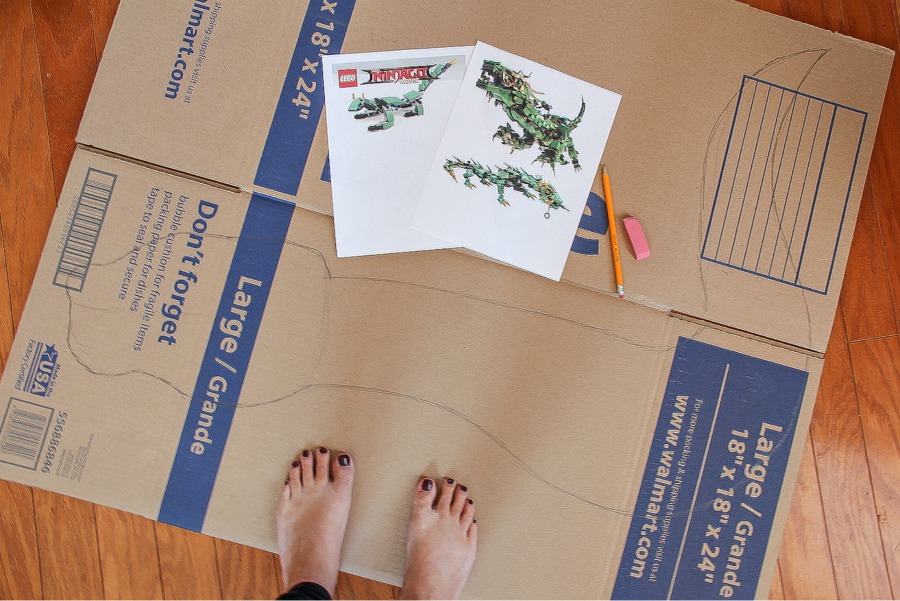 Once you have your basic shape, cut it out. This is why you want your box to be flat so that when you use the box cutter to cut it, you get duplicate pieces. You'll need two of everything for this project.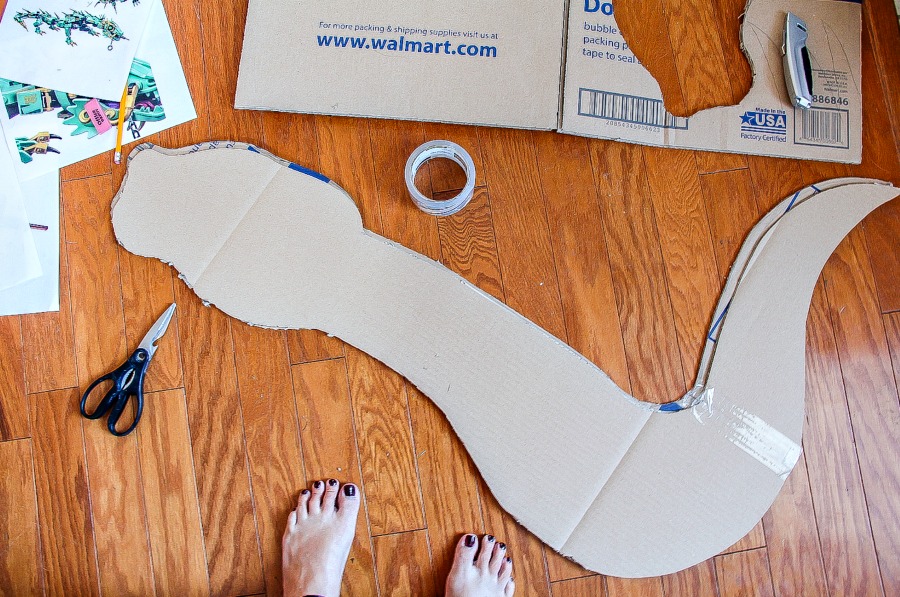 As you can see, we had a gap in the tail, but a little packing tape fixed that problem in no time.
The next step is to sketch and cut out the features for the dragon. I wanted to keep this as simple as possible but keep with the key features, especially the legs, face, and spikes along the back. Don't forget to cut out a section for the mouth too.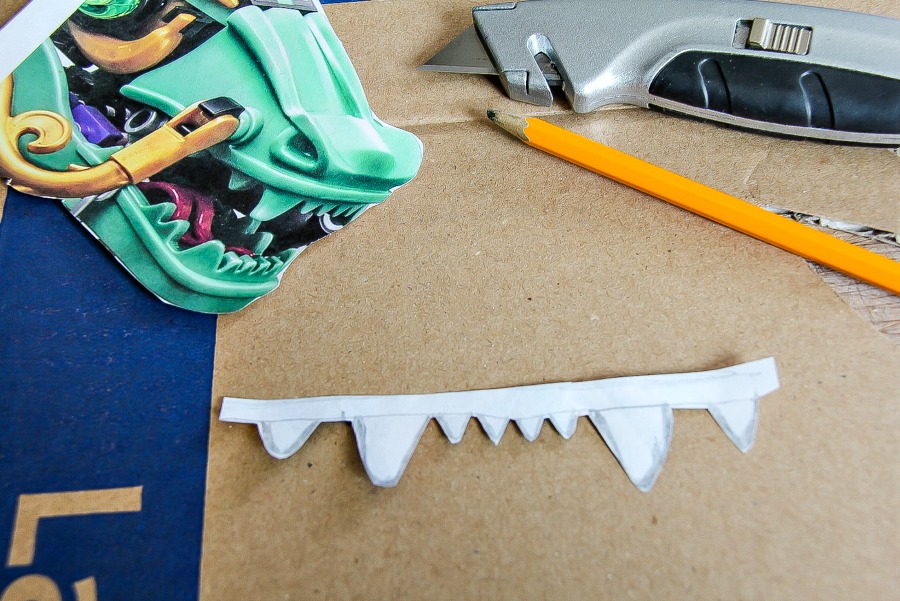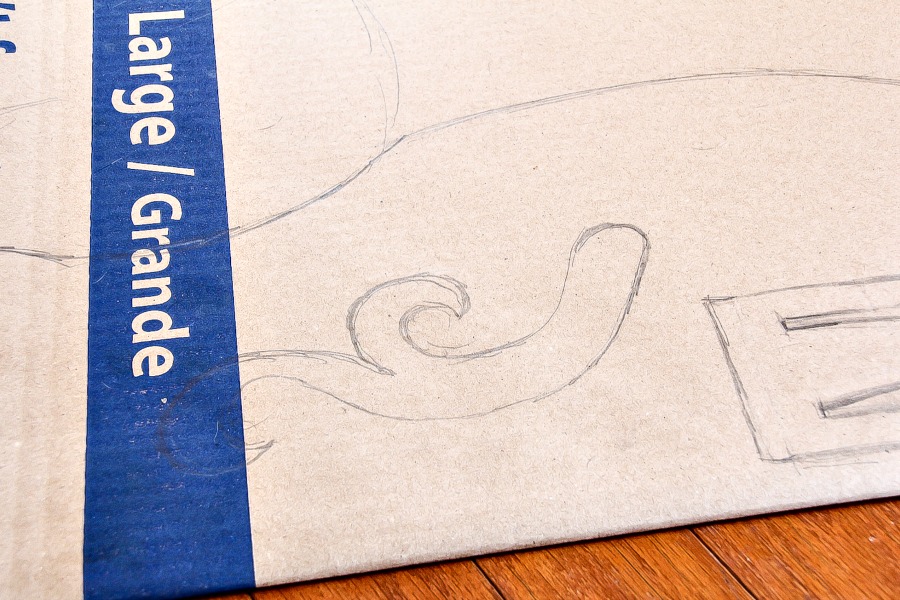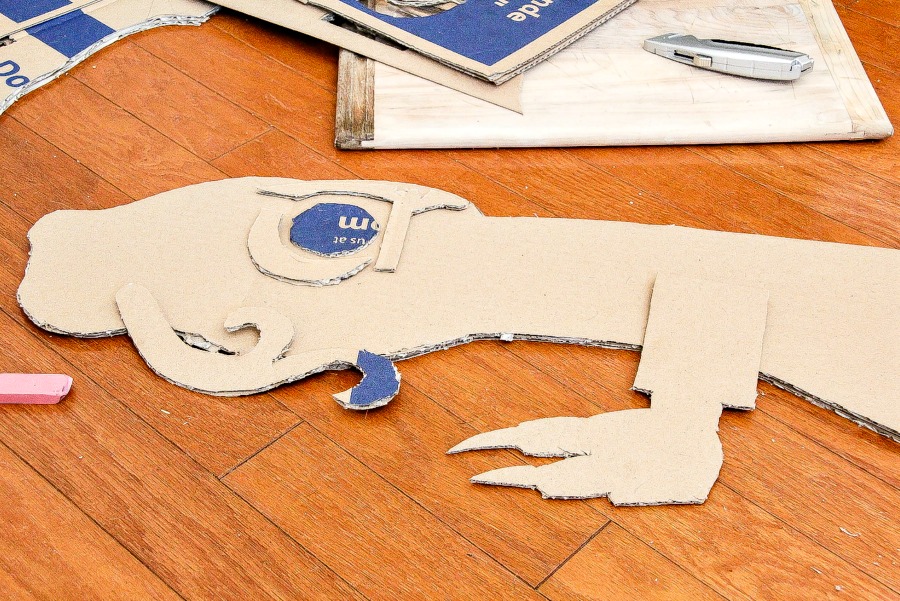 Next up, paint all of the features that won't be covered in crepe paper streamers. You'll want to do two coats on each side. Most of the features will need to be painted gold, except the teeth which will be green, and the spikes and eye should be painted black.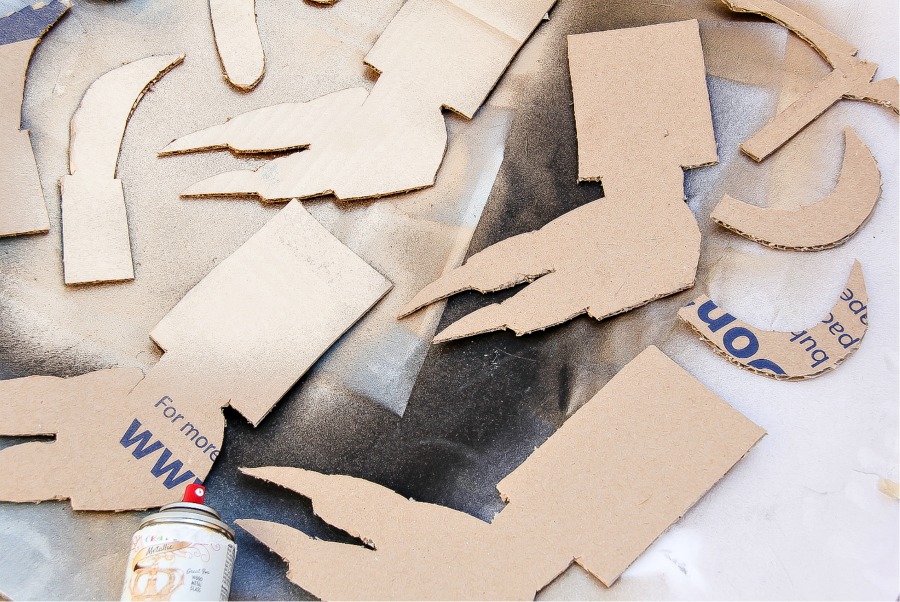 While these are drying, piece together the main piñata piece.
Cut strips of cardboard approximately 4 inches wide. Bend along the pieces to make them less stiff, and then mold them between the front and back piece of the dragon, attaching as you go with packing tape.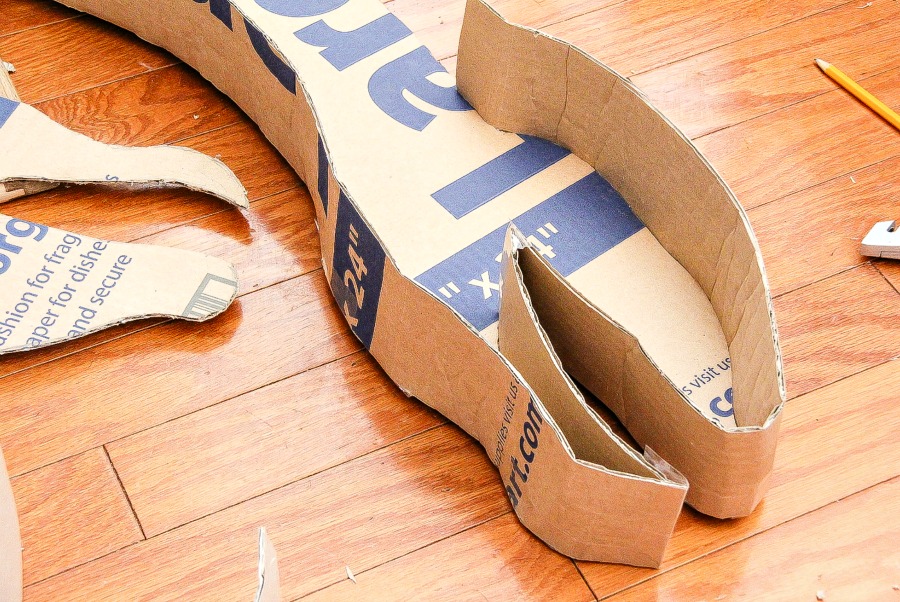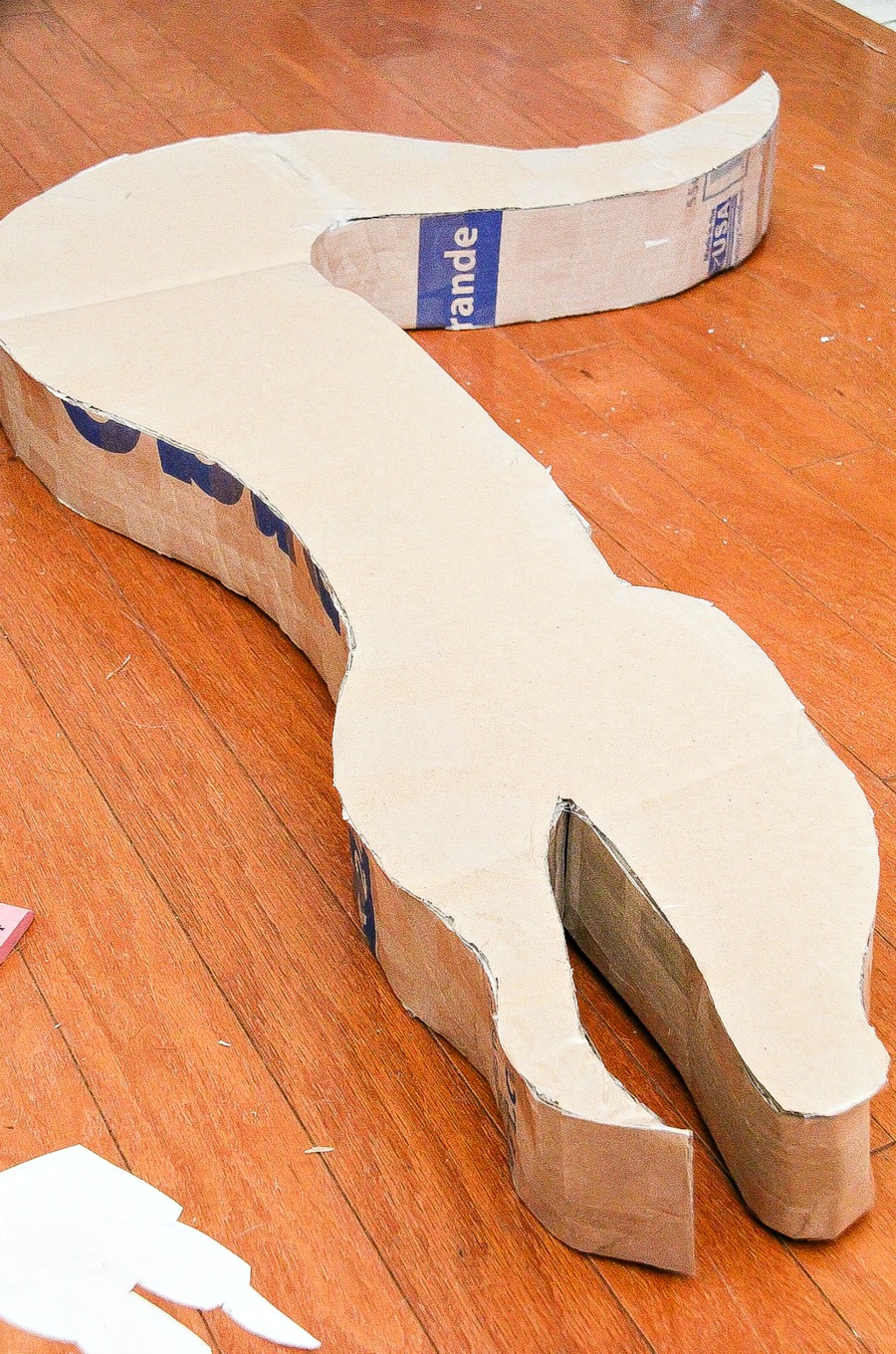 Using the box cutter, cut a flap along the top section for putting candy, trinkets, and small packs of The LEGO NINJAGO Movie mini-figures inside the piñata.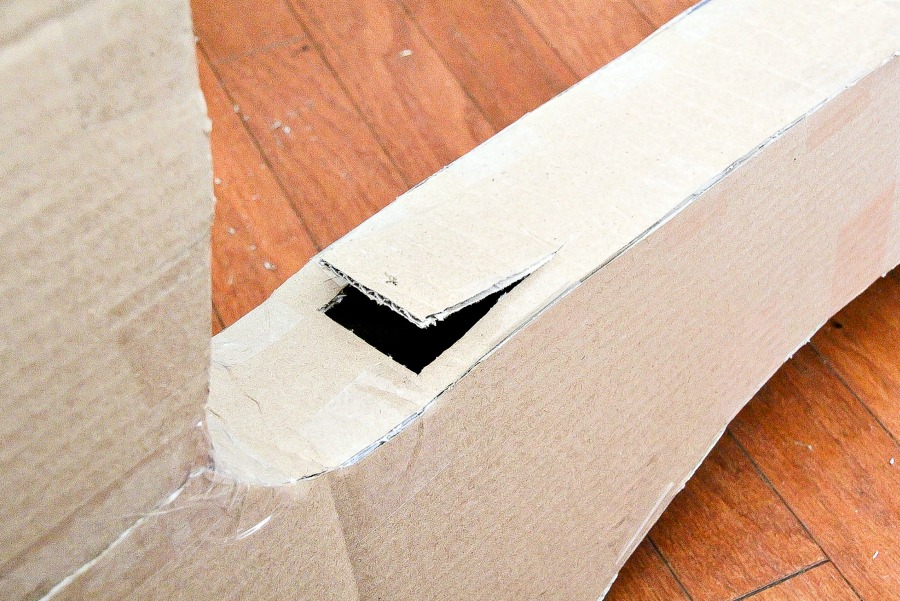 Attach only the legs to the piñata for now using hot glue. Set all other pieces aside once the paint has dried.
Working from edge to edge cut strips of crepe paper streamers and attach them with a glue stick. Start with the underside of the dragon, the front, and back, and then finally along the top. Along the underside section I alternated the aqua and green, but for the remainder of the dragon, I just used green.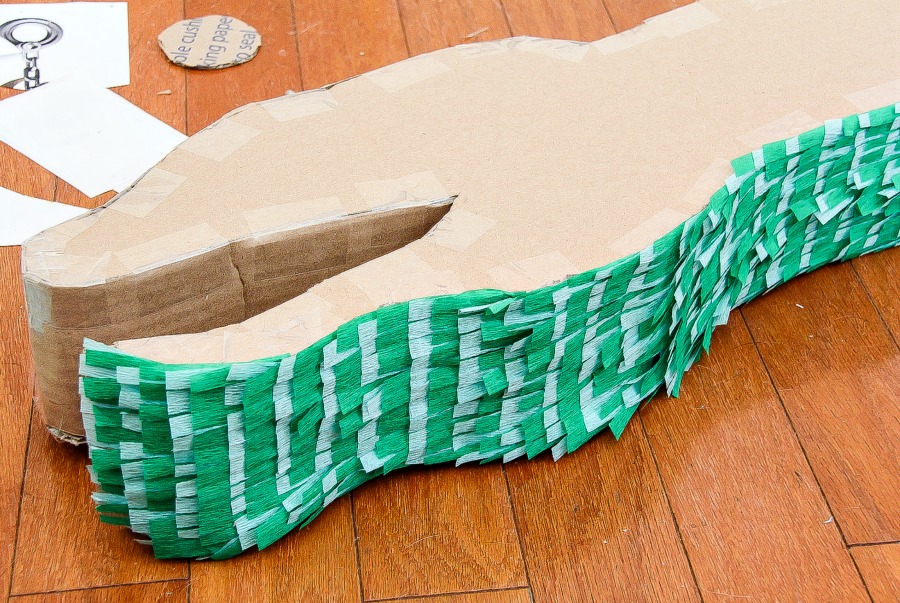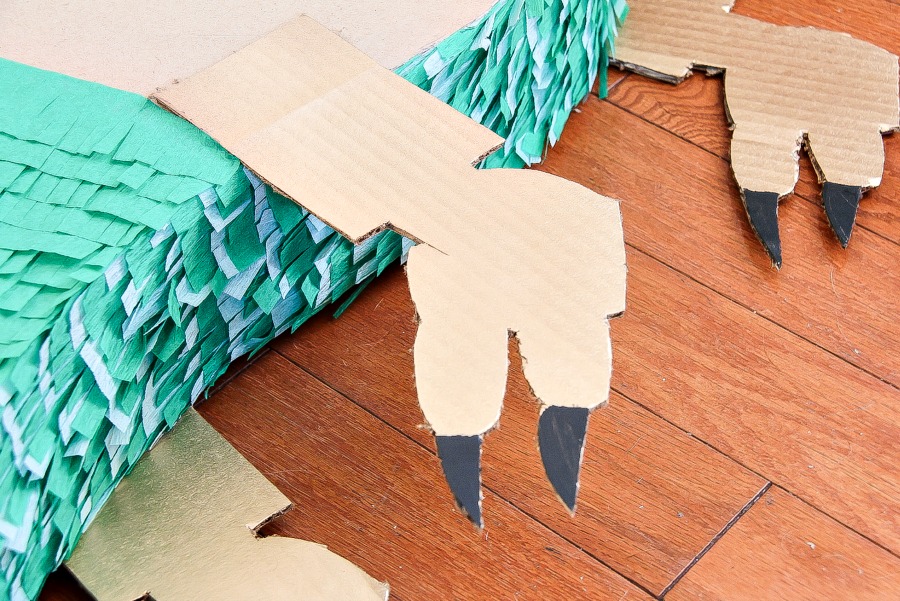 Once the entire piñata is covered in crepe paper streamers, you can use hot glue to add the rest of the features, and black paint to add detail on the feet and inside the mouth.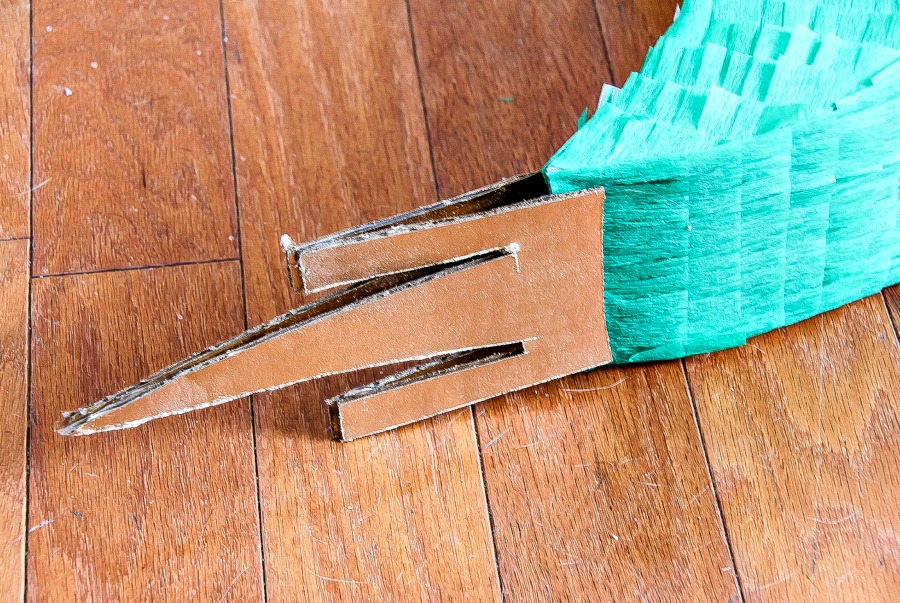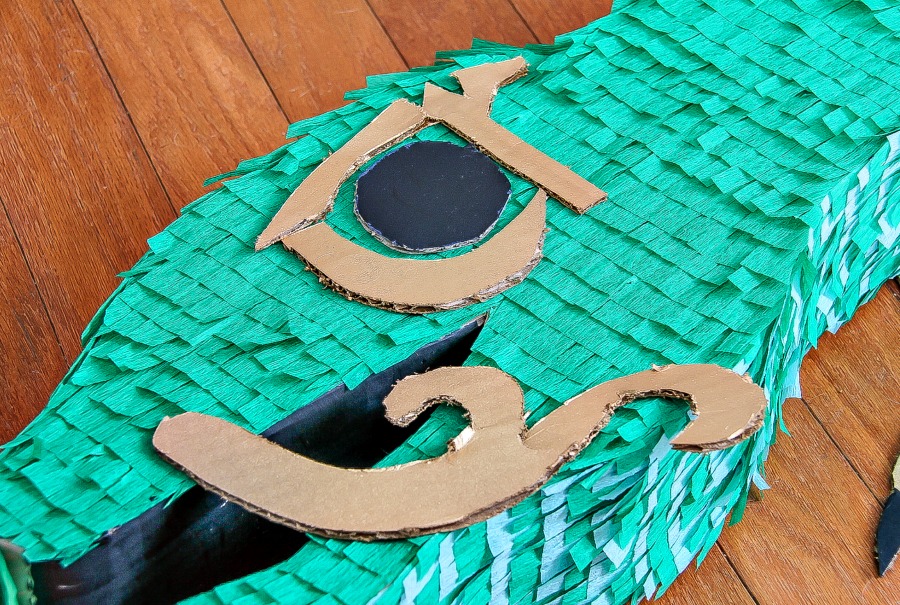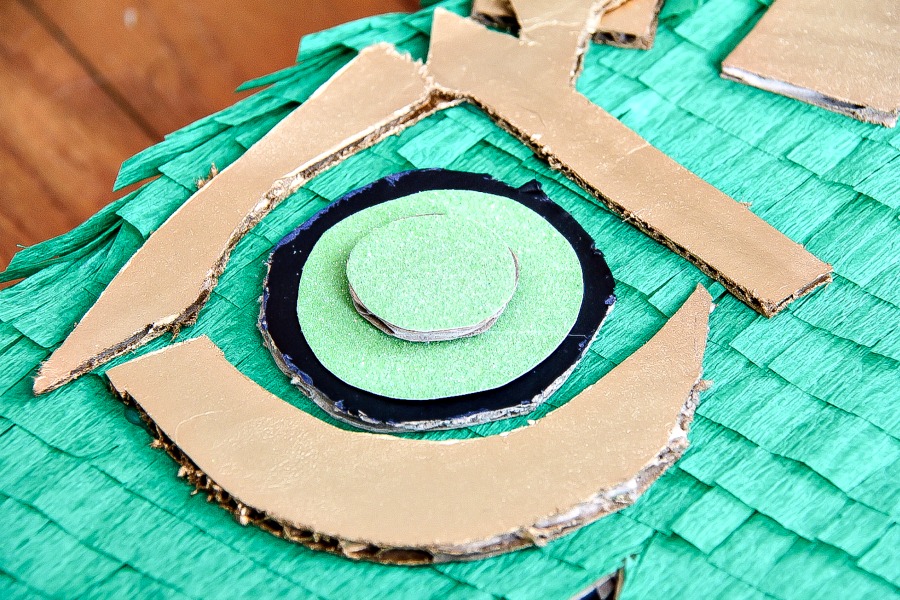 Tie a string to the top of the piñata that will hold the flap together once the pinata is filled, and you are ready to celebrate.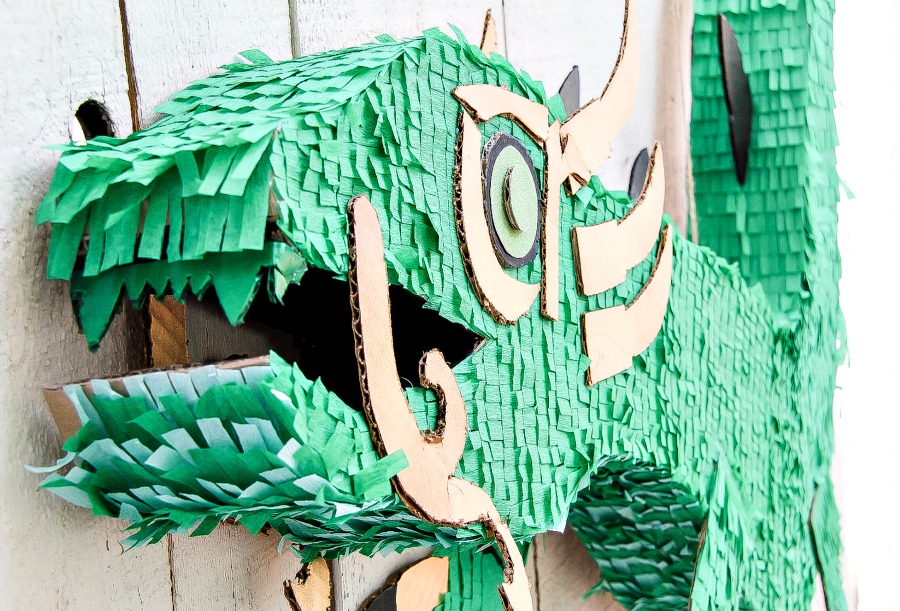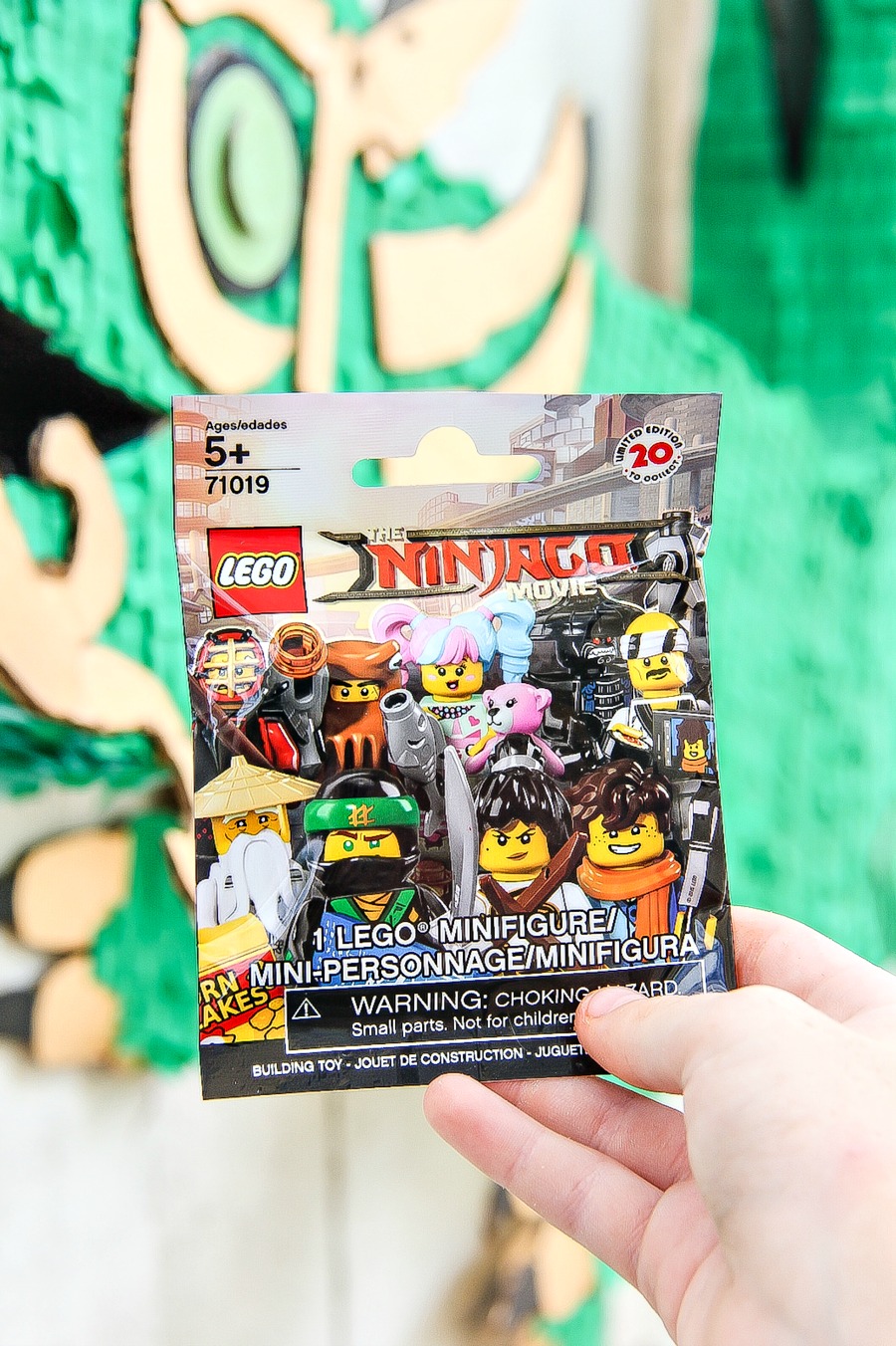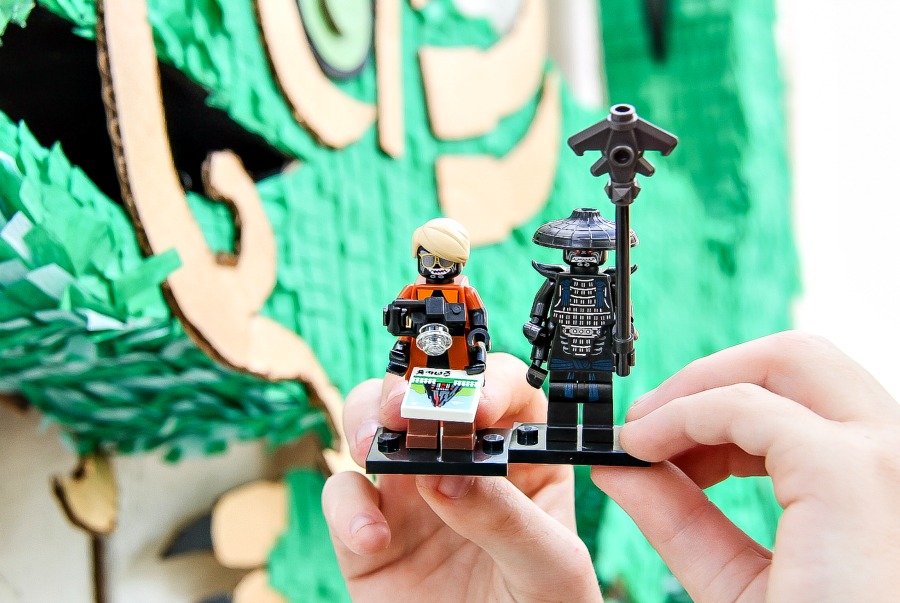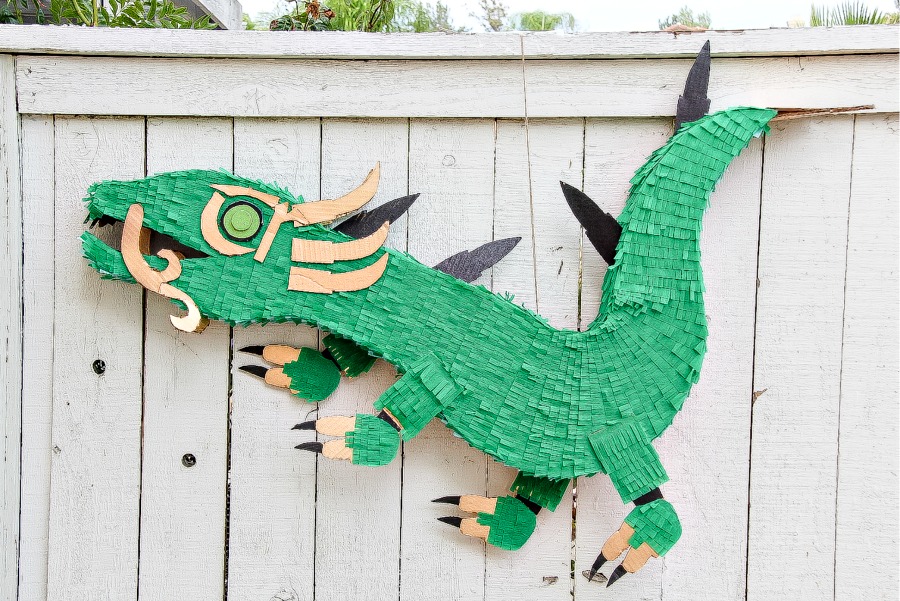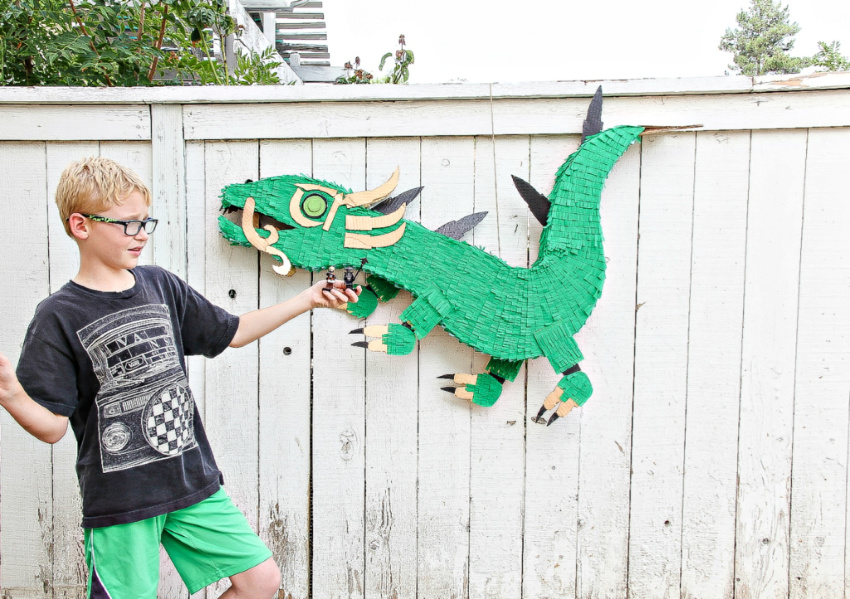 Follow along with The LEGO NINJAGO Movie on social media.
Facebook |  Twitter | Instagram
Watch a preview of the movie right here, and don't miss it in theaters on September 22nd:
Pin this post for later: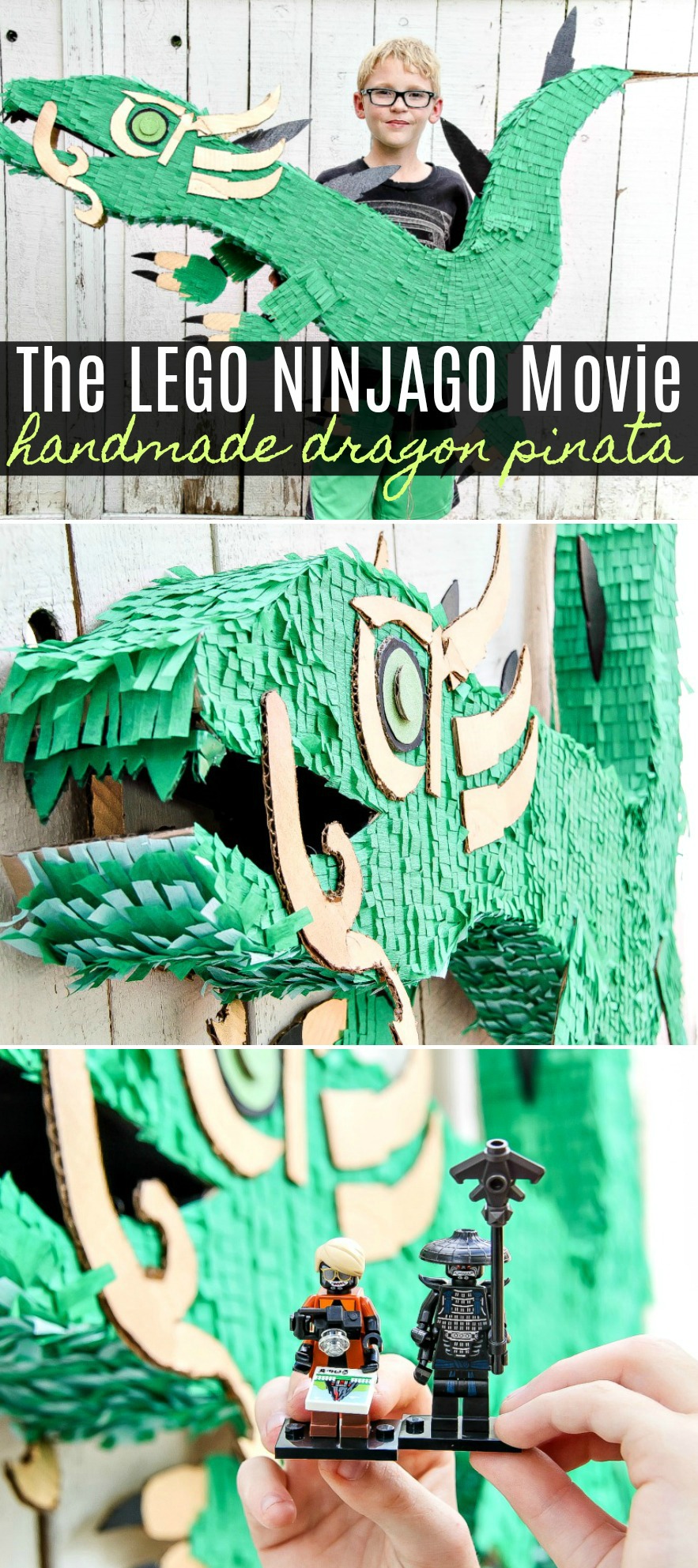 Save
Save
Save
Save
Save
Save
Save
Save
Save
Save
Save
Save
Save
Save