Create a memory jar for your child's bedroom that lights up at night. These night light terrariums that are full of memories are so easy to make.
A little while ago Marisol decided that her pink, purple, and grey butterfly-themed bedroom was no longer working for her. As kids do! And, so it was decided that her bedroom now needed to be blue and ocean-themed. Of course! So, we've been gradually making the transition for her. It's a long slow process, but we try to do one thing a week.
We recently made this nightlight terrarium using a photograph from one of our summer trips, a turtle light that Mike had bought her on another trip (because she's obsessed with turtles), and a little succulent.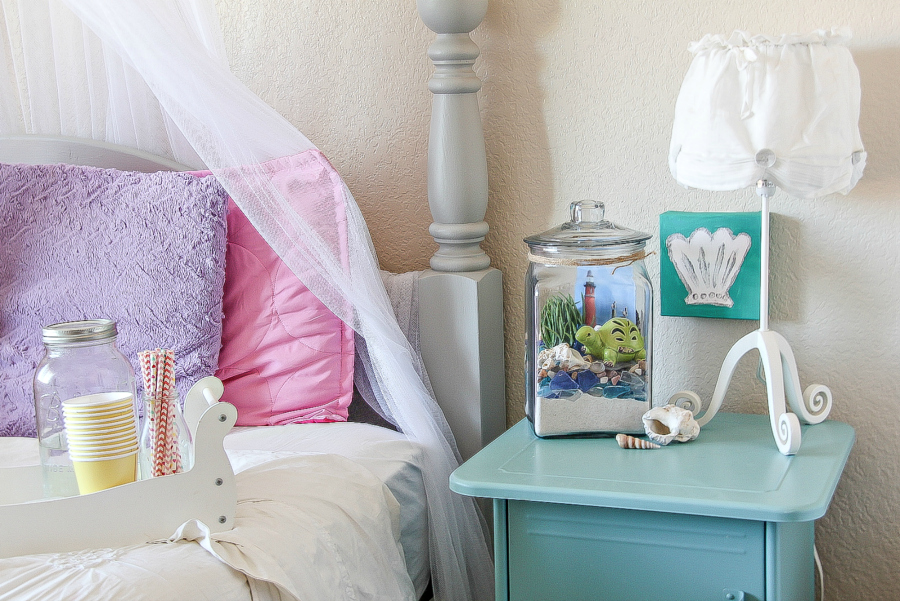 Note: This project was originally created for Hewlett Packard's MyPrintly website however that site is now offline. You can still find some of the MyPrintly projects on the HP YouTube channel.
What You Need To Make a Nightlight Terrarium
HP Printer and ink
HP 4×6 photo paper
2 glass jars – 1 large for the terrarium, 1 small for the succulent
Acrylic frame
Terrarium filling – sand, rocks, shells, sea glass (whatever you want for the theme you choose)
Nightlight or battery-operated tea lights
Twine (optional)
Scissors
How To Make a Nightlight Terrarium
Start by planting your succulent. Put a few rocks in the bottom of the jar for drainage, and then add your succulent to the jar. By doing this you are keeping most of the sand out of the succulent plant, and also keeping the water in so that the entire terrarium doesn't get wet … and also because I have a black thumb so will probably need to replace the succulent in a few months. Place the succulent jar into the bottom of your larger terrarium jar.
Layer rocks, shells, sand, or sea glass into the bottom of the jar surrounding the succulent. You may just want to use sand or rocks, depending on your theme. Just keep in mind that sand will sink, so you can add a little to the top at the end, but it will fall through the cracks of rocks and sea glass unless you put a sheet of cardboard or something between the layers to keep them looking nice.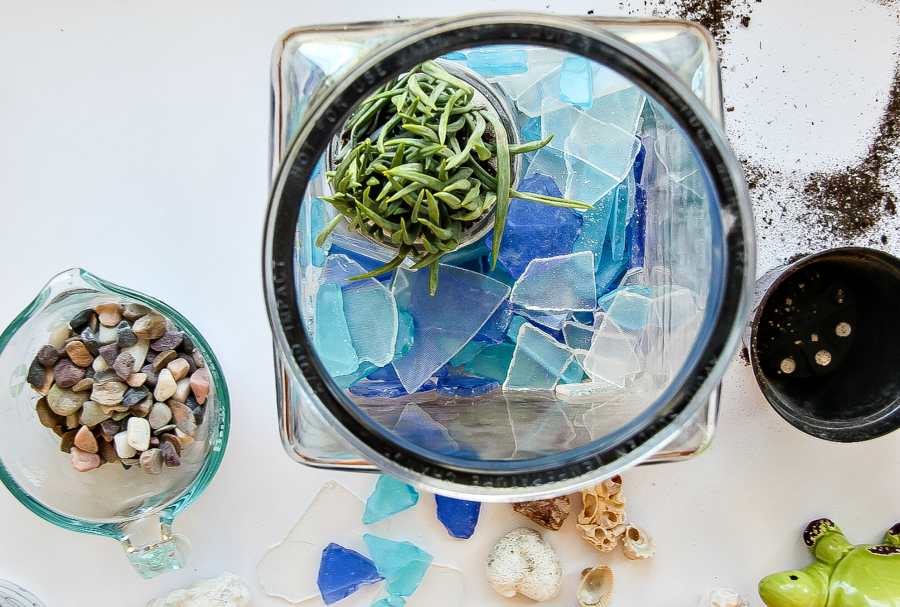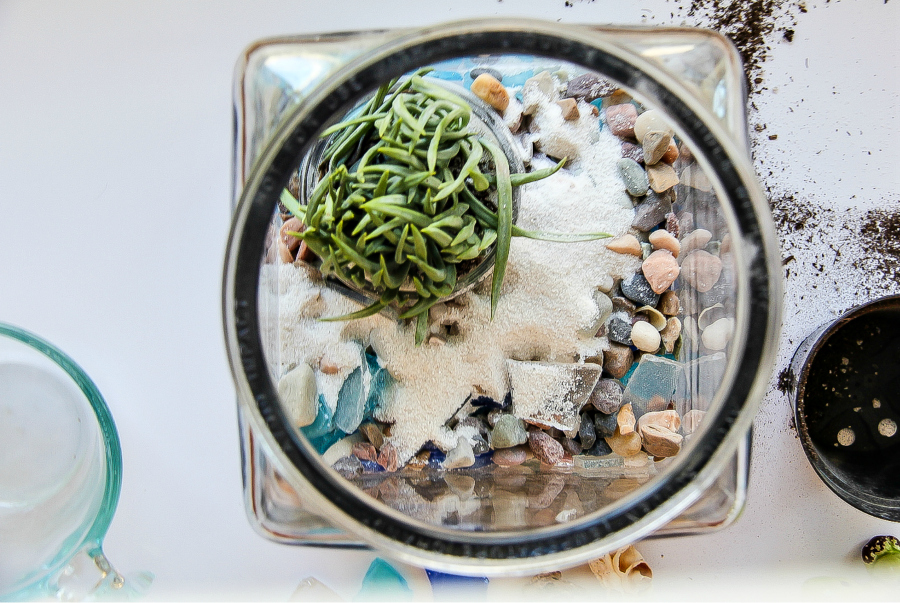 Print a photo for the size of the acrylic frame you purchased. I found a 3.5 x 5″ frame was the perfect size to fit in the jar. Cut out the photo and place into the frame, and into the jar. I used a few extra shells and rocks to prop it up so it wouldn't fall over if the jar is knocked.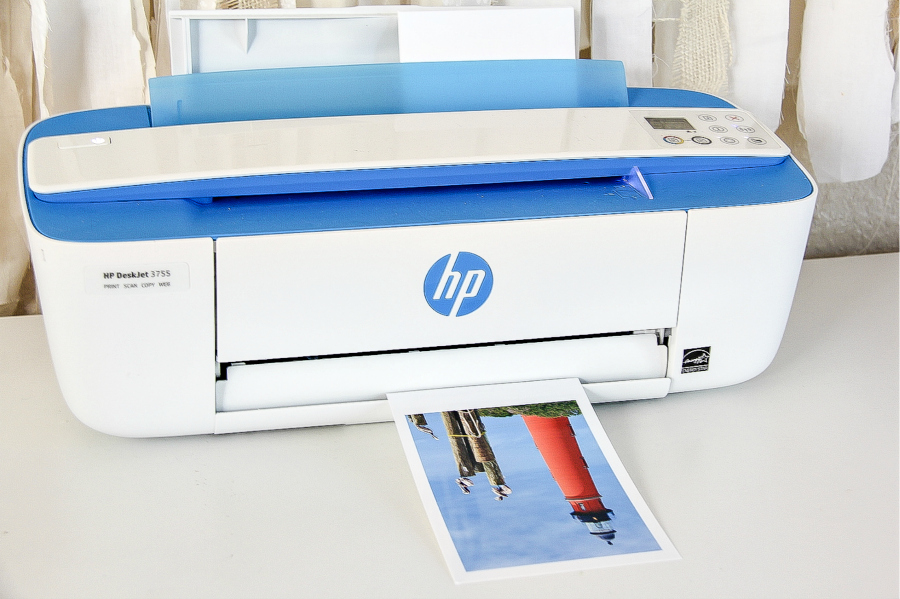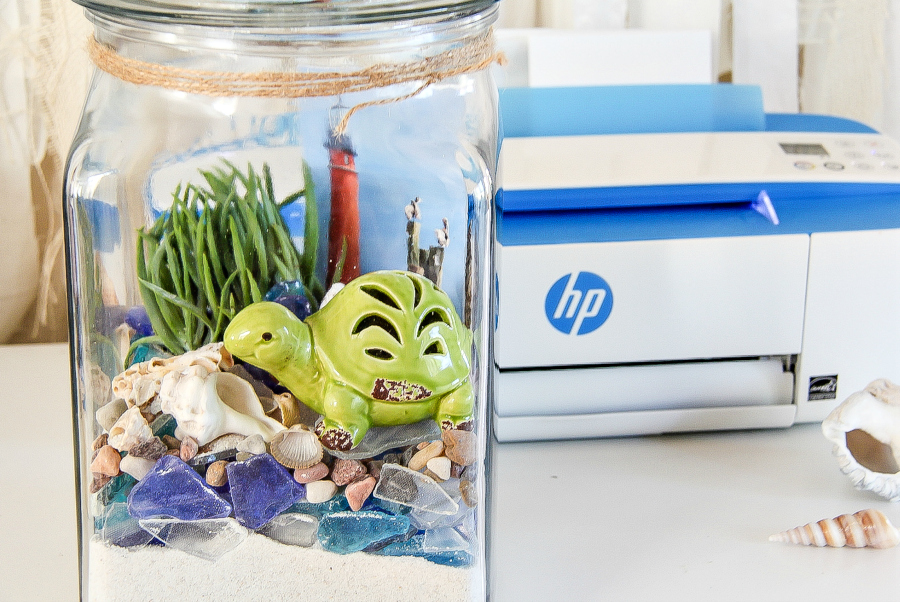 Add in your nightlight. You have a few options here. We popped Bob the turtle into our jar. Bob was purchased at a souvenir store on one of our summer adventures where we fed turtles, but you could simple add in battery-operated tealight candles, or put a light into an aquarium themed trinket they sell in pet stores unless you have a little lighted ornament like we did.
I wrapped a little twine around the top of our jar too, but that of course is optional. And there you have it, the perfect nightlight terrarium to help your kids fall asleep at night, and that has many wonderful memories attached to it.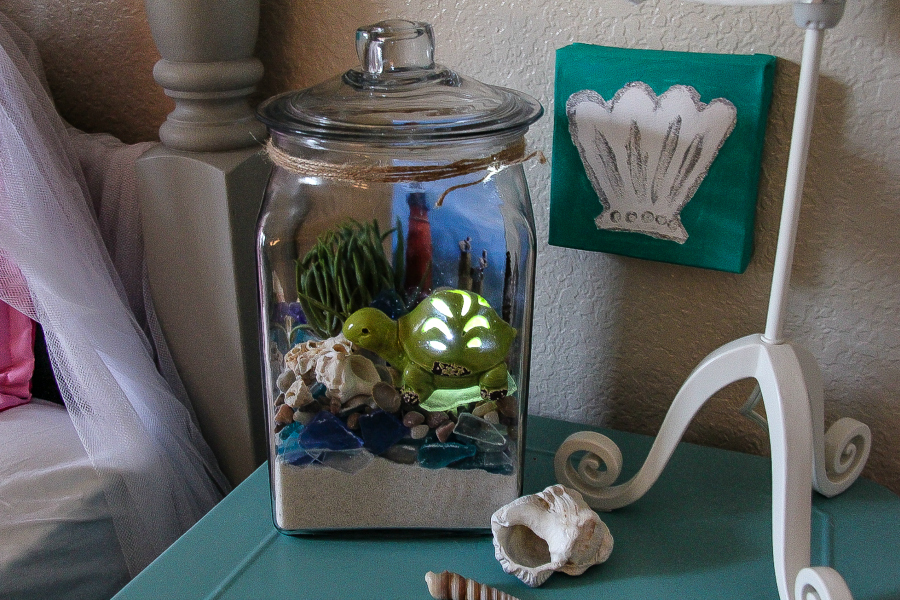 Note: This project cost under $20 but I did have the rocks and sand on hand already.
Pin this post for later: