On Friday in the Kinder class we did an experiment with the kids to see which is their favorite way to enjoy an apple.  I thought this was such a great idea and a perfect Fall activity to do with your kids so I couldn't help but share.
We began by making crockpot applesauce.   We didn't follow a recipe for this.  Each child brought an apple to class (both red and green apples were brought), a few parents peeled and cored them and then the kids chopped them into smaller pieces using a plastic knife.   We added cinnamon, sugar, and water to the apples in the crockpot, turned it to high and let it go for a few hours, stirring occasionally.  The smell in the classroom was divine.  Using a potato masher we broke down the chunks just a little and served it in bowls. We also gave the kids a plate containing both red and green dried apple pieces, fresh apples sliced, and a cup of apple juice.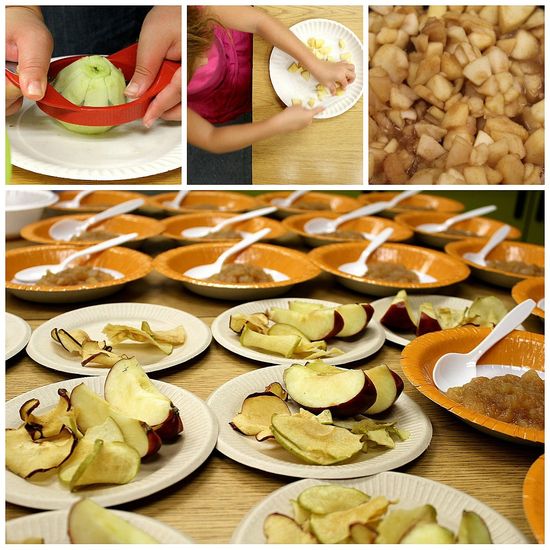 The kids had to taste each item and then were given a piece of paper divided into 4 categories.  They had to color the image of the apple item they loved the most.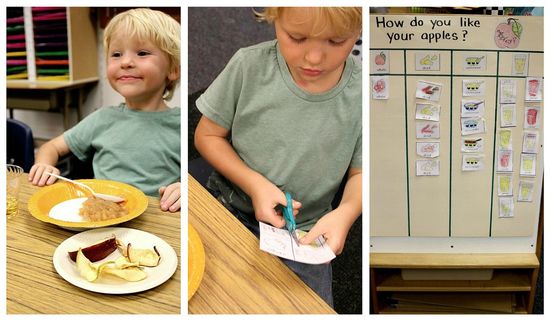 As you can see the apple juice was a clear winner (not really surprising), the applesauce and dried apples tied for second, leaving fresh apples last.
Have you been apple picking this season, or done any fun apple activities, I'd love it if you shared them.