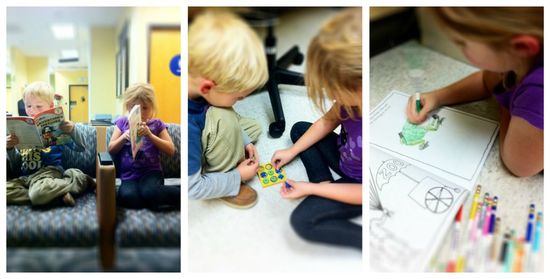 Whether you have an appointment, or
your child does, taking children to the Doctors office can be quite
daunting.  There can be lengthy waits in the waiting room, or the Doctor
is trying to examine you while your child is climbing all over you or whining
they are bored.
You want to keep your child
entertained and reasonably quiet so that those who are feeling unwell around
you aren't bothered by screaming, whining or children running around and
climbing over furniture.
I keep a bag full of fun activities
handy to throw in the car now at a moments notice, especially after being
caught out one too many times racing off to the emergency room with a child and
then having no way to entertain them once I am there.  Now this bag works
for last minute trips like this, as well as for pre-scheduled Doctors office
appointments.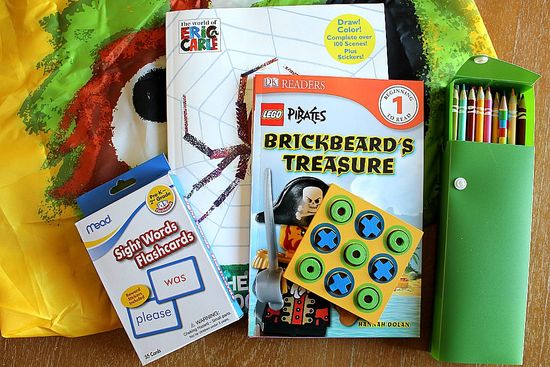 Some of my favorite items to include
in the bag are:
A travel game – one that doesn't take too long to play because the last
thing you want is the kids to be in the middle of a game and have to pack it up
because it is time to leave or you have been called back to the Doctors room.
Activity book – I really like this Eric Carle "The Very Busy Doodle Book" because it is not just coloring, but each page is also an
educational activity such as just coloring the letters of your name, drawing
what you see outside a window, drawing an animal other than a cicada that has
two wings.
Reading level book – pack a book that is at your child's reading level so you
can read to them and they can practice reading on their own too.
Flashcards – our kids are currently learning their sight words, so
this pack of cards is perfect for them. Choose flashcards that are at your
child's level.
Pencils – they will need coloring and writing pencils for any
coloring, educational activity, or homework packets you take for them. 
Choose pencils with an eraser at the end (that is one less thing you will need
to pack).  Ensure that you sharpen pencils once you get home so they are
ready for the next time you need them.  I really like the Crayola Erasable Pencils but I keep them in a pencil case as the cardboard boxes can
become torn too easily.
If you are looking for more last
minute items to throw into your grab bag, try these:
Homework
Library books
Paper or cards for your child to
write or draw a picture to send to family member for the holidays
Pipe-cleaners with printouts to make
pipe-cleaner animals and objects
Portable DVD player with headphones
Your child's favorite comfort toy
Store bought or handmade Doctor kit so your child can role play
A healthy snack and bottle of water
Things to avoid taking:
Loud toys – anything that requires
sound is not advised, as it may bother others in the waiting room and the
Doctor needs to not only concentrate, but be heard.
Games that take a long time to play.
Games, activities, or books that
require constant interaction from you.  You will want items that your
child can do as independently as possible.
With these tips you are sure to have
a child who is entertained in the Doctors office.