We love entertaining, and a couple of weeks ago it was my husbands birthday and although he wasn't home that week, we decided to have a belated celebration with friends last weekend while he was home. I didn't want to spend the whole night in the kitchen, so we set up a pizza bar for our guests. The kids had so much fun designing their own pizza's, and for dessert I made a chocolate fudge cake covered in chocolate chip cookies; chocolate chip cookies are my husbands favorite dessert, but it's not a celebration without cake, so I combined the two.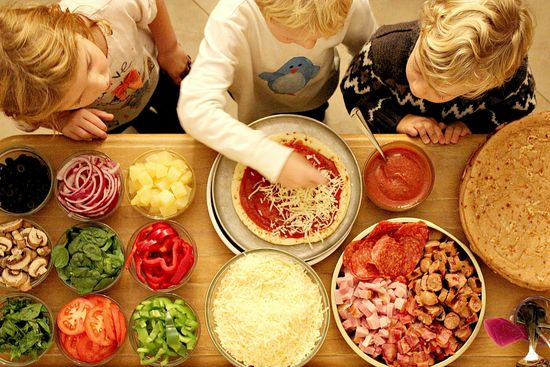 Toppings:
Cheese (shredded)
Ragu Pizza Sauce
Red and Green bell peppers
Baby Spinach (stalks trimmed)
Fresh Basil
Tomatoes (sliced)
Mushrooms (sliced)
Black Olives
Red Onion
Pineapple
Sausage
Pepperoni
Ham
Bacon
Pizza Crusts
Whole Wheat and White
Put out an assortment of small individual size and large (for those who love to share)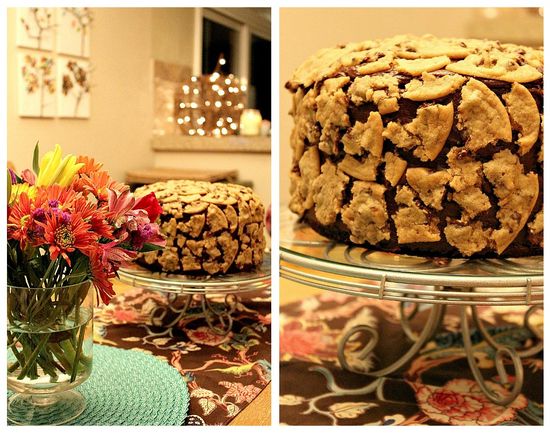 Tips:
Have the children add toppings to their pizza's first. Once they are eating, have the adults create their pizzas.
Toppings can but cut and placed in bowls, covered and refrigerated earlier in the day.
If you have more time available (or aren't working around kids sleep schedules), pre-make pizza dough and have each guest make their own pizza crust. This is better for a lunch party, or early dinner party though when kids aren't going to be getting tired or hungry.
Set up a separate area for guests to make their pizzas than where they will be eating them.
Prepare a buffet for plates, utensils, napkins and a salad for guests to help themselves as their pizza comes out of the oven.
You don't have to put out all of your toppings at once, refresh bowls as they start running low, that way veggies stay fresh in the refrigerator.
Make sure you have enough pizza sauce. We went through 3 jars of Ragu pizza sauce on the night of our party (for 10 people).
One of the best part of a pizza party, is the clean up. All of your toppings are already in individual bowls, cover each and refrigerate. You can use the leftovers the following day to make more pizzas, grilled paninis, or in a pasta dish.
How else do you use leftovers? Join the discussion on the Ragu Facebook Page.
Disclosure: This post has been compensated in connection with my appointment as an ambassador in the Ragú® Mom's the Word on Dinner Program. Visit http://www.facebook.com/ragusauce to join the conversation.