Have a whole lot of penguin fun this winter with these stamped potato penguin shirts. It's not only a fun craft for the kids, but they can wear them to see their favorite penguin movie, or to visit the penguins.
UPDATE: This craft project was initially created for a website by the name of Kidzui, however that website no longer exists.
We've been having a whole lot of penguin fun, and playing with our food again.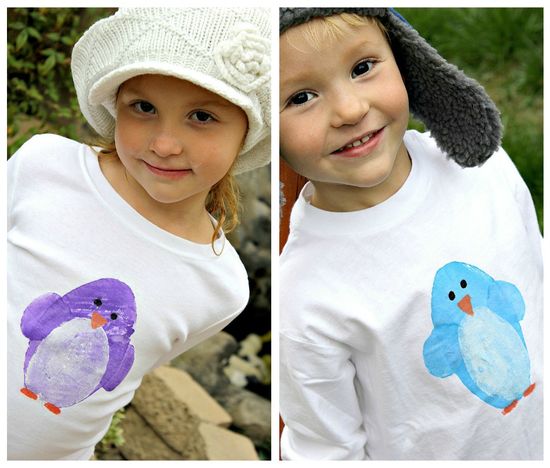 Happy Feet 2 comes out tomorrow.  The kids are super excited to go and see it.  I thought it was a great excuse to make a fun potato stamped shirt with them that they can wear to the movies. 
The full tutorial for making this fun project is over at Kidzui.
What you need:
Plain white shirts
Potatoes – small, medium, and  large
Fabric paint
Paint brush
Cut your potatoes in half lengthwise.
Dip each potato starting with the largest first into paint and stamp onto the shirt to form the body, belly, and wings for the penguins.
Using a paintbrush, paint on the beak, eyes, and feet.
Now, set aside to dry, and then get ready to wear to see your favorite penguin movie, or to visit the penguins this holiday season.
Save
Save