These burgers stuffed with Gorgonzola and topped with grilled pear and bacon are a delicious way to kick up your normal plain burgers.
Disclosure: As a Good Cook Kitchen Expert I receive compensation and/or Good Cook product to facilitate reviews and giveaways.
Have you tried stuffed burgers? I like to mix it up a little, especially with burger toppings, and stuffed burgers are my latest thing. They are surprisingly very easy to make too.
These burgers were filled with bacon and Gorgonzola and then topped with more bacon and grilled pears.
Before you start stuffing burgers, you are going to need a stuffed burger press from Good Cook which retails for $9.99.
Not only is it great for making stuffed burgers, but it has different levels marked on the outside so you can decide how large you want your burger to be. I can't wait to use it for veggie burgers.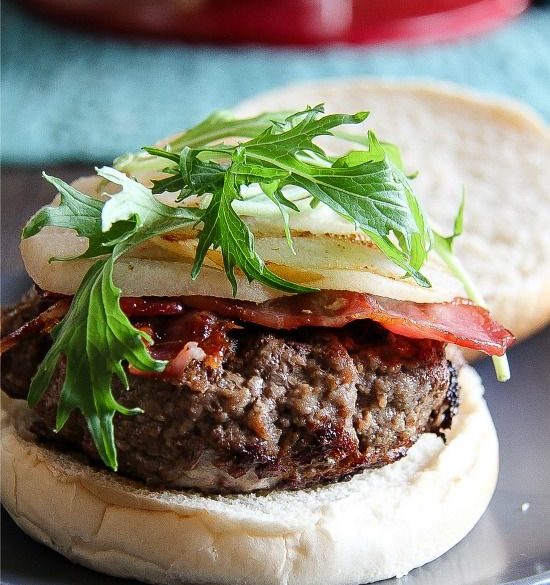 Ingredients
2 standard packages of ground beef - I used the Fresh & Easy Angus Ground Beef 93/7.
1 egg
1/2 cup bread crumbs
pinch of garlic pepper
pinch of salt
1 tsp dried thyme
Gorgonzola cheese
bacon - cooked and half chopped into small pieces
Instructions
Pop on a pair of gloves and combine all of the ingredients, except the Gorgonzola and bacon, in a mixing bowl.
Make a tight ball of the ground beef mixture and put it into the stuffed burger press. Using the wider flat side of the press to flatten your burger. Turn the press over and press down onto the burger mixture to make a well in the center of the burger.
Fill the well with Gorgonzola and bacon.
Roll the second ball of the ground beef mixture and place it on top, using the larger flat side, press that down over the top.
Grill your burgers and pear.
Put your burger onto a bun and top with bacon, grilled pear, and salad greens. You can even add a little seeded mustard, or barbeque sauce if you like.
I used the Good Cook Cast Iron Square Grill to cook our burgers. Four burgers fit on the grill perfectly and they were cooked in no time. I love having indoor alternatives to cooking on the grill outside which I refuse to touch because of my fear of fire.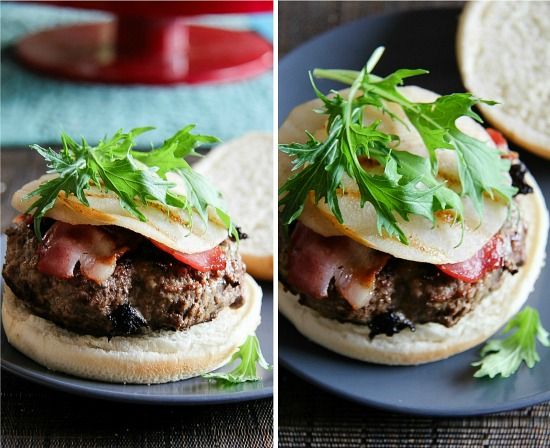 If you haven't used Cast Iron cookware before, my friend Ellen has really great tips on how to season your pan.
Please pin this post for later: