Don't hide your collection of spoons in a box. Thrift stores always have spoon holders that can be brought back to life with a little paint.
I remember holidays and special occasions at my Nana's house. Living in her house while she was undergoing treatment for cancer, which ended up taking her life.
I don't have a lot of memories left, and only a few knick-knacks that make me think of her. Things like photographs, crocheted hangers in my closet, and part of her spoon collection.
Her collection that moved overseas with me, and has lived in a box in multiple garages over the past 10 years.
A while ago I came across a wooden spoon holder on one of my thrift shopping days. It was $10 and in perfect condition and reminded me of those spoons stuck in a box.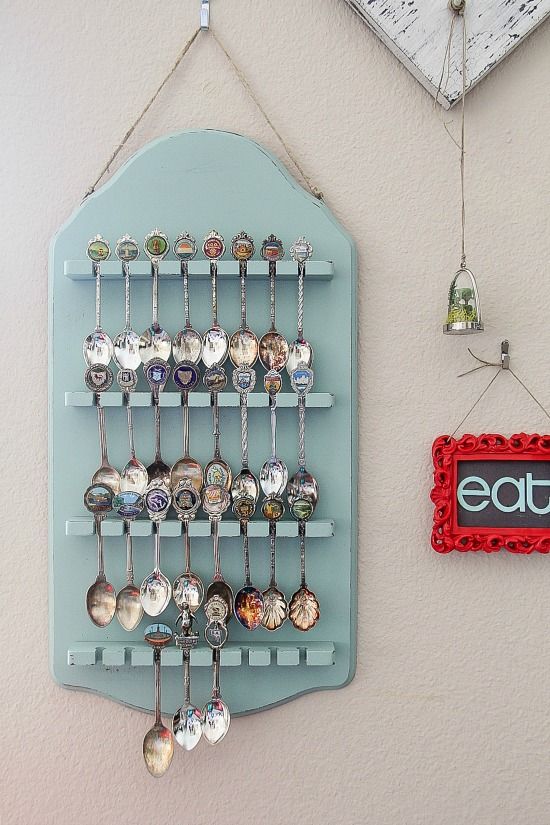 It needed a little updating though, so I sprayed it with a few coats of Krylon Catalina Mist and sanded it to let the wood peek through.
My mum has more of Nana's spoons to add to my collection when I visit later in the year.
It's the perfect addition to our dining room and brings family memories into the room while we sit down to family dinners.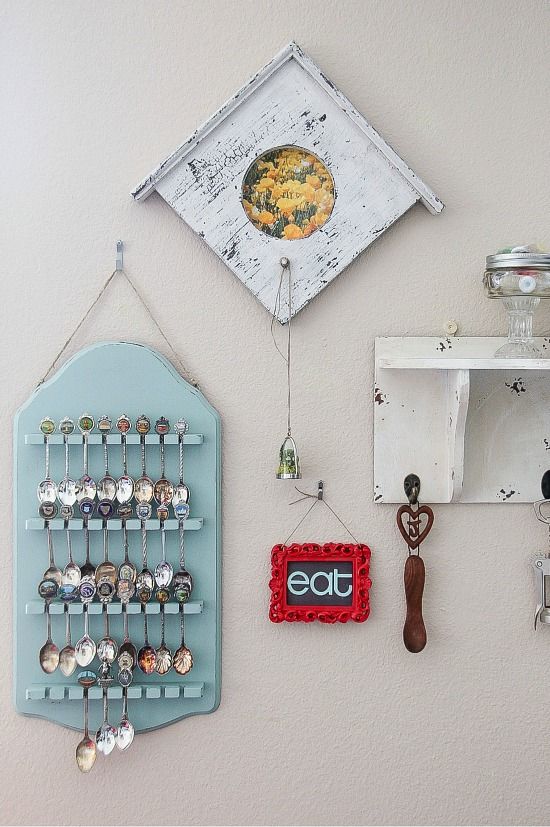 You might remember the succulent necklace I made earlier this year. The wooden 'J' spoon was made by my dad when Jay was born.
I adore my thrift store finds, like the toast holder, candy jar, and birdhouse frame.
The rooster jug was on clearance at Target, and the EAT frame I whipped up one afternoon.
I don't know if you've seen the little frames in the cheap bins at Michael's stores, but I've got quite a collection of them in various colors. For this one, I removed the plastic screen and using mod podge, paint, and chipboard letters turned it into a lovely addition to my wall.