Looking for a hotel to stay at when visiting Universal Studios Orlando? Here's our review of Loews Royal Pacific.
Disclosure: We paid for our trip, however it was heavily discounted and we received many additional perks while staying at Universal Orlando, including a private dessert party at The Wizarding World of Harry Potter, a red-carpet meet 'n greet with the characters, a gift bag, and Blue Man Group tickets.
I recently took my three kids on a six-day vacation to Universal Studios, Orlando.  It was fantastic, action-packed, and I think it's quite possible that I am still recovering.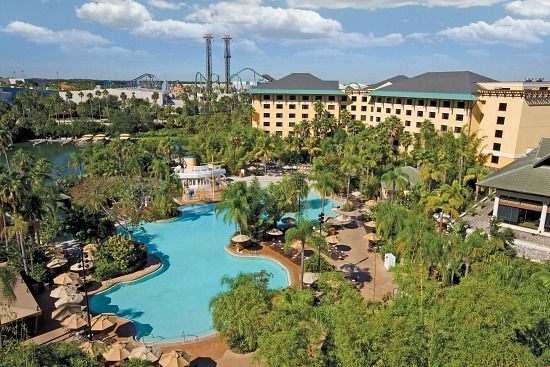 We did so much during those six days that I'm going to have to break it all down over a few posts, especially about the Family Forward conference which was our main reason for visiting Universal Orlando.
During our vacation, we stayed at the Loews Royal Pacific Resort, which is one of the three (soon to be four) on-site hotels at Universal Orlando.
There are many benefits to staying at the Universal Orlando on-site hotels, so I'm going to break down some of the reasons you should stay at Loews Royal Pacific Resort.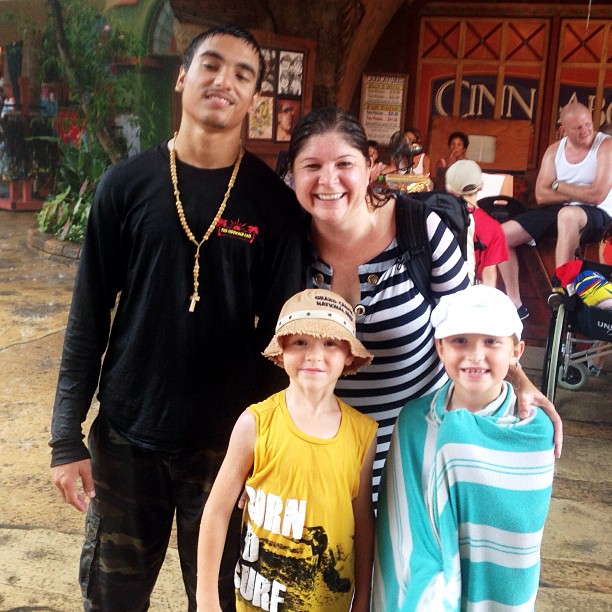 Universal ExpressSM Unlimited ride access
This is one of the biggest benefits to staying at the resort. Once you have checked into your room, there is a booth by the concierge desk where you can enter your room key, have your photo taken, and an express pass to both theme parks will immediately print for you. It's an $89 value. We didn't wait any longer than 10-15 minutes at the rides that accepted express passes and some we walked straight to the front.
Universal Orlando Transport
A complimentary water taxi takes you directly from the hotel to Universal CityWalk, dropping you off between the two theme parks. The 10-minute walk to the park is lovely, but after a full day of walking around the parks, it is so nice to be able to just sit and relax. The water taxi arrives every 20-minutes, seats 40 people, and is covered. There is also a shuttle bus between parks available to guests.
Early Theme Park Entry
You can enter Universal's Islands of Adventure park including The Wizarding World of Harry Potter each day 1 hour before the park opens to the public.
Dining
There are several on-site restaurants, room service, and the restaurants at CityWalk are a short water taxi ride away. Don't forget to make reservations for the Character Dining and the Saturday night Wantilan Luau. We had breakfast with the characters one morning at Jake's Restaurant and it was so much fun.
Keurig Coffee Maker's
The rooms are equipped with Keurig coffee makers. We packed our favorite K-Cups from home and picked up flavored coffee creamer at a local grocery store so we could still enjoy our regular cup of coffee every morning. K-Cups and half and half were provided, but we wanted our regular items.
Charge It
Use your room key to charge purchases and dining at restaurants around the resort. Plus get complimentary delivery of merchandise to your hotel room.
Stormy Weather
If there is a storm, the rides, water taxi, and hotel swimming pool will shut down temporarily. If you get caught in a storm walking back to the hotel, the staff will be there to greet you with warm towels. This happened to us and I even joked on our very wet walk back how nice it would be to have a warm towel waiting. There's still plenty to do if it does rain, including crafts, restaurants, a games room, and a gym – Jay took advantage of this. For those wet clothes, there's an on-site laundry to dry clothes. We didn't have to return home with wet clothing in our suitcases.
Rooms
There are themed kids suites available at the resort. We did not stay in one this time(please don't tell my kids that these exist or they'll be mad at me). Every afternoon when we returned to the room before dinner their stuffed animals had been placed on the beds and lined up in a neat little row. 
Pet Friendly
The hotel is pet friendly. Our room overlooked the dog run area, which was green and had dog-friendly activities set up. There's even have a pet room service menu.
Other Activities
lagoon-style pool
small private beach with a beach volleyball net
an activities room
walking paths
torch lighting ceremony
poolside activities including dive-in movies
crafts and activities for kids