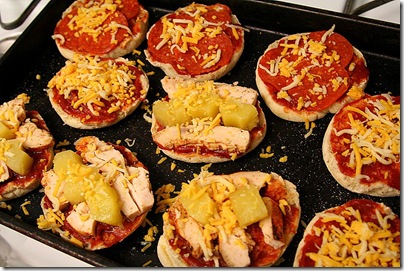 These are always a hit in my house for snacks and parties.
Ingredients:
Sourdough English muffins

pizza sauce

shredded Kraft pizza cheese (mozzarella & cheddar)

toppings: chicken, pineapple, ham, tomato, pepperoni, sausage, whatever vegetables you desire.
How to make:
Heat oven to 350F

Split open the english muffins

Top with pizza sauce

Add your favorite toppings.  For the pizzas pictured I made some with just cheese (the way the twins like them), some with pepperoni (the way Jay likes them) and some with chicken and pineapple (for me of course).

Pop in the oven until the cheese has melted and toppings are heated.  Should take 5-10 minutes depending on how 'cooked' or crispy you like your pizza.
These were so quick and easy to make for the twins recent birthday bash. 
* I would love to see these topped with roasted vegetables – eggplant, bell peppers and sweet potato.  Yummo.