Getting outdoors with kids is so important. Hiking and nature walks don't have to be boring with these 20 fun learning activities.
Did you know that National Public Lands Day is celebrated on the 4th Saturday in September every year.
What does this mean for you? It means free admission to the 401 national parks.
Visiting national parks is a wonderful way for children to explore and learn more about animals, plants, and the planet.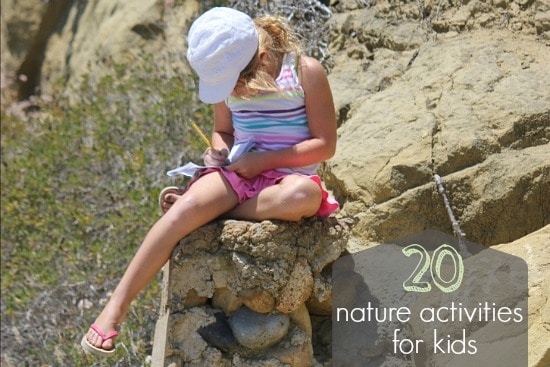 Note: This article was originally written by me for the website Rusty and Rosy, however that website is currently offline so content has been moved back here.
20 nature activities with kids
Bark and leaf rubbings
Place a leaf or piece of bark under a piece of paper and rub over the top of it with a crayon.
Nature hunt
Print out a sheet of wildlife, flowers, or other items children might find in the national park you are visiting and have them mark each off as they find them.
Become a Jr Ranger
Here is a list of national parks with Jr Ranger programs.
Animal tracks
Look for signs of animals. Find tracks, poop, trails, and holes in leaves.
Color journal
On a piece of paper make circles of colors (ie blue, green, pink, yellow, orange, white, black, brown, purple). Write down, or draw a picture of everything you see in the different colors including flowers, birds, leaves, and insects.
Get up close
Take a magnifying glass with you to get a closer look at insects and inside flowers.
Map it
Have kids draw a map of the area you will be visiting and mark things they saw along the way, such as a really big tree, animal, bird, flowers, or signs.
Hiking
Get out and breathe the fresh air and get some exercise too. Choose a hiking trail, just make sure you pick one suitable for your child. You don't want to get halfway and then have to carry them the back to the start. Don't forget water and snacks.
Tic-tac-toe
Using sticks, rocks and leaves take a break, sit down and play a few rounds of tic-tac-toe.
Geocaching
Visit geocaching.com and look for geocaching locations. Don't forget to take a few little trinkets with you to leave if you find any caches.
Picnic
Enjoy a picnic out in nature. Just please don't feed the animals and birds, and remember to throw your trash away.
Visit a nature center
Speak to a ranger or volunteer at a nature center or visitor center and learn more about the national park you are visiting. They may even have animals, birds, and plants that you can see up close.
I spy
"I spy with my little eye, something beginning with …". What did you spy?
Insect safari
Make a chart and graph all of the insects you find. You may want to skip ants though for this project.
Birding
Print pictures of birds you may find at the national park. As you find each bird draw a picture of where you found it and listen to the sounds it makes, can you make those sounds too?
Alphabet walk
Make a chart of the alphabet. How many things can you find in nature for each letter?
Cloud observation
Lay down and study the clouds overhead. What kind of clouds are they? Do they form anything fun?
Play a game
What is that? Blindfold each of the children and hand them a different item ie. feather, rock, leaf, stick. Have them identify each object. What did it come from? Can they identify different flowers by their scent and shape? How many did they get correct?
Sun prints
You will need a shallow dish, water, and special sun print or nature print paper. Place nature items such as leaves, feathers and berries on the paper in the sun, wait the desired amount of time, submerge the paper in water, and then set aside to dry.
Nature journal
If you return to the same national park throughout different seasons, keep a journal and document how things change with the weather.
Did you know that 268 of the 401 national parks never charge an entrance fee? Not only that but there are other free days throughout the year for admission to national parks who do normally charge a fee. If you are military, just show your military identification at your national park visitor center for a year pass.
Please pin this post for later: