If your kids love pretend play and putting on puppet shows create a DIY puppet theater at home with these tips.
Disclosure: I received the Floor Standing Bottle Rack from Create-ologie.
We have a lot of puppets in our house, both handmade and store-bought. So I needed to set up a dedicated space for them to put on puppet shows and pretend play activities.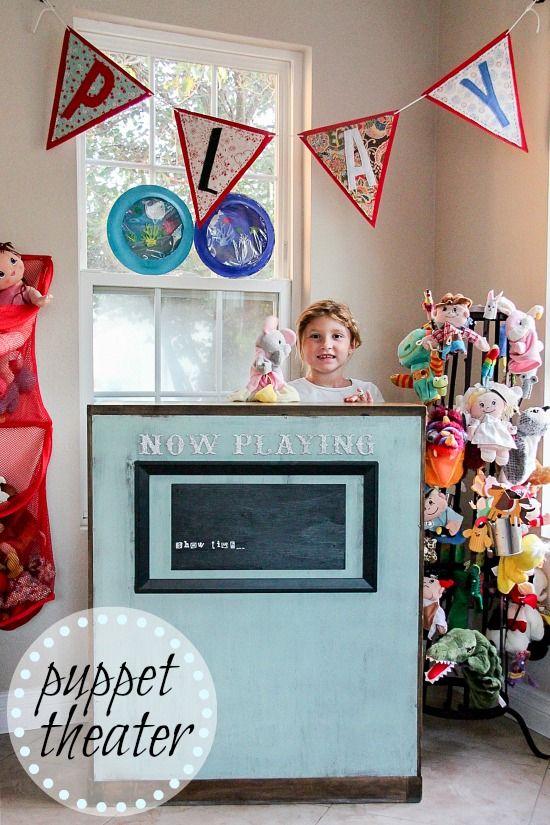 I picked up a cabinet for $19.99 a couple of weeks ago at a local thrift store that was the perfect height for a puppet theater. The shelves were missing inside leaving a large space for storing their cardboard puppet theaters and role-playing items.
How to turn a cabinet into a puppet theater
I taped around the edge of the cabinet, applied a sealer, and then sprayed 4 coats of Krylon Catalina Mist. Thankfully I had plenty of it leftover from my spoon holder project. It was then sanded for a weathered look before varnish was applied over the top. Only the back was painted because once the kids have outgrown their love of puppets and role-playing I can use the cabinet elsewhere in the house and turn it against a wall.
I found a black picture frame and a piece of plywood leftover from previous projects. The wood was painted with 4 coats of chalkboard paint and then I attached both to the cabinet with E6000 glue.
Chipboard letters from my scrapbooking supplies were painted with silver acrylic paint and then glitter paint. They were attached to the cabinet above the frame.
I wanted to put 'showtime' on the chalkboard but didn't have white letter stickers on hand. Using white paint and assorted alphabet stamps I stamped the words instead.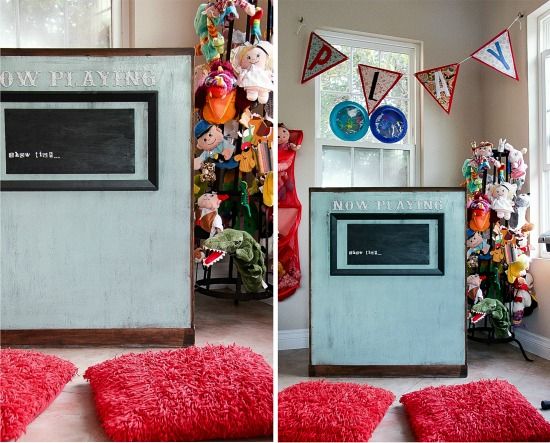 To store puppets I used a Floor Standing Bottle Rack from Create-ologie. I put their handmade popsicle stick puppets into silver buckets and hung them too. 
The kids can use the cabinet as is for puppet shows or put their cardboard puppet theaters (like this one or this one) on top.
Please pin this post for later: