Cabin fever was beginning to set in around here after day 2 of the kids being housebound due to colds and asthma.  So instead of subjecting them to another day at home we bundled them up into hats and coats and took them to Lilydale Lake.  It drizzled a little and although it was cold the sun shone through occasionally for us.  The kids loved finally being out in the fresh air to run around and play. 
Afterwards we took them to McDonalds for lunch.  In Australia it is much better than in California.  Here we have McCafe's inside the McDonald's where you can get cakes, muffins, croissants, sandwiches and 'real' coffee.  So mum and I were quite happy having a lovely lunch while the kids enjoyed their Happy Meals.
Jay just can't remain on the ground.  Flynn counting.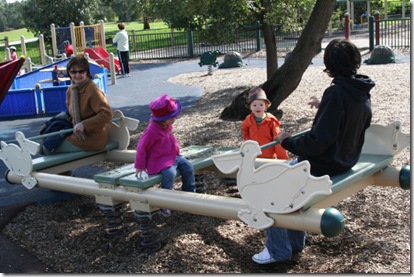 See Saw.  See Saw.
M, just being cute.  Grandma trying to pull Jay off roof.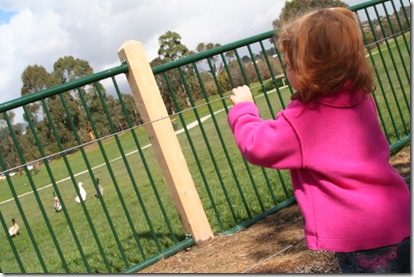 M spies some ducks.  Quack, quack.
Look at those balancing skills.  He took one step before having to jump off.  Jump, jump MIss M.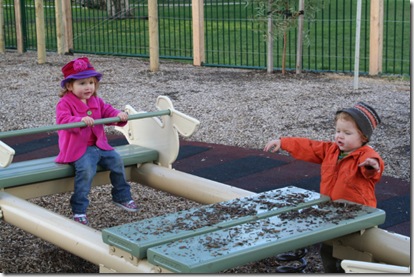 M happily see-sawing with another mum and her little boy while Flynn threw bark chips all over the see-saw.
So much to play with, so little time.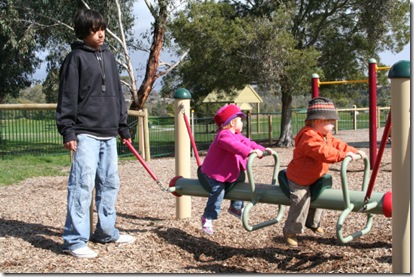 This was by far their favorite ride.
Weeeeeeeee.  Flynn found a little whole in the concrete full of water.  Where there is water, there is little Flynn fingers and little sticks being put into it.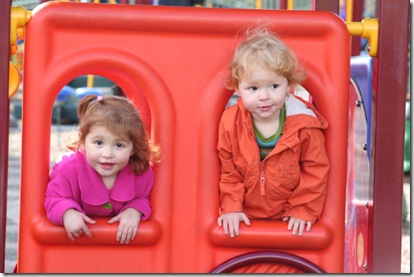 The twosome sitting in the train carriage.