These make-ahead gluten-free freezer breakfast sandwiches are perfect for busy mornings. Just heat and serve. It's so easy, kids can do it.
Disclosure: I was invited to an event to cook and learn about the Dole and Disney Frozen 2 collaboration.
I think I've spoken previously about my love of make-ahead breakfast. Every other weekend I make a big batch of pumpkin pancakes (in regular and gluten-free) and freeze them for the coming week. It makes it so easy for the kids just to heat them up before school and is one less thing we need to worry about in the mornings.
Last week I was invited to the Dole Blogger Summit where I learned all about the partnership that Dole has with Disney, and in particular with the upcoming release of Disney Frozen 2.
We had the opportunity to taste some of the twenty delicious new recipes that Dole are bringing out (some are even gluten-free or can be made gluten-free), we cooked gluten-free cauliflower pizzas in the kitchen, and brought home some of the brand new Disney Frozen 2 merchandise (including my new coffee mug pictured below).
How to freeze breakfast sandwiches
One of the recipes I was particularly interested in was the Make-Ahead Frozen Brrr-eakfast Sandwiches. So I just had to make them (in regular and gluten-free versions). It's been so handy having these in the freezer. Jay took one to work today, and Marisol actually ate egg! The twins' have refused to eat eggs since they were babies. I don't know why, but one day they both just decided they didn't like them and refused to eat them ever since. Well, I made these sandwiches and she ate them, and she liked it. Two days in a row! I'll call that a win.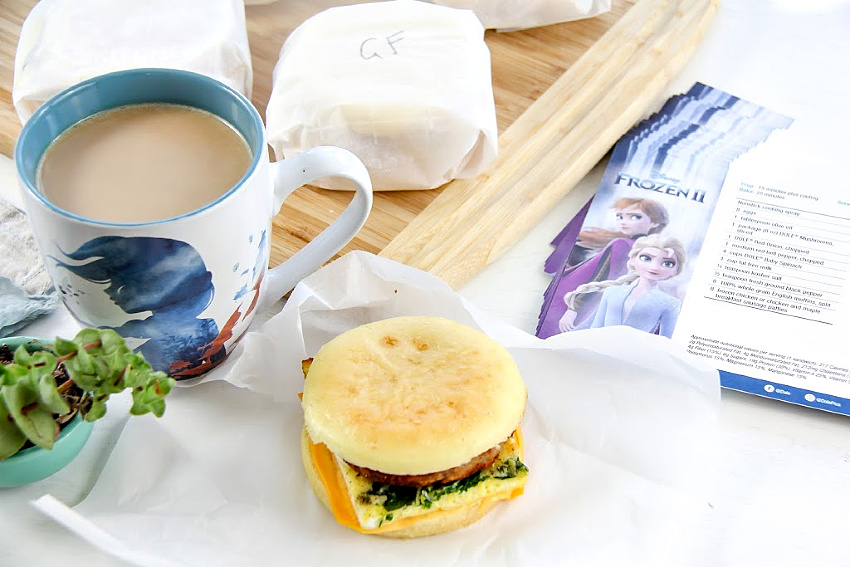 You can find the recipe for these breakfast sandwiches here but I did leave out the mushrooms and bell peppers from the twins' sandwiches because getting my kids to eat the egg with spinach was enough of a shock to their systems for now, but I'll gradually introduce the others into future batches. So I cooked extra eggs and divided the egg mixture between two casserole dishes before popping them into the oven. I also added cheese slices, which yes, you can freeze. We often make and freeze sandwiches for Jay to take to work and it thaws just fine. Just pop the sandwich from the freezer into the refrigerator overnight so it's thawed in the morning and ready to heat and enjoy.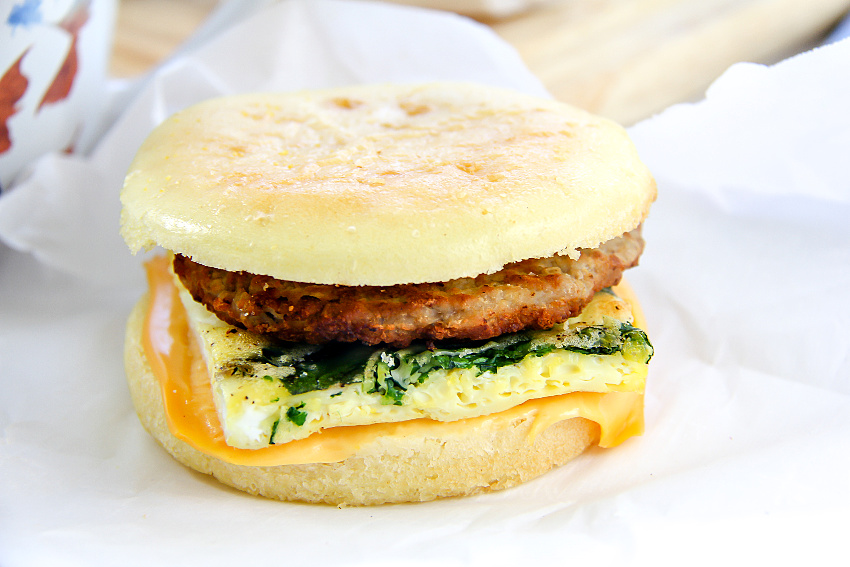 Tips for making freezer breakfast sandwiches
Most of the fresh breakfast sausage patties you can buy are way too small to put inside English muffins. I found frozen pork patties (available in regular and maple flavor) at my grocery store and as you can see from the image above are the perfect size for these breakfast sandwiches. They come in a pack of 18.
You can buy gluten-free English muffins in the freezer section at grocery stores. They are made by Glutino, and I've had no problem finding them at my local Walmart store.
Recipes from Dole
As I mentioned above though there will be twenty new recipes as part of the Dole and Disney Frozen II collaboration. Here are just a few you might enjoy making at home.
Please pin this post for later: